Pillar New Testament Commentary (PNTC) (16 vols.)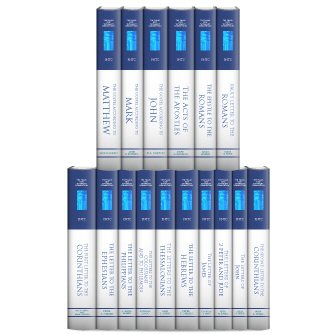 Pillar New Testament Commentary (PNTC) (16 vols.)
•
Overview
Designed both for serious students and for general readers of the Bible, the PNTC volumes seek above all to make clear the meaning of the text of Scripture as we have it. The scholars writing these volumes interact with the most important, informed contemporary debate yet avoid undue technical detail. The result is a blend of rigorous exegesis and exposition, scholarship and pastoral sensitivity, with an eye alert both to biblical theology and to the contemporary relevance of the Bible.
While the New International Version is the translation of choice for the English text, Pillar authors base their exposition on the Greek New Testament. They are deeply committed to a fresh wrestling with the text, using every means at their disposal to "loosen the Bible from its pages" to help readers understand what the text says and how to apply it to life today.
Underlying the approach of this series is the fact that God stands over against us rather than we in judgment of him. When God speaks to us in his Word, those who profess to know him must respond with reverence, a certain fear, a holy joy, and a questing obedience. These attitudes are reflected in the profoundly Christian stance of the PNTC authors toward the text. With these values in place, the Pillar commentaries will continue to be warmly welcomed by pastors, teachers, and students everywhere.
The Logos edition of the Pillar New Testament Commentary can be linked with any Bible in your personal library to scroll together, side-by-side on the screen. As you scroll through the biblical text, or jump to a new reference, PNTC keeps pace so you never have to hunt for your place! It also works the other way: scrolling through the commentary keeps the Bible synchronized.
Biblical references in the Pillar text are tagged as hotspots: a single click opens your preferred Bible version to the verse cited. You can KeyLink on a Greek or Hebrew lemma cited as an example to go straight to that word's entry in any lexicon you own.
Perhaps best of all, the Passage Guide will automatically search PNTC alongside your other commentaries every time you initiate a passage search from the software's homepage. This makes it easier than you can imagine to glean valuable insight from a timeless commentary.
Product Details