Grammars Collection (94 vols.)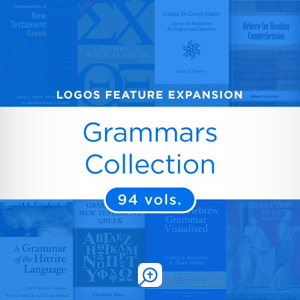 Grammars Collection (94 vols.)
•
For the most up to date version of this feature expansion, see here.
Overview
Immerse yourself in original language studies as you wade through a passage in the Exegetical Guide, skim along its Greek or Hebrew word-by-word studies, and then compare translations, transliterations, and original manuscript reproductions in 94 grammars. These grammars all feature Bible verse references, bringing them to your Exegetical Guide's Grammars section and revealing every grammatical mention of the passage you're studying. Providing grammatical studies in Classical, Septuagint, and Koine Greek, Hebrew, Aramaic, Akkadian, Ecclesiastical and Classical Latin, Syriac, Ugaritic, and Hittite, these grammars break the doors of linguistic and exegetical studies wide open.
Added to your Logos library, these grammars bring you deep into the meaning of your passage. From the books of Moses to the letters of Paul, the original language of the Bible is broken down and analyzed through the expert insights of Stanley E. Porter, Mark Futato, Bruce Waltke, S.R. Driver, Steve Runge, and many others. Upgrade your library with the best and most thorough study of language possible—get the Grammars Collection today.
Curious how these resources work in Logos? Watch the video below to see for yourself where you'll be using them:
Please note: This product does not contain Logos software—only books to enhance the experience of your study. There are numerous ways to upgrade to Logos—click here to find out which is best for you.
Key Features
A library of 94 biblical and ancient-language grammars which contain Bible verses translated, transliterated, or presented in their original form
Thousands of cross-references that fill the Exegetical Guide on any passage
Studies in syntax, structure, semantics, cognates, verb-specific studies (modality, morphology, aspect, etc.), comparative linguistics, and so much more
Product Details