Engaging and Exegeting Culture Series Update (3 vols.)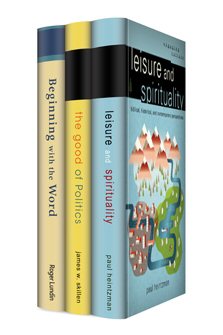 Engaging and Exegeting Culture Series Update (3 vols.)
•
Runs on Windows, Mac and mobile.
Overview
The Engaging and Exegeting Culture series helps Christians respond to contemporary culture with theological discernment. Each volume explores particular cultural expressions, highlighting God's presence in the world and engaging readers in sympathetic dialogue and active discipleship. This collection includes volumes on some of the most pressing and practical matters of everyday life—politics, literature, and leisure. With contributions from esteemed scholars and activists, this collection reveals the theological underpinnings of a truly Christian approach to of some of our most basic human endeavors.
In the Logos editions, these volumes are enhanced by amazing functionality. Important terms link to dictionaries, encyclopedias, and a wealth of other resources in your digital library. Perform powerful searches to find exactly what you're looking for. Take the discussion with you using tablet and mobile apps. With Logos Bible Software, the most efficient and comprehensive research tools are in one place, so you get the most out of your study.
Key Features
Provides a theological framework for cultural engagement
Explores Christian approaches to politics, leisure, and literature
Equips Christians for dialogue with non-Christians
Individual Titles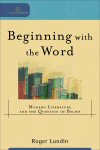 Scholar and award-winning author Roger Lundin offers a sophisticated theological engagement with the nature of language and literature. Conversing with imaginative literature and modern literary and cultural theory, Lundin utilizes works of poetry and fiction to generate discussion and theological reflection. Bringing the history of Christian thought and modern theology into dialogue with literature and modern culture, Beginning with the Word is at once theologically rigorous, interdisciplinary, lucid, and ecumenical.
Roger Lundin explores modern literature's endless wrestling with Christian witness and biblical narrative with his customary thoughtfulness, passion, and personal commitment.
—Alan Jacobs, distinguished professor of humanities, Baylor University
There are very few critics one thinks of as enlarging one's life, much less making one more fit to live it. Roger Lundin, for this reader, is just such a writer.
—Christian Wiman, senior lecturer of religion and literature, Yale University
Roger Lundin is the Blanchard Professor of English at Wheaton College, Wheaton, IL. He is the author of The Culture of Interpretation: Christian Faith and the Postmodern World and co-author of The Responsibility of Hermeneutics.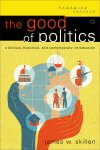 James Skillen, a highly respected author and Christian thinker, offers a principled, biblical perspective on engaging political culture as part of one's calling.
Skillen believes that constructive Christian engagement depends on the belief that those made in the image of God are created not only for family life, agriculture, education, science, industry, and the arts but also for building political communities—justly ordered for the common good. He argues that God made us to be royal stewards of public governance from the outset and that the biblical story of God's creation, judgment, and redemption of all things in Jesus Christ has everything to do with politics and government.
In this irenic, nonpartisan treatment of an oft-debated topic, Skillen critically assesses current political realities and helps readers view responsibility in the political arena as a crucial dimension of the Christian faith.
Skillen has made an important contribution to the growing body of serious evangelical political thought.
—Ronald J. Sider, senior distinguished professor of theology, holistic ministry, and public policy, Palmer Seminary
This accessible text by one of the most engaged Protestant political thinkers of his generation should find an important place in colleges, seminaries, and churches.
—Eric Gregory, professor of religion, Princeton University
James W. Skillen helped found the Center for Public Justice (CPJ), an independent, nonpartisan organization devoted to policy research and civic education for which he served as executive director and president. Now retired from the CPJ, he is engaged in full-time writing, mentoring, and speaking on political thought and public policy. Skillen has authored or edited numerous books, including Recharging the American Experiment, The Scattered Voice, and The Biblical Theme of Justice.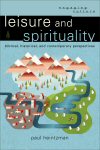 Respected scholar and experienced recreation practitioner Paul Heintzman explores the link between leisure and spirituality, offering a Christian perspective on leisure concepts and issues in contemporary society. Interacting with biblical, historical, and contemporary leisure studies sources to provide a comprehensive understanding of leisure, Heintzman explains the importance of leisure for spiritual growth and development. This work will appeal to professors and students as well as practitioners in the recreation and leisure services field, youth and college pastors, and culture-watchers.
[This] book is a triumph of scholarship and a helpful guide to thinking 'Christianly' about leisure.
—Leland Ryken, emeritus professor of English, Wheaton College
This exhaustively researched volume is also a significant and welcome contribution to the field of leisure studies.
—Karl E. Johnson, executive director, Chesterton House: A Center for Christian Studies
Paul Heintzman is associate professor of leisure studies at the University of Ottawa and has extensive experience as a recreation practitioner throughout Canada. He previously taught at Brock University and at Acadia University. Heintzman is coeditor of Christianity and Leisure: Issues in a Pluralistic Society and is the author of numerous journal papers and book chapters on the topics of leisure and spirituality, recreation and the environment, and the philosophy and ethics of leisure.
More details about these resources