Lifeworks of Hans K. LaRondelle—Part 2 (248 docs.)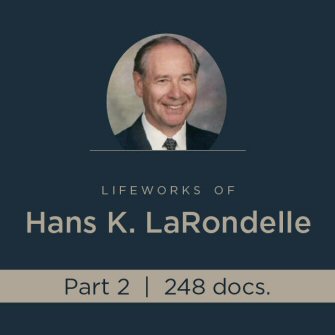 Lifeworks of Hans K. LaRondelle—Part 2 (248 docs.)
•
Runs on Windows, Mac and mobile.
Overview
Perhaps no seminary professor in Adventist history has won more respect from evangelical academia than the late Hans K. LaRondelle. This collection presents part two of his lifeworks, brimming with vintage content licensed by Logos from two laptops that he left behind—some of it unpublished material.
This previously unknown wealth of theological miscellanea was compiled by his friend Jac Colón, making public a host of the beloved professor's sermons, articles, expositions, course outlines, notes, letters and some unfinished documents. Probe LaRondelle's unfiltered thinking and theological insights in this treasury of his shorter writings. Among fascinating personal letters is one to Catholic theologian and fellow Dutchman Hans Kung, in which LaRondelle argues poignantly and persuasively for evangelical soteriology and Adventist eschatology.
His theological range and depth won esteem from students and colleagues at Andrews Theological Seminary and academics outside the SDA community. This newly released collection contains 248 original documents, organized into the following categories:
Articles and Lectures
Biblical Theology Courses
Andrews University Seminary Syllibi and Notes
Letters
Sabbath School Outlines
Sermons
This proprietary collection of Dr. LaRondelle's laptop content is uniquely accessible in the Logos format with its interlinked searchability and functionality. Scripture citations link directly to English translations, and important terms link to dictionaries, encyclopedias, and a wealth of other resources in your digital library. Perform powerful searches to find exactly what you're looking for. Take the discussion with you using tablet and mobile apps. With Logos Bible Software, the most efficient and comprehensive research tools are in one place, so you get the most out of your study.
Key Features
Contains a treasury of shorter writings from respected SDA theologian Hans K. LaRondelle
Provides unprecedented insight into LaRondelle's private theological thinking
Topics include prophecy, eschatology, and his signature research into the covenants
About Hans K. LaRondelle
Hans K. LaRondelle (1929–2011) was professor of theology at Andrews University (SDA) in Berrien Springs, Michigan. Born and educated in Holland, he attended Utrecht State University and then completed a ThD in systematic theology at the Reformed Free University in Amsterdam. He is also the author of How to Understand the End-Time Prophecies of the Bible: A Biblical-Contextual Approach, The Israel of God in Prophecy: Principles of Prophetic Interpretation, Our Creator Redeemer: An Introduction to Biblical Covenant Theology, and coauthor of The Bible Jesus Interpreted: Seeing Jesus in the Old Testament.
About Jac Colón, compiler
Jac Colón, friend of the LaRondelle family and the late professor, is an evangelist and Bible researcher who has taught globally. A former stock broker and Air Force officer, Colón is the author of Standing in the Shaking, Revelation Now, and various articles in Ministry Magazine.
More details about these resources