Eisenbrauns Hebrew Collection (3 vols.)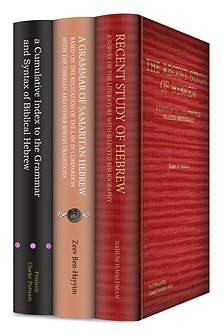 Eisenbrauns Hebrew Collection (3 vols.)
•
Runs on Windows, Mac and mobile.
Your Custom Discount
Reg. Price $109.95
Pre-order Price $74.95
Your Price $74.95
You Save $35.00 31%
Your Price
What's Pre-Pub?
$74.95
Reg.: $109.95
Print: $172.00
Overview
The only way to stay sharp with your biblical Hebrew is to use it every day. These resources from scholarly publisher Eisenbrauns work seamlessly with your Logos software to help you study the Old Testament and other Hebrew texts with ease and precision. In Cumulative Index to the Grammar and Syntax of Biblical Hebrew, Frederic Clarke Putnam indexes every Old Testament citation in every major grammar of the Hebrew Language. Zeev Ben-Hayyim's Grammar of Samaritan Hebrew is a thorough introduction to the unique grammatical issues of the Samaritan dialect, and Nahum W. Waldman's comprehensive work, The Recent Study of Hebrew, lets you trace the development of Hebrew language studies over the course of four decades.
These resources are even more powerful in Logos. Important terms link to dictionaries, encyclopedias, and a wealth of other resources in your digital library. Perform powerful searches to find exactly what you're looking for. Take your study on the go with intuitive and powerful tablet and mobile apps—your notes and highlights sync across all your devices. With Logos Bible Software, the most efficient and comprehensive research tools are in one place, so you get the most out of your study.
For a classic, authoritative resource on Hebrew grammar that perfectly complements this collection, check out the Gesenius Hebrew Bundle.
Key Features
Helps you study the Old Testament and other Hebrew texts with ease and precision
Provides an index to every Old Testament citation in every major Hebrew grammar
Includes an overview of Hebrew scholarship over the course of 40 years
Introduces the basics of Samaritan Hebrew
Individual Titles
An invaluable tool for all students of biblical Hebrew.
—Ronald A. Simkins, professor of Old Testament and Near Eastern Studies, Creighton University
Putnam has rendered a great service to students of the Hebrew Bible.
—Richard A. Taylor, senior professor of Old Testament studies, Dallas Theological Seminary
Frederic Clarke Putnam is associate professor of biblical studies at Eastern University in Pennsylvania. His research interests include metaphor in the Bible, Bible translation, and discourse analysis. He is the author of Hebrew Bible Insert: A Student's Guide to the Syntax of Biblical Hebrew, Proverbs: The Complete Biblical Library, and Card-Guide to Biblical Hebrew.
The Hebrew language has developed into several dialects, each ethnic community having its own unique tradition of pronunciation. In this detailed analysis of Samaritan Hebrew, Zeev Ben-Hayyim explores whether the Samaritans carefully maintained their language in the same way they guarded other traditions. Scholars have used Samaritan texts such as the Samaritan Pentateuch to discern the original text of the Hebrew Pentateuch. This detailed analysis of Samaritan Hebrew includes summaries of major aspects of its grammar—phonology, morphology, nouns, particles, syntax, and more.
Zeev Ben-Hayyim (1907–2013) was a Hebrew linguist and former president of the Academy of the Hebrew Language. He was the editor of Leshoneynu, the official journal of the Academy of the Hebrew Language.
Hebrew scholar Nahum M. Waldman surveys the work of nearly 1,300 authors and more than 3,500 resources on the Hebrew language published from the 1930s through the 1980s. Waldman summarizes the salient points of each study, giving readers a survey of advances in the study of biblical Hebrew over the course of more than 40 years. He annotates contributions to the study of biblical Hebrew, the period of the Second Commonwealth and Rabbinic Hebrew, the Masoretic era, medieval Hebrew, and modern and contemporary Hebrew.
Nahum M. Waldman is a scholar of biblical Hebrew. He is the author of The Breaking of the Bow and The Hebrew Tradition.