MP Seminars: Logos 6 Academic Training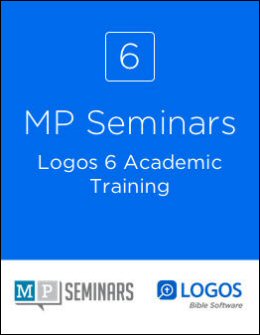 Overview
For the latest version of this training from Morris Proctor—built for Logos 7—see here.
Don't have Logos 7? Get up-to-date with Logos 7 Basic—free.
Learn how to use Logos 6 to its fullest potential with the help of certified trainer Morris Proctor. He guides you step-by-step through the features of Logos that will save you time and improve the quality of your academic research, personal Bible study, and sermon preparation.
Gain proficiency in Logos 6's newest features like Cultural Concepts, Inline Search, Propositional Flow, and the entire suite of interactive tools. You'll learn Logos' core features like the Passage, Exegetical, and Sermon Starter Guides and how to do word studies and advanced searching.
While this course is relevant to all Logos users, additional sections on creating citations, bibliography, and notes have been added for students and professors. This course includes quizzes and exams, and the videos are just 5-10 minutes long. This allows you to show the training in the classroom, while leaving ample time for normal lectures and studies. Courses are also transcribed and become Logos resources, which means you can read along as you watch the videos and more easily find the training you need in the future.
If you've used Logos before, you know how powerful it is. Logos Academic Training will help you unleash that power and gain new insight into God's word
Course Outline
Home Page
Introduction
Desktop Overview
Home Page Overview
Change Startup Action
Preferred Bible
Preferred Lectionary
Customize
Blogs
Excerpts
Media
Verse Of The Day
Reference Box
Topic Study
Passage Study
Lectionary Study
Close All
Guides
Introduction
Open
Collapse Sections
Reference Links
Prioritized Resources
Linking
Passage Guide
Introduction
Open
Overview Part 1
Overview Part 2
Ancient Literature
Cultural Concepts
Exegetical Guide
Introduction
Open
Overview
Word By Word
Bible Word Study
Introduction
Open
Overview For A Hebrew/Greek Word
Senses
Preposition Use
Intro To Case Frames
Case Frames
Clause Participants
Settings
Verse Range
Overview For An English Word
Sermon Starter Guide
Introduction
Preaching Themes
Open
Overview For A Theme
Overview For Passage
Topic Guide
Introduction
Open
Overview
Custom Guides
Introduction
Template Terms
Unsaved Reports
Customized Reports
Open A Report
Edit A Report
Organize Reports
Delete A Report
Custom Templates
Edit A Template
Delete A Template
Context Menu
My Guides
Factbook
Introduction
Open From Various Locations
Open From The Context Menu
Generate A Report
Subject Box
Notable People
Bible Book Guide
Factbook Search
Atlas
Introduction
Open Atlas
Overview
Links On Map
Jump To Google Maps
Calculate Distance
Print/Export
Timeline
Introduction
Open
Overview
Jump To Specific Year
Logos Provided Filters
User Created Filters
Display Specific Era
Zoom In Or Out
Center An Event
Style
Find An Event
Jump To More Information
Jump To Factbook
Open From A Resource
Open From A Bible
Wikipedia
Introduction
Tools Menu
Context Menu
Factbook
Interanctive Resources
Pagination
Interactive Resources
Introduction
Locate And Open
Ancient Inscriptions
Before And After
Bible Event Navigator
Bible Outline Browser
Bible People Visual Timelines
Canon Comparisons
Counting The 10 Commandments
Days Of Creation
Greek/Hebrew Tutor
Hebrew Cantillations
Interactive Infographics
Interlinear/Reverse Interlinear Explorer
Israelite Feasts And Sacrifices
Morphology Charts
Narrative Character Maps
Numeric Converter
Parallel Gospel Reader
Proverbs Explorer
Psalms Explorer
Text Converter
Weights And Measures
Who Killed Goliath?
Library
Introduction
Open
Overview
Views
Details View
Categories of Information
Locate Resources
Filter Fields
Overview Prioritized Resources
Prioritized Resources
Resource Panels
Introduction
Open
Reference Box
Reference Box Shortcuts
Linking
Resource Text Size
Resource Font
Bible Cross References
Bible Text Only
Propositional Outilines
Open Resource In New Tab
Open Resource In Same Tab
Tabs
Introduction
Explanation Of Terms
Move Tabs
Resize Tabs
Close Tabs
Previous Places
Introduction
Local History
Global History
Set A Bookmark
Open A Bookmark
Delete A Bookmark
Add A Favorite
Open A Favorite
Rename A Favorite
Delete A Favorite
Use Folders
Delete A Folder
Sort Favorites
Layouts
Introduction
Save Current Desktop
Open
Rename Or Delete
Active Layout
Update Layout
Create A Shortcut
Application Closed Layout
Suggested Layouts
Searching
Introduction
Overview Of Search Panel
Match Equivalent References
Overview Of Collections
Collection Rules
Subject Matter Collections
Author Collections
Quick Collections
Basic Word Search
Basic Phrase Search
Basic Reference Search
Basic Search Results
Everything Search
Overview Of Bible Search Panel
Custom Verse Ranges
Bible Word Search
Bible Phrase Search
Case Sensitive Search
Match All Word Forms Search
Bible Search Results
Inline Searching
Introduction
Overview
Bible Search
Basic Search
Right Mouse Searching
Introduction
Overview
Word
Phrase
Original Word
Bible Reference
Bible Sense
Bible Knowledge
Speaker
Cultural Concepts
Collections
Send Searches Here
History
Look Up
Power Look Up
Cited By
Power Searching
Introduction
OR Search
AND Search
Proximity Search
Groups Search
Notes
Introduction
Create A Notes Document
Components
Add User Created Note
Add Note To A Selection
Add Note To A Verse
Note Indicators
Delete Components
Visual Copy
Citations
Introduction
Citation Styles
Footnotes
Clippings
Introduction
Overview
Add Clippings
Tag And Find
Build A Bibliography
Bibliography
Introduction
Overview
Add Citations
Export
Product Details
Title: MP Seminars: Logos 6 Academic Training
Instructor: Morris Proctor
Publisher: Lexham Press
Publication Date: 2015
Resource Type: Courseware, including transcripts, audio, and video resources
Courses: 1
Video Hours: 14
About Morris Proctor
Morris Proctor is the certified and authorized trainer for Logos Bible Software. He has been a pastor and expository teacher for more than 20 years. Logos Bible Software revolutionized his personal study so he is now devoting his time through his company, Morris Proctor Seminars, to train Logos users to realize its full potential. Morris has written several Quick Reference Training Manuals and conducted training seminars and sales demonstrations around the country. He has trained hundreds of users from beginners to advanced including pastors, Christian educators, military chaplains, professors, students, and more.
More details about these resources