Les outils grammaticaux (10 tomes)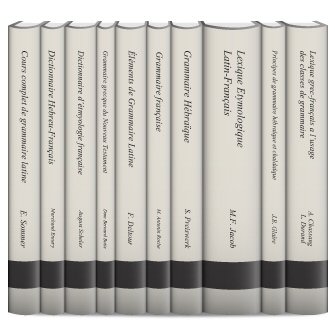 Les outils grammaticaux (10 tomes)
•
Runs on Windows, Mac and mobile.
$20.00
* Projected price. Future bids may change this price.
Place Your Bid!
Click on the highest price you'd pay. If the final price is lower, that's what you'll pay.
Survol
Découvrir des textes classiques des XIXe et XXe siècles pour votre étude des langues bibliques et l'histoire Chrétienne. Cette collection offre une progression grammaticale rigoureuse pour français, grec, hébreu, latin, araméen, etc.
Un soin particulier est attaché à la reconnaissance de la nature des mots et à la compréhension des fonctions.
Une démarche simple et pragmatique :
lire
observer
réfléchir
manipuler
mémoriser
réutiliser
Ces 10 livres combinent des outils de travail et de référence en grammaire et en conjugaison pour vous-aider mieux étudier la Bible et faire l'exégèse.
Chez les éditons de Logos, ces ouvrages sont enrichis par l'addition de fonctions et de caractéristiques. Recherchez avec la puissance avec Logos Bible Software et un de nos Base Packages pour trouver les meilleurs informations selon un des meilleurs spécialistes du temps de la Réforme. Avec nos applications mobiles, vous pouvez consulter ces textes et tout les autres n'importe où pour avoir la meilleure expérience.
Principales caractéristiques
Une collection de ressources linguistiques
Une collection de grammaires en français, grec, hébreu, latin, araméen, etc
Vous donne des textes classiques des XIXe et XXe siècles pour votre étude des langues bibliques et l'histoire Chrétienne
Détails du produit
Titres Individuels
Cours complet de grammaire latine par E. Sommer
Dictionnaire Hebreu-Français par Marchand Ennery
Dictionnaire d'étmyologie française par August Scheler
Grammaire grecque du Nouveau Testament par Dom Bernard Botte
Éléments de Grammaire Latine par F. Deltour
Grammaire française par M. Antonin Roche
Grammaire Hébraïque par S. Preiswerk
Lexique Etymologique Latin-Français par M.F. Jacob
Principes de grammaire hébraique et chaldaique par J.B. Glaire
Lexique grec-français a l'usage des classes de grammaire par A. Chassang et L. Durand