Handbuch Biblischer Altertumskunde (7 Bände)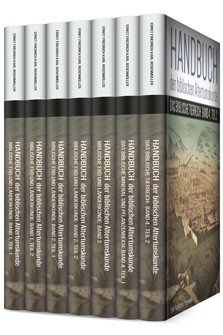 Handbuch Biblischer Altertumskunde (7 Bände)
•
Runs on Windows, Mac and mobile.
$20.00
* Projected price. Future bids may change this price.
Place Your Bid!
Click on the highest price you'd pay. If the final price is lower, that's what you'll pay.
Übersicht
Finden Sie mit dem siebenbändigen Handbuch der Biblischen Altertumskunde von Ernst Friedrich Karl Rosenmüller Zugang zur Biblischen Geographie und Naturgeschichte. Aufgrund des vorzeitigen Ablebens Rosenmüllers kann der von Ihm gewählte Titel sogar als Irreleitend interpretiert werden, da er nie auf die eigentlichen Altertümer eingehen konnte, sondern nur auf die Geographie und Natur der Zeit. Nichts desto trotz bietet diese unvollendete Werk einen umfassenden Einblick in die Umwelt und Voraussetzungen der Bibel und erlaubt es uns damit, genaueres Wissen über die historischen Gegebenheiten der Bibel zu erhalten.
Die Logos Edition der Handbuch Biblischer Altertumskunde stattet Sie mit innovativen Werkzeugen und Eigenschaften aus, welche Sie bei Ihrem Bibelstudium unterstützen. Verweise verlinken Sie direkt mit Übersetzungen und originalsprachlichen Texten und wichtige Begriffe sind direkt mit Wörterbüchern, Enzyklopädien und einer Vielzahl weiterer Ressourcen in Ihrer digitalen Bibliothek verlinkt. Der Themen-Leitfaden erlaubt es Ihnen, leistungsstarke Suchanfragen durchzuführen, um mit einem Klick relevante Bibelstellen und Verweise in anderen Werken zu finden. Tablet und Mobiltelefon Apps erlauben es Ihnen, die Di46959ssion mit sich zu bringen. Mit Hilfe von Logos Bibelsoftware finden sie die effizientesten und umfassendsten Forschungswerkzeuge in einem Programm, was es Ihnen erlaubt Ihr Bibelstudium auf eine neue Ebene zu heben.
Overview
Ernst Friedrich Karl Rosenmüller's Handbook of Biblical Archaeology offers a comprehensive look at biblical geography and natural history. Due to Rosenmüller's premature death, his chosen title for the work is somewhat misleading, as he never got to the examination of actual antiquities. Nevertheless, this unfinished work provides in-depth examination of the natural environment in which the Bible's stories took place. These seven German-language volumes provide a wealth of information to deepen your understanding of the landscapes, flora, and fauna of the biblical world.
With Logos, these volumes are enhanced with cutting-edge research tools, saving you even more time. Scripture citations appear on mouseover in your preferred English translation. Important terms link to dictionaries, encyclopedias, and a wealth of other resources in your digital library. Powerful topical searches help you find exactly what you're looking for. With Logos Bible Software, the most efficient and comprehensive research tools are in one place, so you get the most out of your study.
Hauptmerkmale
Umfassende Analyse der biblischen Geographie
Ausführliche Darstellungen der biblischen Naturgeschichte.
Geht sowohl auf Flora als auch Fauna ein
Key Features
Provides thorough analysis of biblical geography
Contains extensive information about the natural history of the Bible
Examines the flora and fauna of the biblical world
Produktdetails / Product Details
Über Ernst Friedrich Karl Rosenmüller
Ernst Friedrich Karl Rosenmüller (1768–1835) war ein deutscher evangelischer Theologe und Orientalist, sowie Sohn des Theologen Johann Georg Rosenmüller. Nach dem Studium in Leipzig inklusive Promotion (1788) und Habilitation (1792) wurde er dort im Jahre 1796 zum Professor für Arabistik berufen.
About Ernst Friedrich Karl Rosenmüller
Ernst Friedrich Karl Rosenmüller (1768–1835) was a German Protestant theologian and Orientalist, and son of the theologian Johann Georg Rosenmüller. He studied at the Universities of Erlangen, Giessen, and Leipzig. In 1796, he became associate profssor of Arabic studies at Leipzig, and professor of Oriental languages there in 1813. He also wrote Scholia in Vetus Testamentum and Handbuch für die Literatur der biblischen Kritik und Exegese, among other works.