Historisch-Kritisches Lehrgebäude der Hebräischen Sprache (3 Bände)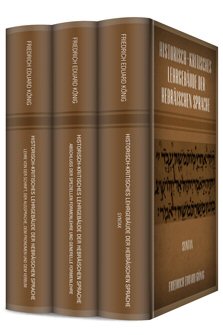 Historisch-Kritisches Lehrgebäude der Hebräischen Sprache (3 Bände)
•
Runs on Windows, Mac and mobile.
$45.00
* Projected price. Future bids may change this price.
Place Your Bid!
Click on the highest price you'd pay. If the final price is lower, that's what you'll pay.
Übersicht
Lernen Sie jetzt mehr über die Hebräische Sprache mit dieser 3-bändigen Sammlung von Friedrich Eduard König zum Historisch-Kritischen Lehrgebäude der Hebräischen Sprache und verbessern Sie Ihr Wissen über die Sprache des Alten Testaments. König geht hierbei methodisch vor und untersucht zuerst die Schrift und Aussprache, bevor er dann ausführlich auf die Formenlehre und Syntax eingeht.
Die Logos Edition der Historisch-Kritisches Lehrgebäude der Hebräischen Sprache stattet Sie mit innovativen Werkzeugen und Eigenschaften aus, welche Sie bei Ihrem Bibelstudium unterstützen. Verweise verlinken Sie direkt mit Übersetzungen und originalsprachlichen Texten und wichtige Begriffe sind direkt mit Wörterbüchern, Enzyklopädien und einer Vielzahl weiterer Ressourcen in Ihrer digitalen Bibliothek verlinkt. Der Themen-Leitfaden erlaubt es Ihnen, leistungsstarke Suchanfragen durchzuführen, um mit einem Klick relevante Bibelstellen und Verweise in anderen Werken zu finden. Tablet und Mobiltelefon Apps erlauben es Ihnen, die Diskussion mit sich zu bringen. Mit Hilfe von Logos Bibelsoftware finden sie die effizientesten und umfassendsten Forschungswerkzeuge in einem Programm, was es Ihnen erlaubt Ihr Bibelstudium auf eine neue Ebene zu heben.
Overview
Deepen your study of biblical languages with three volumes from Friedrich Eduard König on the historical-critical doctrine of the Hebrew language. König first methodically analyzes the writing and pronunciation of Hebrew, then discusses its morphology and syntax at length.
In the Logos edition, these volumes are enhanced by amazing functionality. Scripture citations link directly to English translations, and important terms link to dictionaries, encyclopedias, and a wealth of other resources in your digital library. Perform powerful searches to find exactly what you're looking for. Take the discussion with you using tablet and mobile apps. With Logos Bible Software, the most efficient and comprehensive research tools are in one place, so you get the most out of your study.
Hauptmerkmale
Analyse durch einen Spezialisten in Linguistik und Theologie
Analyse mit Hilfe der phonetischen und physiologischen Methode
Key Features
Analysis of biblical Hebrew from a linguist/theologian
Phonetic and physiological examination of the Old Testament
Produktdetails / Product Details
Titel / Title: Historisch-Kritisches Lehrgebäude der Hebräischen Sprache
Autoren / Author: Friedrich Eduard König
Verlag / Publisher: J.C. Hinrichs'sche Buchhandlung
Bände / Volumes: 3
Seiten / Pages: 2,033
Sprache / Language: Deutsch
Ressourcentyp / Resource Type: Grammars
Thema / Topic: Language Interpretation; Phonology and Pronunciation
Über Friedrich Eduard König
Friedrich Eduard König (1846–1936) war ein deutscher protestantischer Theologe, Bibel- und Sprachwissenschaftler. Während des Studiums in Leipzig wollte sich König ideal auf die Rolle eines Bibelwissenschaftlers vorbereiten und besuchte nicht nur Vorlesungen seines Studienganges, sondern sogar Kurse für solch generelle Dinge wie Mineralogie, um jeden möglichen Aspekt verstehen zu können. Als Höhepunkt seiner akademischen Karriere, welche er größtenteils in Bonn als Professor für Exegese des Alten Testaments verbrachte, werden seine Werke zu antiken Sprachen angesehen. Im Babel-Bibel-Streit trat er dabei als aktiver Gegner von Friedrich Delitzsch auf und vertrat die Historizität der Bibel.
About Friedrich Eduard König
Friedrich Eduard König (1846–1936) was a German Protestant theologian and linguist. Educated at Leipzig, he became a professor there in 1885. He was then professor at Rostock, and at Bonn, where he was professor of Old Testament exegesis. In the "Babel-Bible Dispute," he was an active opponent of Friedrich Delitzsch and supported the historicity of the Bible. In his linguistic work, he applied methods of modern philology to Hebrew and Ethiopic.