Audiobook Biography Collection (10 vols.)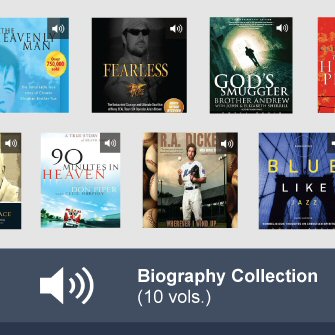 Overview
Experience the remarkable life stories of a diverse group of Christians with the Audiobook Biography Collection. Bestselling authors Donald Miller and Brennan Manning present intimate accounts of their faith journeys. Corrie ten Boom, Brother Andrew, and Brother Yun share harrowing tales of courage in the face of persecution. Don Piper and Marvin J. Besteman describe their experiences of heaven. The life of the Apostle Paul comes alive with John Pollock's riveting biography. Discover the role faith played in the lives of Navy SEAL Adam Brown and major league pitcher R.A. Dickey. The audiobooks in this collection reveal the inside stories of inspiring Christian figures.
Audiobooks add new dimension to your digital library. When you listen in Logos, your audiobooks sync across devices—pause a book anytime on your home computer, then pick up where you left off with the Logos mobile app or on your laptop. Listen on your lunch breaks, as a family, or as part of your personal devotional time. Tap into the power of Logos Bible Software in a whole new way.
Key Features
Chronicles the lives of a diverse group of influential Christians
Includes audiobooks by bestselling authors like Donald Miller, Brennan Manning, and Corrie ten Boom
Provides personal accounts of faith in the face of persecution
Individual Titles

The Hiding Place (audio)
Authors: Corrie ten Boom, Elizabeth Sherrill, and John Sherrill
Narrator: Bernadette Dunne
Edition: Unabridged
Publisher: christianaudio Hovel
Print Publisher: Chosen Books
Runtime: 9.5 hours
The Hiding Place is the amazing story of Corrie ten Boom, a heroine of the Dutch Resistance who helped Jews escape from the Nazis and became one of the most remarkable evangelists of the twentieth century. Her story, is told in her classic memoir, now retold for a new generation.
Praise for the Print Edition
A groundbreaking book that shines a clear light on one of the darkest moments of history.
—Philip Yancey, author, What's So Amazing About Grace?
The Hiding Place is a classic that begs revisiting. Corrie ten Boom lived the deeper life with God, exchanging love and forgiveness for hatred and cruelty, trusting God in the midst of fear, horror, and uncertainty. This gripping story of love in action will challenge and inspire you!
—Joyce Meyer, author, Battlefield of the Mind
Cornelia "Corrie" ten Boom (1892–1983) was a Dutch Christian Holocaust survivor who helped many Jews escape the Nazis during World War II. In 1970, ten Boom cowrote her autobiography, The Hiding Place. It was made into a film of the same name two years later.
Elizabeth Sherrill is a Christian writer who worked as a freelance writer in Europe from 1944 to 1951. She coauthored a number of bestselling books, including God's Smuggler with Brother Andrew, The Hiding Place with Corrie ten Boom, and The Cross and the Switchblade with David Wilkerson.
John Sherrill is a Christian writer who worked as a freelance magazine writer from 1947 to 1963. He coauthored a number of bestselling books, including God's Smuggler with Brother Andrew, The Hiding Place with Corrie ten Boom, and The Cross and the Switchblade with David Wilkerson.

All Is Grace: A Ragamuffin Memoir (audio)
Authors: Brennan Manning and John Blase
Narrator: Maurice England
Edition: Unabridged
Publisher: christianaudio
Print Publisher: David C. Cook
Runtime: 4 hours
Since the publication of The Ragamuffin Gospel, Brennan Manning has been persistent in preaching and writing on variations of a singular theme: "Yes, Abba is very fond of you!" But today the crowds are gone and the lights are dim. If he ever was a ragamuffin, it is now. In this his final book, Brennan roves back through his past, honoring the lives of the people closest to him—family and friends who've known the saint and the sinner, the boy and the man.
Brennan Manning (1934–2013) spent the past 40 years helping others experience the reality of God's love and grace. It was at the heart of everything he wrote and did. A recovering alcoholic and former Franciscan priest, his spiritual journey took him down a variety of paths. He taught seminarians, spoke to packed arenas, lived in a cave and labored with the poor in Spain, and ministered to shrimpers in Alabama. Brennan is best known as the author of the contemporary classics The Ragamuffin Gospel and Abba's Child.

God's Smuggler (audio)
Authors: Brother Andrew, John Sherrill, and Elizabeth Sherrill
Narrator: Simon Vance
Edition: Unabridged
Publisher: christianaudio
Print Publisher: Chosen Books
Runtime: 8 hours
As a boy he dreamed of being a spy—undercover behind enemy lines. As a man he found himself undercover for God. For decades, Brother Andrew's life story, recounted in God's Smuggler, has awed and inspired millions. This bestseller tells of the young Dutch factory worker's incredible efforts to transport Bibles across closed borders—and the miraculous ways God provided for him every step of the way.
Brother Andrew began his work in 1955 as a one-man mission—visiting, teaching, and taking Bibles to Christians behind the Iron Curtain. That work has since developed into Open Doors International, a nondenominational organization with bases around the world. When not traveling, Brother Andrew makes his home in the Netherlands.
John L. Sherrill has coauthored numerous bestsellers-classics such as The Hiding Place and The Cross and the Switchblade. He has traveled the world researching and writing articles and books. John was senior editor of Guideposts and cofounded Chosen Books.
Elizabeth Sherrill and her husband, John, continue to travel the world in search of stories that reveal the power of God. They have been associated with Guideposts magazine for many years and were cofounders of Chosen Books, along with Leonard and Catherine Marshall LeSourd.

90 Minutes in Heaven: A True Story of Death & Life (audio)
Authors: Don Piper and Cecil Murphy
Narrator: Don Piper
Edition: Unabridged
Publisher: Baker
Print Publisher: Revell
Runtime: 5.5 hours
On the way home from a conference, Don Piper's car was crushed by a semi that crossed into his lane. Medical personnel said he died instantly. While his body lay lifeless inside the ruins of his car, Piper experienced what he later described as the glories of heaven. 90 minutes after the wreck, while a minister prayed for him, Piper returned to consciousness with only the memory of inexpressible heavenly bliss. His faith in God was severely tested as he faced an uncertain and grueling recovery.
90 Minutes in Heaven offers a glimpse into one man's extraordinary experience. It encourages those recovering from serious injuries and those dealing with the loss of a loved one. This audio edition is read by Piper himself.
Don Piper has been an ordained minister since 1985 and has served in several capacities on church staffs, including six years as a senior pastor. Don has appeared on Today, The 700 Club, James Robison's Life Today, and other television and radio programs, and teaches across the United States and around the world.
Cecil Murphey has written or coauthored more than 100 books. He's won a number of awards for his writing, including the 1996 Gold Medallion award for his collaboration on the autobiography of Franklin Graham, Rebel with a Cause. A collaborator on the bestseller Gifted Hands with Dr. Ben Carson.
Blue Like Jazz: Non-Religious Thoughts on Christian Spirituality (audio)
Author: Donald Miller
Narrator: Scott Brick
Edition: Unabridged
Publisher: christianaudio Hovel
Print Publisher: Thomas Nelson
Runtime: 7 hours
"I never liked jazz music because jazz music doesn't resolve. . . . I used to not like God because God didn't resolve. But that was before any of this happened." In Donald Miller's early years, he was vaguely familiar with a distant God. But when he came to know Jesus Christ, he pursued the Christian life with great zeal. Within a few years he had a successful ministry that ultimately left him feeling empty, burned out, and, once again, far away from God. In this intimate, soul-searching account, Miller describes his remarkable journey back to a culturally relevant, infinitely loving God.
Donald Miller is a speaker, founder of The Mentoring Project, and author of A Million Miles in a Thousand Years, Blue Like Jazz, Searching for God Knows What, Through Painted Deserts, and Father Fiction.

Fearless: The Undaunted Courage and Ultimate Sacrifice of Navy SEAL Team SIX Operator Adam Brown (audio)
Author: Eric Blehm
Narrator: Paul Michael
Edition: Unabridged
Publisher: christianaudio
Print Publisher: WaterBrook Press
Runtime: 10.33 hours
When Navy SEAL Adam Brown woke up on March 17, 2010, he didn't know he would die that night in the Hindu Kush Mountains of Afghanistan—but he was ready. In a letter to his children—not meant to be seen unless the worst happened—he wrote, "I'm not afraid of anything that might happen to me on this earth, because I know no matter what, nothing can take my spirit from me."
An absorbing chronicle of heroism and humanity, Fearless presents an indelible portrait of a highly trained warrior who would enter a village with weapons in hand to hunt terrorists, only to come back the next day with an armload of shoes and meals for local children. It is a deeply personal, revealing glimpse inside the SEAL Team SIX brotherhood that also shows how these elite operators live out the rest of their lives, away from danger, as husbands, fathers and friends.
Fearless is the story of a man of extremes, whose courage and determination was fueled by faith, family, and the love of a woman. It's about a man who waged a war against his own worst impulses and persevered to reach the top tier of the US military. Always the first to volunteer for the most dangerous assignments, Adam's final act of bravery led to the ultimate sacrifice.
Praise for the Print Edition
This is a stirring, revelatory, heartbreaking story.
—James Campbell, author, The Last Frontiersman and Ghost Mountain Boys
Eric Blehm is the bestselling author of The Only Thing Worth Dying For, which recounts the harrowing story of the first Special Forces A-team to infiltrate Taliban-held southern Afghanistan weeks after 9/11. It was a New York Times and Wall Street Journal bestseller. The Last Season, winner of the National Outdoor Book Award, was named by Outside Magazine as one of the 10 "greatest adventure biographies ever written."

Heavenly Man: The Remarkable True Story of Chinese Christian Brother Yun (audio)
Author: Brother Yun
Narrator: Christopher Jean
Edition: Unabridged
Publisher: christianaudio/Hovel
Print Publisher: Kregel
Runtime: 10 hours
You've seen the headlines—government crackdowns on Chinese house churches; mass arrests and human rights violations—but this intensely dramatic autobiography makes it real! Learn how God took a young half-starved boy from Henan Province and enabled him to stand strong on the front lines for Jesus, braving horrific opposition and impossible odds.
Brother Yun, born Liu Zhenying, is an exiled Chinese Christian evangelist and church leader. He is a major proponent of the Back to Jerusalem movement and was key in building the Christian house-church network in China during the 1980s and '90s.

Wherever I Wind Up: My Quest for Truth, Authenticity and the Perfect Knuckleball (audio)
Authors: R.A. Dickey and Wayne Coffey
Narrator: Ben Hunter
Edition: Unabridged
Publisher: Mission Audio
Print Publisher: Blue Rider Press
Runtime: 9.5 hours
Major league pitcher R.A. Dickey weaves searing honesty and baseball insight in this memoir about his unlikely journey to the big leagues. 14 years ago, Dickey was a heralded number one draft choice of the Texas Rangers, only to have an $810,000 signing bonus—and his lifelong dream—ripped away by an x-ray and the discovery that he did not have an ulna collateral ligament in his right elbow. Five years ago, he gave up a record six home runs in three innings to the Detroit Tigers and was effectively consigned to the baseball scrap heap.
Sustained by his profound Christian faith, the love of his wife and children, and a relentless quest for self-awareness and authenticity, Dickey details his transformation from a reckless, risk-taking loner to a grounded, life-affirming big leaguer. He emerged as one of the premier pitchers in the National League in 2010—and the knuckleballing embodiment of the wonders that perseverance and human wisdom can produce.
Praise for the Print Edition
It's a compelling story, and narrator Ben Hunter has an engaging style that the listener easily can believe is the author's voice.
—Audiofile Magazine
R.A. Dickey is one of the premier pitchers in baseball. In 2012, he became the first knuckleballer to win the National League Cy Young Award, Major League Baseball's highest honor for a pitcher.
Wayne Coffey is an award-winning journalist for the New York Daily News and the author of more than 30 books, including The Boys of Winter, a New York Times bestselling chronicle of the 1980 US Olympic hockey team. A three-time Pulitzer nominee, he has long been regarded as one of best sports feature writers in the nation.

My Journey to Heaven (audio)
Authors: Lorilee Craker and Marvin J. Besteman
Narrator: Maurice England
Edition: Unabridged
Publisher: christianaudio
Print Publisher: Revell
Runtime: 4.7 hours
On April 28, 2006, as he lay in his hospital bed in Ann Arbor, Michigan, visions of celestial beauty were the last thing on Marv Besteman's mind. He had just had surgery to remove a rare pancreatic tumor. It was after visiting hours and his family had left for the day. Alone and racked with pain, Marv tossed and turned, wanting more than anything else to simply sleep and escape the misery and discomfort for a while. The retired banker, father, and grandfather had no idea he was about to get a short reprieve in the form of an experience he never could have imagined.
In My Journey to Heaven, Marv Besteman shares the story of his experience of heaven with astounding detail. Readers will hear of his encounters with angels who accompanied him to the gate, his conversation (argument, really) with St. Peter, and his recognition of friends and family members who touched his life. His story offers peace, comfort, and encouragement to those who have lost loved ones and gives security and solace to those who are grieving, dying, or wonder about the afterlife. Marv believed God sent him back to earth to fulfill this mission of comfort and reminds readers that God has work for each of us to do before he calls us to be with him in heaven. Secure in his belief that his book was the fulfillment of his own mission, Marv returned to heaven in January 2012.
Marvin J. Besteman (1934-2012) was a graduate of Calvin College, a veteran of the US Army, and a retired bank president. He spoke frequently during the last few years of his life about his experience of heaven.
Lorilee Craker is the coauthor of the New York Times bestseller Through the Storm with Lynne Spears, and the author of several books on parenting and relationships. A frequent speaker, Craker is also an entertainment writer who has interviewed celebrities and music artists for many years for the Grand Rapids Press.

The Apostle: A Life of Paul (audio)
Authors: John Pollock
Narrator: Kirby Heyborne
Edition: Unabridged
Publisher: christianaudio Fiction
Print Publisher: David C. Cook
Runtime: 10.7 hours
Discover the acclaimed biography of the early church's greatest evangelist, the Apostle Paul. Master storyteller John Pollock makes Paul and his amazing story freshly alive, so that you can know him as intimately as his traveling companions Luke and Timothy did. As you turn the pages, you'll sense Paul's motives, his aims and priorities, what mattered to him, and what he was willing to die for.