Hablemos Claro del Matrimonio: Una Guia para un Dialogo Efectivo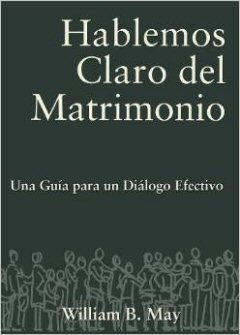 Hablemos Claro del Matrimonio: Una Guia para un Dialogo Efectivo
•
Runs on Windows, Mac and mobile.
Your Custom Discount
Reg. Price $4.95
Sale Price $3.95
Your Price $3.95
You Save $1.00 20%
Your Price
What's Pre-Pub?
$3.95
Reseña
Este valioso libro, muy útil y práctico para los jóvenes de nuestro tiempo, enseña como promover y defender el concepto del matrimonio tradicional utilizando un lenguaje no religioso. Este libro es una excelente guía práctica para que te ayude a refutar y responder todas esas preguntas difíciles sobre el matrimonio que nunca has sabido manejar. El autor, William B. May, nos muestra como navegar este espinoso tema y como sortear todos los obstáculos para evitar reducir esta cuestión a una controversia de los homosexuales contra los cristianos. May incorpora a la definición legal de matrimonio el tema de los derechos de los niños, y nos proporciona una serie de orientaciones y directrices muy sensibles acerca de cómo evitar las trampas más comunes que evitan la comunicación para promover políticas públicas a favor del matrimonio. Hablemos Claro del Matrimonio incluye una substanciosa sección de Preguntas Frecuentes que tocan el punto neurálgico de este conflicto. El matrimonio es la única institución genera una verdadera unión entre padres e hijos, y que ha sido universalmente reconocida por cada cultura, sociedad y religión de acuerdo a sus propios y distintivos cánones cívicos, culturales o sociales. Hablemos Claro del Matrimonio nos muestra el camino para obtener para este vital interés, que es el matrimonio, el reconocimiento legal, social, institucional e individual que amerita a fin de comenzar la tarea de reconstruir y recomponer la cultura del matrimonio.
Recurso católico: Con la ayuda de este recurso, podrás conocer mejor las creencias y enseñanzas de la Iglesia Católica, la religión más extendida entre los hispano-hablantes. Encuentra otros recursos católicos aquí.
Looking for Getting the Marriage Conversation Right in English? Check it out here.
Características principales
Este libro enseña a defender el concepto del matrimonio utilizando un lenguaje no religioso
Libro fácil de leer y útil para los jóvenes de hoy que encaran le matrimonio
Defensa del genuino matrimonio
Contenidos
Reconstituyendo la cultura del matrimonio
Política Publica: La sociedad civil y el reconocimiento del matrimonio
Revirtiendo la descomposición del matrimonio que hoy afecta a casi todas las familias
Preguntas para proponer y meditar acerca de los derechos de los hijos
Como evitar las trampas comunes que obstaculizan la comunicación en la defensa de una política publica sobre el matrimonio y la familia
Preguntas frecuentes sobre la redefinición del Matrimonio y otros temas conexos
Detalles del producto
Título: Hablemos Claro del Matrimonio: Una Guia para un dialogo efectivo
Autor: William B. May
Editorial: Emmaus Road Publishing
Fecha de publicación: 2013
Páginas: 96
Grupo cristiano: Católico
Tipo de recurso: Teología Sistemática (Moral)
Tema: Vida práctica - Matrimonio y Familia
Idioma: Español
Sobre el autor
William B. May es el fundador y presidente de "Católicos por el bien común," un apostolado de laicos para la evangelización de la cultura. Él es un orador muy solicitado sobre temas tales como: matrimonio, familia y cultura y la Nueva Evangelización. En 2008, la Conferencia Episcopal Católica de California le pidió a May y al grupo de "Católicos por el Bien Común" que guiaran el grupo de "Católicos para la protección del Matrimonio." La respuesta católica laica a las 9 proposiciones 8 fue que se restauró con éxito la definición del matrimonio entre un hombre y una mujer en California. En su papel como presidente y consejero delegado, ha aparecido en diversos programas como: Good Morning America, ABC, CBS, NBC, PBS, BBC, Fox News Channel, CNN, EWTN Radio, Radio Corazón Inmaculado, el Canal Católico, y muchos otros programas.
Páginas de muestra de la edición impresa