VIDEO-ONLY: CO111 Gospel-Centered Counseling (DVD)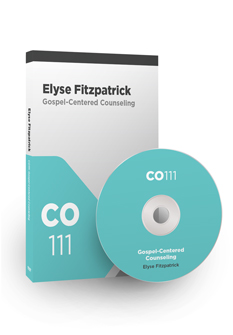 VIDEO-ONLY: CO111 Gospel-Centered Counseling (DVD)
Video-Only
This DVD edition only includes Elyse Fitzpatrick's video lectures. For fully searchable, tagged video transcripts, integration into your Logos library, and connection to the Faithlife community for this course, purchase the full Mobile Ed course.
Focus your counseling practices on the power and truth of the gospel with guidance from veteran counselor and author Elyse Fitzpatrick. This in-depth video course was designed by Elyse Fitzpatrick and Logos Mobile Education to deliver seminary-level lectures in concise, digestible segments. Watch from any DVD player, at home or on the go.
Enjoy top-tier scholarship and instruction—normally only found in seminary classrooms—in your home or church. Incorporate lectures on God's love and Christ's redemptive work on the cross into your small group lessons. Share Fitzpatrick's case scriptural studies with ministry leaders during training. Rejuvenate your outlook on pastoral care with a biblical-counseling expert as your guide. With 70 short lessons on DVD, you can revisit or share specific portions of this powerful course.
Key Features
Lectures in convenient DVD format without the classroom distraction
Over six hours of video broken into short lessons
Introduction to biblical counseling focused on Christ's redemptive work on the cross
Contents
Introduction
What Do You See? (9 segments)
Seeing Your Savior (15 segments)
God's Immeasurable Love (10 segments)
God's Love and Our Hearts (10 segments)
Gospel-Centered Counseling (8 segments)
The Gospel and Our Sanctification (6 segments)
The Gospel and Our Emotions (9 segments)
The Gospel and Our Relationships (3 segments)
Conclusion
About Elyse Fitzpatrick
Elyse Fitzpatrick has been counseling women since 1989. She is a member of the National Association of Nouthetic Counseling, a retreat and conference speaker, and is the head of Women Helping Women Ministries. Fitzpatrick has a certificate in biblical counseling from CCEEF in San Diego and an MA in biblical counseling from Trinity Theological Seminary.
She is the author of more than 15 books, including Love to Eat, Hate to Eat. Fitzpatrick has developed an extensive curriculum in biblical counseling and has trained students in both North and South America.