Lexham Press Scholar's Bundle (50 vols.)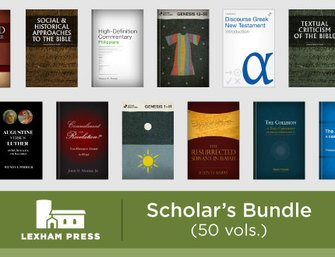 Digital-First Resources for the Scholar
The Lexham Press Scholar's Bundle includes 50 volumes of designed-for-digital resources to advance the knowledge base of biblical and theological scholars. This collection combines all of Lexham Press' best academic content—a comprehensive Bible dictionary, original-language resources in both Hebrew and Greek, the acclaimed Lexham Bible Guides, and more!
Because these resources were designed for digital platforms first, you'll be able to study the Bible better than ever before. How? By taking advantage of an interconnected web of resources created for use in a digital library, with unique Bible-knowledge databases in mind.
Study the Bible
Lexham Press publishes the Bible in both its original languages and literal English translations. With thousands of explanatory notes, you can read the Bible through the lens of the translators. Our digital editions of the Bible in its original languages are morphologically tagged; behind each one is research that capitalizes on over 20 years of Bible technology developed by Logos Bible Software.
Interpret the Bible
Whether you're an experienced scholar or new to serious Bible study, Lexham Press helps you interpret the Bible. Our resources simplify the process of learning and speed up research. Get answers to all of the tough questions raised in the Bible.
Key Features
Access over 20 original-language resources to enhance your biblical studies
Jump-start your research with all 15 Lexham Bible Guides
Take advantage of the most advanced and up-to-date Bible dictionary in the world
Streamline your study with interconnected resources that make your research more comprehensive
Product Details