Lexham Press Pastor's Bundle (50 vols.)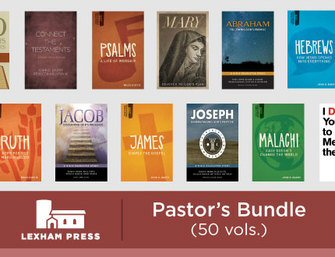 Digital-First Resources for the Pastor
The Lexham Press Pastor's Bundle includes 50 volumes of designed-for-digital resources to advance the modern pastor's preaching and teaching. This collection combines all of Lexham Press' best pastoral content—thousands of multimedia resources, fully designed curricula and Bible studies, the acclaimed Lexham Bible Guides, and more!
Because these resources were designed for digital platforms first, you'll be equipped for better Bible study. Why? Because you'll have the advantage of an interconnected web of resources created for use in a digital library, with unique Bible-knowledge databases in mind.
Preach the Bible
When a pastor's time is freed up, the entire church benefits. Oftentimes you lose time finding that perfect quote or prayer, designing a slide, or asking the right interpretation questions. Lexham Press seeks to give time back to the preacher by resolving these difficulties while making sermons more memorable and meaningful.
Apply the Bible
Lexham Press helps you apply the Bible, making it more accessible and exciting. Like all Lexham Press products, our devotionals and application-focused commentaries are enhanced by the technology of Logos Bible Software.
Key Features
Access thousands of multimedia resources, quotations, prayers, videos, and more
Minister more effectively with our all-in-one curriculum packages
Jump-start your research with all 15 Lexham Bible Guides
Enjoy more effective and comprehensive sermon preparation
Product Details
Title: Lexham Press Pastor's Bundle
Publisher: Lexham Press
Volumes: 50
Individual Titles
Study, Apply, Share Series
Bibles, Dictionaries, and Commentaries
Lexham Bible Guides
Bible Studies
Quotations and Prayers
Other Books
More details about these resources
Show More