Catéchisme de l'Église Catholique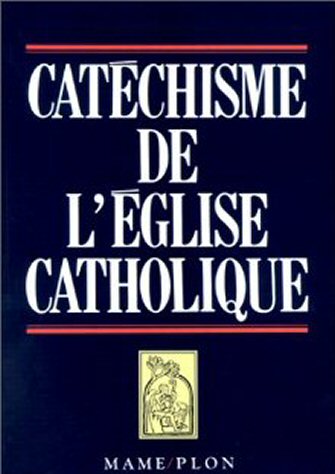 Catéchisme de l'Église Catholique
•
Runs on Windows, Mac and mobile.
Your Custom Discount
Reg. Price $39.95
Sale Price $29.95
Your Price $29.95
You Save $10.00 25%
Your Price
What's Pre-Pub?
$29.95
Reg.: $39.95
Print: $49.95
Overview
This volume presents a French translation of the Catechism of the Catholic Church, an essential resource for any study of Catholicism. It is an epochal work that expresses the tenets of the Catholic faith consistently with their articulation at the Second Vatican Council, and it remains in organic unity with the tradition of the Church, drawing on the sources of Sacred Scripture, the Fathers of the Church, the liturgy, and magisterial authority. Pope John Paul II stated that the Catechism is the "sure norm" for learning what the Catholic Church teaches. This is the definitive edition from 1997, revised after its initial promulgation in 1992, and it is the first "universal" Catholic catechism since the Reformation, and it is only the second one in history.
The Catechism is organized around the most shared aspects of the Christian faith—e.g., the Apostles' Creed, the Ten Commandments, and the Our Father—making it a welcome tool for facilitating dialogue between all Christians. Pope Benedict XVI oversaw the drafting of the text, and due to its beauty and profundity, many read it as devotional literature, rather than just as a reference work. It is nevertheless comprehensive in its treatment, covering everything from contraception to the doctrine of the Trinity, and from purgatory to papal infallibility.
Permeated with a subtle theology of love and communion, the Catechism of the Catholic Church is a work that deserves a place in every Christian's library.
With Logos Bible Software, Catéchisme de l'Église Catholique is enhanced with cutting-edge research tools. Scripture citations appear on mouseover in your preferred translation. Important terms link to dictionaries, encyclopedias, and a wealth of other resources in your digital library. Powerful topical searches help you find exactly what you're looking for. Tablet and mobile apps let you take the discussion with you. With Logos Bible Software, the most efficient and comprehensive research tools are in one place, so you get the most out of your study.
Survol
Cet ouvrage est une traduction du Catechism of the Catholic Church, une ressource essentielle pour l'étude du catholicisme. Caractéristique d'une époque, le Catéchisme présente les fondations de la foi catholique compatible avec les préceptes du concile Vatican II, tout en demeurant fidèle à la Tradition. Il utilise de nombreuses sources : les Écritures sacrées; les pères de l'Église; la liturgie, ainsi que l'autorité du Magistère. Source de référence de l'enseignement de l'Église catholique, le Catéchisme, comme le soulignait le Pape Jean-Paul II, sert de « norme ». Publié en 1992 originalment, c'est la version rééditée et définitive et fut publié en 1997. C'est le premier catéchisme universel depuis la réforme et seulement le deuxième de l'histoire.
Le Catéchisme se structure autour des éléments de la foi chrétienne les plus acceptés : le Symbole des apôtres, les Dix Commandements, et la prière du Notre Père. Cette démarche avait pour objectifs de faire du Catéchisme un outil accueillant pour tous les chrétiens et d'aider au dialogue œcuménique. Le Pape Benoît XVI fut chargé d'organiser les structures du texte du Catéchisme. Reconnu par sa beauté de son style, le Catéchisme est utilisé pour des méditations et non seulement comme un ouvrage de référence. Permettant un accès aux enseignements de l'Église catholique, il touche de nombreux sujets tels que la contraception, la Trinité, le purgatoire, et l'infaillibilité du pape.
Écrit avec une théologie subtile de la charité et de la communion, le Catéchisme de l'Église catholique est digne d'une place dans la bibliothèque de chaque chrétien.
Avec le logiciel biblique Logos, l'étude du Catéchisme de l'Église catholique est grandement améliorée. Des outils modernes sont mis à votre disposition. La présentation des citations des Écritures sacrées vous est présentée lorsque votre souris se situe sur la référence de votre traduction biblique préférée, de n'importe quelle langue. La terminologie biblique est liée à plusieurs dictionnaires et encyclopédies. De nombreuses ressources sont disponibles dans votre bibliothèque Logos. Des recherches minutieuses effectuées par thème vous aident à trouver exactement ce que vous cherchez. Avec nos applications mobiles, vous pourrez avoir à la portée de la main vos discussions et vos études en tout temps. Avec Logos Bible Software, l'ensemble des meilleurs outils est disponible pour vous fournir la meilleure expérience d'étude biblique concernant votre foi.
Key Features
Details the doctrine, dogma, and basic tenets of the Catholic Church
Offers insight into modern Catholic thought and theology
Facilitates dialogue between all Christians
Principales caractéristiques
Fournit des détails concernant la doctrine, les dogmes et les éléments fondamentaux de l'enseignement de l'Église catholique.
Donne accès à la pensée et à la théologie moderne de l'Église catholique
Présence d'un index volumineux et des guides de lecture adaptés
Product Details / Détails du produit