La Bible en Français (5 tomes)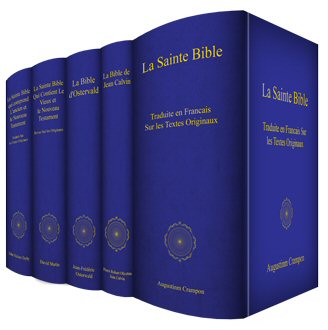 La Bible en Français (5 tomes)
•
Runs on Windows, Mac and mobile.
$24.00
Reg.: $124.95
Print: $456.83
* Projected price. Future bids may change this price.
Place Your Bid!
Click on the highest price you'd pay. If the final price is lower, that's what you'll pay.
Overview
Read and study the Bible with these classic French Bibles. Including translations from both Catholics and Protestants, this collection displays the highest achievements of French biblical scholars and provides unique insight into the history the Bible in France.
The Logos La Bible en Français Collection equips you for better study with cutting-edge functionality and features. Citations link directly to English translations and original-language texts, and important terms link to dictionaries, encyclopedias, and a wealth of other resources in your digital library. The Topic Guide lets you perform powerful searches to instantly gather relevant biblical texts and resources. Tablet and mobile apps let you take the discussion with you. With Logos Bible Software, the most efficient and comprehensive research tools are in one place, so you get the most out of your study.
Survol
Lisez et étudiez la Bible avec ces Bibles française classiques. Cette collection inclue des traductions catholiques et protestantes et vous donne les réalisations des spécialistes bibliques françaises pour avoir une perspective unique à l'histoire de la Bible française.
Get Augustin Crampon's Notes d'étude pour la Bible Crampon
Please note that originally this collection featured the La Bible de Genève and it has been replaced with La Bible de Jean Calvin.
Veuillez noter que la collection comprenait la Bible de Genève originalement et fut remplacé par la Bible de Jean Calvin.
Key Features
Features five classic French Bibles
Includes both Protestant and Catholic translations
Provides unique insights into the history of the Bible in France
Principales caractéristiques
Principales caractéristiques
Contient des traductions protestantes et catholiques
Vous donne des perspectives uniques à l'histoire de la Bible
Product Details / Détails sur le produit
Individual Titles / Titres Individuels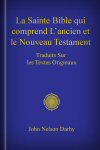 Get the classic translation of the French Bible from the "father of Dispensationalism": John Nelson Darby. Darby's Bible was used around the world, and the French edition—mostly translated by French Plymouth Brethren—appeared in its complete form in 1885, three years after Darby's death.
John Nelson Darby (1800–1882), an evangelist, was known as the father of dispensationalism. He attended Westminster School and Trinity College. Darby became a lawyer, but he practiced law for only one year, believing his faith was incompatible with legal practice. He was ordained as a deacon in the Church of England in 1825 and became a priest in 1826. He wrote Synopsis of the Books of the Bible and edited the Darby Bible.
Français
Obtenez la traduction par Darby de la Bible (publiée en 1885) qui est bien connue pour sa fidelité aux langues originales et qui est utilisée partout dans le monde jusqu'à nos jours.
John Nelson Darby (1800–1882), était un prédicateur protestant qui étais connu comme le père de dispensationalisme et un fondateur de l'Assemblée de Frères. Il a étudié en Angleterre chez Westminster School et Trinity College. Il est devenu avocat, mais après un an il a quitté, car il a cru que sa foi était incompatible avec la pratique de loi. Il a été ordonné comme diacre dans l'Église Anglicanne en 1825 et comme prêtre en 1826. Il a écrit beaucoup, notamment le Synopsis of the Books of the Bible et la Darby Bible.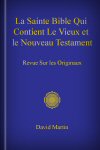 Get a French translation from one of the eighteenth century leading Reformed New Testament scholars. David Martin, a third-generation Reformed pastor, lived during the high tide of the Reformed church in France.
David Martin (1639–1721) was a French Protestant New Testament scholar and minister. He left France when the Edict of Nantes was revoked in 1685, taking a pastorate in Deventer, Netherlands.
Français
Obtenez une traduction de la Bible d'un des plus grand spécialistes du Nouveau Testament et Pasteur français. David Martin a été pasteur réformé et a vécu pendant le pinnacle de l'Église réformée en France.
David Martin (1639–1721) est pasteur français et spécialiste du Nouveau Testament. Il a fui la France quand l'Édicte de Nantes a été revoqué en 1685 et devenu Pasteur à Deventer aux Pays-Bas.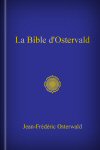 La Bible d'Ostervald
Editor: Jean-Frédéric Osterwald
Publisher: Société Typographique (Neuchâtel)
Publication Date: 1779
Pages: 1,420
Study the Bible in French with Jean-Frédéric Osterwald's translation, which was enormously influential among French Protestants and had a huge influence on French culture. It was also very popular in Britain.
Jean-Frédéric Osterwald (1663–1747) was a Swiss Reformed pastor, and an informal member of the "Swiss triumvirate," along with J.A. Turretini and Samuel Werenfels. He studied theology at Orleans, Paris, and Geneva, and was rumored to have embraced Socinianism and Arminianism. He wrote A Compendium of Christian Theology.
Français
Étudiez la Bible avec la traduction de la Bible de Jean-Frédéric Osterwald. Cette traduction de la Bible était très influent dans les églises protestantes et a grandement influencé la culture française. Cette traduction était très populaire en Angleterre.
Jean-Frédéric Osterwald (1663–1747) est pasteur Suisse réformé et membre informel du Triumvirate Helvetique, ainsi que J.A. Turretin (fils de Turretin) et Samuel Werenfels. Il a étudié la théologie à Orléans, à Paris et à Genève et était tolérant du Socianisme et Arminianisme. Il a écrit A Compendium of Christian Theology.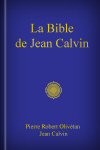 La Bible de John Calvin
Editors: Pierre Robert Olivétan and John Calvin
Publisher: Genève * M. Iehan Crefpin
Publication Date: 1551
Pages: 941
This is a translation of the Bible revised slightly by the French reformer John Calvin. It is based upon the translation work of Pierre Olivétan (whom some scholars believe to be the cousin of Calvin) which was the first Protestant French translation of the Bible. Calvin published his version (which earned the affectionate nickname la Bible de l'Épée-The Sword Bible) in 1540, 1546, and 1551. This final edition is what was used to form the French Genevan Bible.
Pierre Robert Olivétan (1506–1538)was a French Protestant and, Bible translator who was believed to be John Calvin's cousin.
John Calvin (1509–1564) is one of the most influential figures in world history. A prominent French theologian during the second generation of the Protestant Reformation, he led the spread of Reformed Protestantism across Europe. He is known as the "father of Calvinism," and his works include Institutes of the Christian Religion.
Français
C'est la traduction de la Bible qui fut légèrement révisée par le réformateur Jean Calvin. C'est une révision du travail de Pierre Olivetan (qui est, selon les historiens, serait le cousin de Calvin) qui est la première traduction protestante de la Bible en français. Calvin publia sa révision du texte (qui prit le pseudonyme La Bible de l'Épée) en 1540, 1546, et 1551. C'est l'édition finale qui fut utilisée dans la révision qui est connue comme étant La Bible de Genève.
Pierre Robert Olivétan (1506–1538) était protéstant français, un traducteur de la Bible et possiblement le cousin de Jean Calvin.
Jean Calvin (1509–1564) était un réformateur réligieux qui a change le monde. Comme théologien et écrivain français de la deuxième génération de la réforme, sa pensée a influencée énormement l'Europe. Il est consideré père du calvinisme et ses oeuvres incluent son Institution, des commentaires bibliques, lettres et beaucoup d'autres tomes.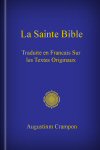 Examine a classic French translation of the Bible. One of the most famous French translations, Crampon meticulously compiled thousands of notes to supplement this translation, which was produced in seven segments. The Notes d'étude pour la Bible Crampon are available as a separate resource.
Augustin Crampon (1826–1894) was a Catholic Bible translator, New Testament scholar, and canon of Amiens.
Français
Lisez une traduction classique de la Bible qui est utilisée par l'Église Catholique depuis sa publication. Notes d'étude pour la Bible Crampon sont disponible en tant qu'une ressource distincte. La traduction a été publié en 7 tomes avec la traduction française, le vulgate et les notes d'étude.
Augustin Crampon (1826–1894) est traducteur de la Bible pour l'Église catholique, spécialiste des études Bibliques et canon d'Amiens.