The Antioch Bible (10 vols.)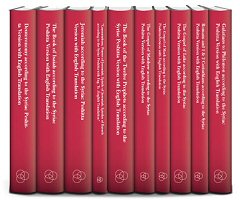 Overview
The Antioch Bible from Gorgias presents a new idiomatic English translation based on the Aramaic text of the Syriac Peshitta. In this collection, you'll find the 10 completed volumes in the series, each providing the original Syriac text alongside an English translation. The translations are the work of an international team of scholars from North America and Europe, and the original text was prepared by individuals who grew using the Peshitta Bible, in consultation with leading biblical scholars.
The goal of this project is "to provide a reliable text for scholars and students who are looking for a fully vocalized Syriac text, and to make available to religious communities, for whom this text is sacred, an English translation that can be used in various religious and cultural settings" (George Kiraz, editor in chief, Gorgias Press). The Antioch Bible volumes make the Syriac Bible available to the modern reader in an idiomatic English translation, with footnotes that point out literal expressions in the original Syriac.
Why the Peshitta Bible?
The Peshitta Bible is one of the earliest versions of the Scripture dating back to the times of the Early Church, and is the only version written in a Semitic setting similar to that of the ancient Israelites and early Christians. Syriac, the language of the Peshitta, is a dialect of Aramaic akin to the Aramaic of the Jewish exile and the Palestinian Aramaic of Jesus Christ. This sociolinguistic connection with the Semitic world gives new insights into the words of the Bible, currently undisclosed by Western languages. Moreover, the Peshitta Bible is full of distinctive readings that are absent in other versions. The Old Testament, or the Hebrew Bible, probably originated as a Jewish targum "translation" and was inherited by the Early Church. It is rich with links to the ancient Jewish exegetical tradition. The New Testament, in particular the Gospels, is a revision of an older Syriac version that dates back to the early centuries of the Early Church.
In the Logos editions, the Antioch Bible is enhanced by amazing functionality. Easily cross-reference with your other English translations, while important terms link to dictionaries, encyclopedias, and a wealth of other resources in your digital library. Perform powerful searches to find exactly what you're looking for. Take your study with you using tablet and mobile apps. With Logos Bible Software, the most efficient and comprehensive research tools are in one place, so you get the most out of your study.
Key Features
Makes the Syriac Bible accessible to the modern reader
Works from the Syriac Peshitta Bible
Presents the Syriac text alongside new English translations
Compiled and translated by a distinguished team of international Syriac scholars
Product Details
Title: The Antioch Bible
Series: Surath Kthob
Publisher: Gorgias Press
Volumes: 10
Pages: 2,794
Individual Titles