D.A. Carson Sermon Archive (553 sermons)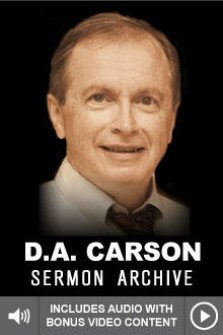 D.A. Carson Sermon Archive (553 sermons)
•
Runs on Windows, Mac and mobile.
Your Custom Discount
Reg. Price $139.95
Sale Price $89.95
Your Price $89.95
You Save $50.00 35%
Your Price
What's Pre-Pub?
$89.95
Reg.: $139.95
Print: $189.95
Overview
Get more than 500 sermons from D.A. Carson—including a transcript and audio presentation of each sermon. Some sermons include bonus video content. Search for specific biblical passages or topics and listen to Carson discuss them while following along with your text version of the sermon. This unique combination allows you to interact with Carson as he presents material spanning three decades that includes series on entire books of the Bible, including Ezekiel, John, Philippians, and Revelation; on theological topics, such as the New Perspective on Paul, openness theology, and providence; and on practical issues such as suffering, discipleship, and cross-cultural ministry. Preached in churches, colleges, and at conferences around the world, these sermons provide instruction and edification from a preeminent evangelical voice deeply committed to the gospel of Jesus Christ.
The Logos D.A. Carson Sermon Archive equips you for better study with cutting-edge functionality and features. Citations link directly to English translations and original-language texts, and important terms link to dictionaries, encyclopedias, and a wealth of other resources in your digital library. The Topic Guide lets you perform powerful searches to instantly gather relevant biblical texts and resources. Tablet and mobile apps let you take the discussion with you. With Logos Bible Software, the most efficient and comprehensive research tools are in one place, so you get the most out of your study.
Key Features
Gain access to more than 500 sermons from D.A. Carson
Includes a manuscript and either a audio or video component for every sermon
Search by biblical passage or topic and listen to Carson speak about it
Presents material spanning nearly three decades
Sermon Series Include:
1994 Conference
2003 Founders Conference
A Day with Dr. Don: It's All About Jesus (Mars Hill Church in Seattle)
A Light Introduction to Biblical Interpretation
Back to Basics: Studies in 1 John
Basic Baptist Beliefs
Bethlehem Baptist Church
Chosen by God
Christ-expo: How Can We Believe?
Christian Life Conference
Christmas at the Castle
Clarus Conference
College Church (Wheaton)
Connecting Evangelism and Ministry (Australia)
Cross-Cultural Training
Desiring God Pastors Conference
Enjoying God (New Horizon 2009 in Northern Ireland)
Equipped to Serve
Evangelical Ministry Assembly
Evangelistic Addresses
Evangelizing Postmoderns
For Christian Men
Grace Ministers' Conferences (Escom Midrand, South Africa)
J.B. Gray Lectures at Southern Seminary
Jesus Is Better: Six Studies in Hebrews
Katoomba Christian Conference Centenary (Sydney, Australia)
Making Sense of Suffering
Missions as the Triumph of the Lamb (RTS)
More Principles of Bible Interpretation
Nehemiah: The Triumph and Failure of Reformation
Openness of God Theology
Paul Speaks to Pastors
Portraits of Jesus in John's Gospel
Prayer and Mission
Praying with Paul
Preaching and Biblical, Systematic, Historical, and Pastoral Theology
Preaching the Psalms
Pressing On: Studies in 1 Peter
Reaching an Untouched Generation
Revelation
Sacred and Sure
Sermon on the Mount
Showing the Spirit
Some Turning Points in Redemptive History
Studies in Ezekiel
Studies in Philippians
Summer at the Castle
TEDS Commencement Address
Temptation
TGC Los Angeles Conference 2010
The God Who Is There
The Gospel Coalition 2009 National Conference
The Gospel Coalition 2011 National Conference
The Gospel Coalition 2013 National Conference
The Holiness of God: 2009 National Conference (Ligonier Ministries)
The Holy Spirit in the Book of Acts
The Interpretation of the Bible in a Postmodern World
The Nashville Conference on the Church and Theology
The New Perspective on Paul
The Olivet Discourse
The Pastor as Father and Son (2008 Desiring God Conference)
The Pastor as Scholar and the Scholar as Pastor
The Promised Holy Spirit
The Spirituality of the Gospel of John
UCCF Staff Training Conference (Jan 5–8, 2009)
Whitefield Luncheon (Moody Church)
Word Within the Word
Workshop of Biblical Exposition (Simeon Trust)
The Primacy of Expository Preaching
Christ and Post-Modernity
Community and the Cross
The Intolerance of Tolerance
The Use of the OT in the NT
Product Details
About D.A. Carson
D.A. Carson (b. 1946) is one of the most respected New Testament scholars in the world. A respected teacher, author, and speaker, he is currently research professor of New Testament at Trinity Evangelical Divinity School, and the president of The Gospel Coalition.
He has served as pastor of Richmond Baptist Church and as the first dean of the seminary of Northwest Baptist Theological College, now known as Northwest Baptist Seminary. Carson lectures in academic and church settings around the world, and is the author of more than 50 books, including Exegetical Fallacies, The Farewell Discourse and Final Prayer of Jesus: An Exposition of John 14–17, and Showing the Spirit: A Theological Exposition of 1 Corinthians 12–14. He is the editor of the Pillar New Testament Commentary series, and was coeditor of the Commentary on the New Testament Use of the Old Testament with G.K. Beale, and the Studies in New Testament Greek series with Stanley Porter.