Review and Herald, Part 1 (1850–1882) (59 vols.) (1,531 issues)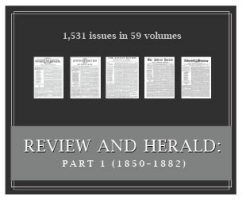 Review and Herald, Part 1 (1850–1882) (59 vols.) (1,531 issues)
•
Runs on Windows, Mac and mobile.
$40.00
* Projected price. Future bids may change this price.
Place Your Bid!
Click on the highest price you'd pay. If the final price is lower, that's what you'll pay.
Overview
In 1848, Ellen White received what she believed was a vision from God, instructing her husband to launch a publication. James White edited and circulated the first 1,000 copies of the Review and Herald in 1849, with the goal of promoting what early Sabbatarian Adventists called the "present truth." It became a nineteenth century version of social media, in which scattered Adventists discussed doctrine through letters to the editor and shared news about advancing their pre-denominational "movement." Upon the organization of the Seventh-day Adventist Church in 1863, the Review and Herald became its official communication outlet. Published today as the Adventist Review, it remains one of the longest-running publications in North America, and is circulated world-wide in multiple languages.
Journey back to the beginning of this publication with the Review and Herald, Part 1 collection. With 1,531 issues spanning from 1850 to 1882, it covers the foundational years of the Seventh-day Adventist Church. With these historic resources, you can explore the development of doctrine and perspectives of early Seventh-day Adventists. This collection will be enjoyed by those interested in the roots of the SDA Church, as well as North American Christian history and culture.
In the Logos editions, these valuable volumes are enhanced by amazing functionality. Scripture citations link directly to English translations, and important terms link to dictionaries, encyclopedias, and a wealth of other resources in your digital library. Perform powerful searches to find exactly what you're looking for. Tablet and mobile apps let you take the discussion with you. With Logos Bible Software, the most efficient and comprehensive research tools are in one place, so you get the most out of your study.
Key Features
Publication showcasing historic Seventh-day Adventist theology and perspectives
Discussion of Seventh-day Adventist doctrine and fellowship
Window into mid and late-nineteenth-century history and culture
Product Details
Title: Review and Herald, Part 1 (1850–1882) (59 vols.) (1,531 issues)
Editors: James White, Uriah Smith, and J. N. Andrews
Publisher: General Conference of SDA
Publication Date: 1850–1882
Pages: 14,048
About the Editors
James White (August 4, 1821–August 6, 1881) was a founder of the Seventh-day Adventist Church. He played a significant role in the formal organization of the denomination, as well as Battle Creek College, which is now Andrews University.
Uriah Smith (May 3, 1832–March 6, 1903) was editor of the Review and Herald for 50 years. When the General Conference was organized in 1863, Smith was elected as its first secretary. In 1874, he was ordained to the gospel ministry. During the same year, he became a Bible teacher at Battle Creek College. He is also the author of The Prophecies of Daniel and the Revelation.
J. N. Andrews (July 22, 1829–October 21, 1883) was a Seventh-day Adventist pastor, theologian, and the denomination's first foreign missionary.