Moral Perspectives on Sex, Family, and Bioethics (7 vols.)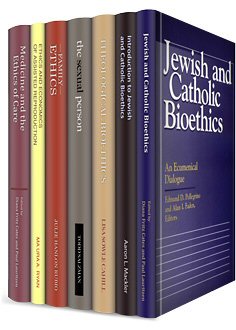 Moral Perspectives on Sex, Family, and Bioethics (7 vols.)
•
Runs on Windows, Mac and mobile.
Your Custom Discount
Reg. Price $149.95
Pre-order Price $109.95
Your Price $109.95
You Save $40.00 26%
Your Price
What's Pre-Pub?
$109.95
Reg.: $149.95
Print: $191.65
Overview
Moral Perspectives on Sex, Family, and Bioethics (7 vols.) explores a variety of controversial moral issues and discusses them through the lens of contemporary Catholic moral theology. These texts wrestle with modern topics like infertility, assisted suicide, marriage, and family, seeking the guidance of Scripture and the Catholic moral tradition for answers.
The Moral Traditions Series by Georgetown University Press places contemporary moral issues in conversation with theologians to engage the church with the world. The texts included in this collection explore the moral traditions of the church and bring historical views into new light. The Logos edition of the Moral Traditions Series is comprised of five collections: Moral Perspectives on Feminism (3 vols.), Moral Perspectives on Sex, Family, and Bioethics (7 vols.), Fundamental Issues in Moral Theology (17 vols.), Moral Theologians Collection (10 vols.), and Moral Perspectives on Society and Politics (11 vols.).
With the Logos edition of Moral Perspectives on Sex, Family, and Bioethics (7 vols.), these powerful reference tools automatically integrate with your Logos library, allowing you to cross-reference them and study these fascinating topics like never before. See what other theologians have to say, and instantly gather all relevant materials with the Topic Guide. Use Logos mobile apps to take the conversation with you. With Logos Bible Software, the most comprehensive research tools help you maximize your study.
Key Features
Seven texts engaging a variety of moral issues
Modern Catholic perspectives
Informative bioethics studies
Award-winning texts
Individual Titles
In these essays, a diverse group of ethicists draw insights from both religious and feminist scholarship in order to propose creative new approaches to the ethics of medical care. While traditional ethics emphasizes rules, justice, and fairness, the contributors to this volume embrace an "ethics of care," which regards emotional engagement in the lives of others as a basic part of discerning what we ought to do on their behalf.
A sensitive and sensible exploration of important new directions in bioethics from several highly respected voices . . . Their essays grip one's attention and expand one's horizons.
—Lisa Sowle Cahill, J. Donald Monan Professor of Theology, Boston College
Curious about what feminism, narrative, and the ethics of care mean for bioethics? Medicine and the Ethics of Care is an excellent place to begin satisfying that curiosity. Some of the voices are familiar and distinguished; some are new and exciting. All are worth reading.
—Thomas H. Murray, president, The Hastings Center
Diana Fritz Cates is an associate professor of ethics in the School of Religion at the University of Iowa. She is the author of Choosing to Feel: Virtue, Friendship, and Compassion for Friends.
Paul Lauritzen is a professor and the chair of the department of religious studies and the director of the program in applied ethics at John Carroll University. His books include Cloning and the Future of Human Embryo Research.
Infertility treatment is costly, time-consuming, invasive, and emotionally and physically arduous, yet technology remains the focus of most public discussion of the topic. Drawing on concepts from medical ethics, feminist theory, and Roman Catholic social teaching, Maura A. Ryan analyzes the economic, ethical, theological, and political dimensions of assisted reproduction.
Ryan contends that meaningful questions about medical appropriateness and social responsibility can only be raised by ceasing to treat assisted reproduction as a consumer product. She places infertility treatments within broader commitments to the common good, understanding reproductive rights as an inherently social, rather than individual, issue.
[A]n excellent book that makes significant contributions to the diverse fields of ethical theory and public policy analysis. Ryan displays a sophisticated understanding of feminist theory, medical ethics, and Catholic social teaching on economic justice . . . well worth the attention of ethicists, medical practitioners, lawyers, and clergy engaged in formulating responses to involuntary human infertility.
—Medical Humanities Review
Instead of discussing reproductive technology in terms of privacy and rights, Ryan offers a compelling theological and ethical analysis of the world of reproductive medicine rooted in the tradition of the common good. Argued with exceptional care, this book is a singular contribution to the literature on the ethics of assisted reproduction.
—Paul Lauritzen, director of the program of applied ethics, John Carroll University
Maura A. Ryan is associate provost at the University of Notre Dame and coeditor of The Challenge of Global Stewardship: Roman Catholic Responses.
According to Julie Hanlon Rubio, sex, money, eating, spirituality, and service are all areas for practical application of family ethics. In each area, intentional practices can function as acts of resistance to a cultural and middle-class conformity that promotes materialism over relationships. These practices forge deep connections within the family and help families live out their calling to be in solidarity with others and participate in social change. It is through these everyday moral choices that most Christians can live out their faith—and contribute to progress in the world.
This book dives into the tradition and situates itself within academic discussions, but it is written in accessible prose that is always connected to the practical and everyday lives of families. It is certainly appropriate for the educated non-specialist, and will be an invaluable resource for pastors and other Christian leaders ministering to families.
—The Way
Even coming from a rich Catholic background of understanding, her concepts and applications can be used by any denomination . . . Anyone looking for a refreshing read on family ethics will not be disappointed with Dr. Rubio's work.
—Theological Book Review
This book is a 'must read' for anyone who is interested in family life, marriage and relationships in general. It will provoked much discussion in many areas of sexual morality as well as making ordinary married couples feel more at home in theological discussions on sexuality, family and marriage.
—The Furrow
Quite simply, with this volume, Julie Hanlon Rubio has now emerged as one of the most insightful theologians today on the theology of marriage and family.
—Richard R. Gaillardetz, Murray/Bacik Professor of Catholic Studies, University of Toledo
Rubio is that rare voice that manages to keep ideals in clear view while appreciating the importance of negotiation, compromise, persistence, and practicality. This book will satisfy everyone from scholars to students to all those working out connections between faith and family.
—Lisa Sowle Cahill, Monan Professor of Theology, Boston College
Julie Hanlon Rubio is an associate professor Christian ethics at Saint Louis University. She is the author of A Christian Theology of Marriage and Family and coeditor of Readings in Moral Theology No. 15.
Two principles capture the essence of the official Catholic position on the morality of sexuality: first, that any human genital act must occur within the framework of heterosexual marriage; second, each and every marriage act must remain open to the transmission of life. In this comprehensive overview of Catholicism and sexuality, theologians Todd A. Salzman and Michael G. Lawler examine and challenge these principles. Remaining firmly within the Catholic tradition, they contend that the Church is being inconsistent in its teaching by adopting a dynamic, historically conscious anthropology and worldview on social ethics and the interpretation of scripture while adopting a static, classicist anthropology and worldview on sexual ethics.
Winner of the 2009 First Place Award for Best Book in Theology from the Catholic Press Association
Stimulating reading for theologians and graduate students.
—Religious Studies Review
Salzman and Lawler have succeeded brilliantly in combining a rigorous historical-critical engagement of the Catholic moral tradition with a set of creative, forward-looking proposals . . . Salzman and Lawler have written an engaging, well-researched book that handles extremely complicated and controversial questions in a nuanced and intellectually rigorous manner.
—Theological Studies
The present volume is their clearest and most detailed critical inquiry into sexual anthropology to date. The dialogue that this volume should generate between the authors and the advocates of the New Natural Law Theory will be very valuable.
—Catholic Library World
Todd Salzman and Michael Lawler's new book . . . is among the most important works in Catholic sexual ethics to emerge in the last two decades.
—National Catholic Reporter
Todd A. Salzman is a professor of Catholic theology and chair of the department of theology at Creighton University. He is the coeditor of Marriage in the Catholic Tradition: Scripture, Tradition, and Experience and author of What Are They Saying About Roman Catholic Ethical Method?
Michael G. Lawler is professor emeritus of Catholic theology at Creighton University. He is the author of What Is and What Ought to Be: The Dialectic of Experience, Theology, and Church and Marriage and the Catholic Church: Disputed Questions.
As a theological ethicist and progressive Catholic, Lisa Sowle Cahill does not want to cede the "religious perspective" to fundamentalists and the pro-life movement, nor does she want to submit to the gospel of a political liberalism that champions individual autonomy as holy writ. In Theological Bioethics, Cahill calls for progressive religious thinkers and believers to join in the effort to reclaim the best of their traditions through jointly engaging political forces at both community and national levels.
Winner of the 2006 First Place Award for Outstanding Theology Books from the Catholic Press Association
Offers a vision and a voice that enriches the field of bioethics and invites the reader to take specific practical steps: actions that will eventually become true democratic activism, both locally and globally.
—The Way
If more of us who are interested in theological bioethics were to follow [Cahill's] call to engagement and to justice, there might really be change.
—Allen Verhey, professor of Christian ethics, The Divinity School, Duke University
Lisa Sowle Cahill is the J. Donald Monan Professor of Theology at Boston College. A former president of the Society of Christian Ethics and the Catholic Theological Society of America, her books include Sex, Gender, and Christian Ethics, Family: A Christian Social Perspective, and Love Your Enemies: Disciplieship, Pacifism, and Just War Theory.
Leavened with compassion, common sense, and a readable style, this introduction to complicated bioethical issues from both Jewish and Catholic perspectives is informative and accessible. Aaron Mackler takes the reader through methodology in Roman Catholic moral theology and compares and contrasts it with methodology as it is practiced in Jewish ethics. He then examines key contemporary ethical topics for both Jewish and Catholic ethicists: euthanasia and assisted suicide, end-of-life decisions, abortion, in vitro fertilization, and the ever-growing problem of justice regarding access to health care and medical resources. He summarizes general tendencies in the comparison of the two traditions, and addresses the significance of convergence and divergence between these traditions for moral thinkers within each faith community, and generally in western democracies like the United States.
Anyone hoping to understand the spectrum of bioethical opinions today will want to read this superb, well-written, and accurate summary of the similarities and differences in both traditions. Highly recommended to scholars, health professionals, policymakers, and bioethicists.
—Edmund D. Pellegrino, professor emeritus of medicine and medical ethics, Center for Clinical Bioethics, Georgetown University Medical Center
Mackler's mastery of the literature from both traditions is obvious, and his conclusions are balanced.
—Andrew Lustig, department of religious studies, Rice University
Aaron Mackler is one of the most thoughtful and thorough scholars of the field of Jewish bioethics, and this book is in a sense a continuation of a dialogue both historical and central to religious ethics, the interlocution between Jewish and Catholic interpretive communities, as both struggle with the emerging dilemmas of contemporary medicine.
—Laurie Zoloth, professor of medical ethics and humanities, Feinberg School of Medicine, Northwestern University
Diana Fritz Cates is an associate professor of ethics in the School of Religion at the University of Iowa. She is the author of Choosing to Feel: Virtue, Friendship, and Compassion for Friends.
Paul Lauritzen is a professor and the chair of the department of religious studies and the director of the program in applied ethics at John Carroll University. His books include Cloning and the Future of Human Embryo Research.
Jewish and Catholic Bioethics: An Ecumenical Dialogue
Editors: Edmund D. Pellegrino and Alan I. Faden
Series Editor: James F. Keenan, SJ
Series: Moral Traditions Series
Publisher: Georgetown University Press
Publication Date: 2002
Pages: 368
Drawing on multiple interconnected scriptural and spiritual sources, the Jewish tradition of ethical reflection is intricate and nuanced. This book presents scholarly Jewish perspectives on suffering, healing, life, and death, and compares them with contemporary Christian and secular views.
[An] excellent book for students and health professionals who are inspired by the Hebrew Bible and/or the Christian New Testament.
—Australasion Catholic Record
A probing combination of Jewish, Christian and secular thought. This volume challenges many preconceptions about fundamental ethical beliefs of major religions.
—Kevin O'Rourke, OP, Saint Louis University Health Sciences Center
Edmund D. Pellegrino is the chairman of the president's council on bioethics, and professor emeritus of medicine and medical ethics at the Center for Clinical Bioethics at Georgetown University Medical Center. He is the author of numerous books, including Helping and Healing: Religious Commitment in Health Care and The Christian Virtues in Medical Practice.
Alan I. Faden is a professor of neuroscience, neurology, and pharmacology at the Georgetown University Medical Center. He is coauthor of Medical Harm: Historical, Conceptual, and Ethical Dimensions of Iatrogenic Illness.
Product Details
Title: Moral Perspectives on Sex, Family, and Bioethics
Series Editor: James F. Keenan
Series: Moral Traditions Series
Publisher: Georgetown University Press
Volumes: 7
Pages: 2,040
About James F. Keenan
James F. Keenan has been a Jesuit of the New York Province since 1970 and an ordained priest since 1982. He is a member of the board of directors for the Catholic Theological Society of America, a fellow of the Institute for Advanced Studies in Humanities at the University of Edinburgh, and a fellow of the Center of Theological Inquiry at Princeton. He has published numerous articles in scholarly journals including Theological Studies, Journal of Moral Theology, and the Asian Christian Review. His published books include The Ethics of the Word: Voices in the Catholic Church Today, Moral Wisdom: Lessons and Texts from the Catholic Tradition, and Goodness and Rightness in Thomas Aquinas's Summa Theologiae.