Ex Auditu: An International Journal of Theological Interpretation of Scripture (5 vols.)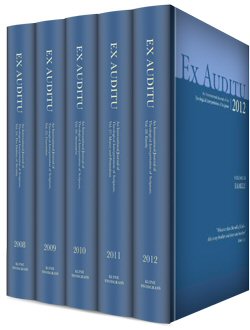 Ex Auditu: An International Journal of Theological Interpretation of Scripture (5 vols.)
•
Runs on Windows, Mac and mobile.
Overview
Ex Auditu began as the journal incorporating the papers of the Fredrick Neumann Symposium of Princeton Theological Seminary. After the first four volumes, the journal began publishing the papers from the North Park Symposium on the Theological Interpretation of Scripture. The intent from the first has been to provide a forum for doing interdisciplinary theology from a biblical perspective for the benefit of the church. Each annual publication focuses on a topic crucial to the life of today's church. Additionally, each issue contains an annotated bibliography and a sermon, which makes it a practical guide for pastors.
Ex Auditu: 2008–2012 includes the five latest issues of the journal. Over 40 contemporary theological scholars contributed to these five issues, including Scot McKnight, R. W. L. Moberly, John M. G. Barclay, Ben Witheringon III, William H. Willimon, and others. The volumes contained in this collection discuss "The Idolatry of Security," "Conversion," "Atonement," "Money and Possessions," and "Family."
With the Logos editions, these volumes gain valuable functionality as they integrate with your entire digital library. Instantly gather relevant materials with the Topic Guide, or consult these articles as you read through other works on these contemporary topics. All references to other works are tagged, and references to resources you own become links. Scripture references appear in your preferred translation on mouseover. Perform powerful searches to find exactly what you're looking for. Take the discussion with you with Logos mobile apps. Read these works with Logos Bible Software to get the most from your study.
For a massive collection of journals from world-renowned scholars across a variety of disciplines, check out the Master Journal Bundle.
Key Features
Five issues spanning five years
Articles from over 40 theological scholars
Discussions of contemporary topics
Product Details
Title: Ex Auditu: 2008–2012
Editor: Klyne Snodgrass
Publisher: Wipf & Stock
Volumes: 5
Pages: 1,130
About the Editor
Klyne Snodgrass is Paul W. Brandel Professor of New Testament Studies at North Park Theological Seminary in Chicago, Illinois.