Spiritual Disciplines for the Christian Life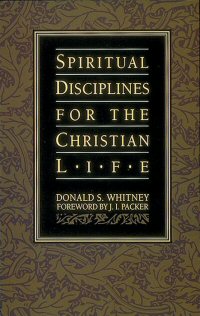 Overview
It's not uncommon for an accomplished musician to be able to sit down in front of a new piece of music and play it through without a hitch—to make it seem easy, as if it required no effort. Yet the "freedom" to play with such skill comes only after years of disciplined practice.
In the same way, the freedom to grow in godliness—to naturally express Christ's character through your own personality—is in large part dependent on a deliberate cultivation of the spiritual disciplines. Far from being legalistic, restrictive, or binding, as they are often perceived, the spiritual disciplines are actually the means to unparalleled spiritual liberty.
If you'd like to embark on a lifelong quest for godliness, Spiritual Disciplines for the Christian Life will help you on your way. Drawn from a rich heritage left us by the early Church Fathers, the Puritan writers, and Jesus Christ himself, Spiritual Disciplines for the Christian Life will guide you through a carefully selected array of disciplines, including:
Scripture reading
Prayer
Worship
Scripture meditation
Evangelism
Serving
Stewardship of time and money
Scripture application
Fasting
Silence and solitude
Journaling
Learning
By illustrating why the disciplines are important, showing how each one will help you grow in godliness, and offering practical suggestions for cultivating them on a long-term basis, Spiritual Disciplines for the Christian Life will provide you a refreshing opportunity to embrace life's greatest pursuit—the pursuit of holiness—through a lifelong delight in the disciplines.
In the Logos edition, all Scripture passages in Spiritual Disciplines for the Christian Life are tagged, appear on mouseover, and link to your favorite Bible translation in your library. With Logos' advanced features, you can perform powerful searches by topic or Scripture reference—finding, for example, every mention of "prayer" or "meditation."
Key Features
Illustrates the importance of spiritual disciplines
Provides practical tools for daily Christian living
Includes a study guide
Product Details
Title: Spiritual Disciplines for the Christian Life
Author: Donald S. Whitney
Publisher: NavPress
Publication Date: 1991
Pages: 266
About Donald S. Whitney
Donald S. Whitney is the associate professor of biblical spirituality and the senior associate dean of the School of Theology at The Southern Baptist Theological Seminary in Louisville, Kentucky. He is the best-selling author of Ten Questions to Diagnose Your Spiritual Health and How Can I Be Sure I'm a Christian? Don holds a Doctor of Ministry degree from Trinity Evangelical Divinity School in Deerfield, Illinois.
More details about these resources