Octavius Winslow Collection (4 vols.)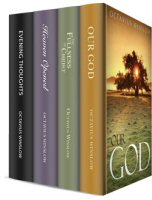 Octavius Winslow Collection (4 vols.)
•
Runs on Windows, Mac and mobile.
Your Custom Discount
Reg. Price $65.95
Pre-order Price $49.95
Your Price $49.95
You Save $16.00 24%
Your Price
What's Pre-Pub?
$49.95
Reg.: $65.95
Print: $91.00
Overview
A contemporary of J. C. Ryle and Charles Spurgeon, Octavius Winslow (1808–1878) was one of the foremost evangelical preachers in nineteenth-century United States and England. Known for the richness of his devotional writings and ardency of his convictions, his writings remain a treasury of wisdom and insight. Though less widely known today than some of his contemporaries, Winslow's warmth and faithfulness shine through in his work, a gem for readers looking for devotional reading.
And in the Logos Bible Software editions, the volumes of the Octavius Winslow collection are enhanced with amazing functionality. These fully indexed texts will link with a wealth of other resources in your library, enabling near-instant search results for words, people, places, and ideas, while Scripture references appear on mouseover in your preferred translation. With the most efficient and comprehensive research tools all in one place, you can deepen your study with just a few clicks; and Logos tablet and mobile apps let you take your study and connect with your community wherever you go.
Key Features
Offers a sampling of the best writings of Octavius Winslow
Includes the thoughtful correspondence of his beloved mother, Mary
Provides excellent material for daily devotionals
Individual Titles
Evening Thoughts
Author: Octavius Winslow
Publisher: Reformation Heritage
Publication Date: 2005
Pages: 733
This daily reader will engage and comfort the believer as they end the day. This book provides a detailed exposition of a Scripture text and gives application for the reader. The selections are deep, heart-warming, and inspirational—perfect for promoting a Christ-centered ending to each day. This devotional engages the heart as it transforms the will, guiding with warmth and steadiness in the good fight of faith on the way to glory.
"I would caution you from my own experience, never to sit down and reason what you should do in this or that perplexity, but go at once to the Lord with it, distrusting your own . . . but trusting him, which you may safely do."— Mary Winslow
In this collection of letters written by Mary Winslow (1774–1854) , edited by her son Octavius Winslow, the heart of a deeply faithful woman is illuminated as she faces the joy and pain of human experience, seeking to trust God through it all. Mary married to Thomas Winslow in 1791, and sadly was widowed at forty when the family was only newly immigrated to the United States; then responsible for nine children on her own in a new place, she experienced much affliction and sorrow. Out of these trials her faith came forth as gold, and her deep communion with Christ continues to be a help and comfort to many through her writings.
The letters of Mary Winslow are a rich treasury of experiential and practical divinity. Living, vital Christianity is here set before us in undeniable reality. Read this book prayerfully, and let Mary Winslow be your spiritual mentor.
—Joel R. Beeke, professor of systematic theology and homiletics, Puritan Reformed Theological Seminary
In Our God, Octavius Winslow paints a picture of God's glorious character, and how it harmonizes with the needs of his people. Winslow examines several of the specific perfections of God revealed to us in Scripture. And rather than advancing a comprehensive study on the attributes of God, Winslow limits his discussion to some of the moral perfections of God, such as his love, patience, comfort, and grace, doing so with warmth and encouragement.
"Our Jesus, the elder brother, centers in himself infinitely more than all the tender love and sympathy found in his whole Church. It was necessary that by every possible human sensibility he should be qualified to be the gracious, sympathizing head of a suffering body; and no truth is brought out in the history of Joseph more luminously, or exquisitely touching and beautiful, as portraying the Lord Jesus Christ than the deep sensibility of Joseph's nature."—Octavius Winslow, The Fullness of Christ Unfolded in the History of Joseph. In this volume of devotional writing, Winslow explores the storied history of Joseph and his brothers, pulling this narrative together with the idea of Christ as our brother, and the way he reveals himself to his people.
Product Details
Title: Octavius Winslow Collection
Author: Octavius Winslow
Publisher: Reformation Heritage
Volumes: 4
Pages: 1,504
About the Author
Octavius Winslow was born in London, England, and raised in New York. He was ordained as a pastor in 1833 and held pastorates in New York, Leamington Spa, Bath, and Brighton. A prolific author, his richly devotional writings exhibit his Reformed, experiential convictions and distinctive, warm, ardent style.