An Intelligent Person's Guide to Catholicism and Christian Ethics (2 vols.)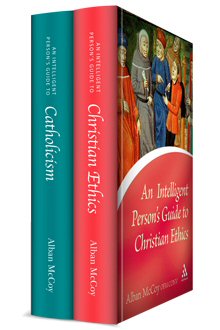 An Intelligent Person's Guide to Catholicism and Christian Ethics (2 vols.)
•
Runs on Windows, Mac and mobile.
Your Custom Discount
Reg. Price $37.95
Pre-order Price $24.95
Your Price $24.95
You Save $13.00 34%
Your Price
What's Pre-Pub?
$24.95
Reg.: $37.95
Print: $46.90
Overview
In these two volumes, Alban McCoy writes in jargon-free language to intelligent people seeking to understand moral issues in a Christian context. McCoy breaks down the first principles of morality, expounding on what makes a moral judgment separate from a scientific one, and asking how Christian revelation shapes our understanding of morality as opposed to other ethical systems. He also discusses issues that are particularly relevant to the Catholic faith, addressing tough questions relating to divorce, the papacy, ordination, good and evil, and the God's existence. McCoy then explains how these theoretical discussions engage with the realities of day-to-day life. Throughout these volumes, McCoy writes in a clear and easy-to-follow voice without sacrificing depth and nuance, clarifying tough passages without ever spoon-feeding the reader.
The Logos editions of these texts allow you to easily connect McCoy's text with key primary sources like Aquinas, Augustine, and many others. Scripture references appear on mouseover, and important theological concepts link to dictionaries, encyclopedias, and a wealth of other resources in your library. You can perform powerful searches by topic, and take the conversation with you on your tablet or phone.
Key Features
Explains the moral foundations of Catholicism and Christian ethics.
Speaks in an easy-to-follow voice that doesn't sacrifice depth
Addresses tough questions regarding the Church's stance on marriage, the papacy, ordination, and more
Individual Titles
In this concise and lucid book, Alban McCoy considers the fundamental principles of morality in a Christian context. McCoy starts with the widespread phenomenon of seemingly insuperable disagreement in discussion of the most basic moral issues. From there he locates the root cause of disagreement in confusion about the essential nature of morality. In doing so, he answers questions like, what distinguishes a moral judgment from an historical or scientific judgment? Which considerations are relevant to moral issues as opposed to questions of a pragmatic or practical importance? And what resources are available to us when weighing moral matters? Along the way, McCoy critically examines various moral theories such as amoralism, determinism, subjectivism, cultural relativism, and utilitarianism.
At the heart of the book, McCoy offers a rational account of morality rooted in virtue, character, and human flourishing. He then sets this in a Christian context in order to show what difference Christian revelation makes to our understanding of morality. Writing clearly and without jargon, McCoy provides the non-specialist reader with a stimulating discussion of the fundamental concepts we employ in everyday consideration of moral questions. He manages to render difficult matters intelligible without oversimplification. This book will appeal to anybody interested in finding a way through the moral maze and to students of philosophy embarking on a study of ethics.
This book offers a clearly written and accessible account of moral philosophy, and concludes with a spirited defense of natural law, virtue ethics, and Aquinas.
—Robin Gill, Michael Romsey Professor of Modern Theology, University of Kent
In this volume Alban McCoy imaginatively and intelligently addresses the key questions that non-Catholics—and even Catholics—have about Roman Catholicism. Are faith and reason enemies or allies? Do we need proof of God? Can God and evil both exist? Do we need the Pope? Is annulment divorce by another name? Why are women not ordained as priests in the Catholic Church? In an age where morality is increasingly challenged and reassessed, Alban McCoy demonstrates the relevance of the Catholic Church's moral teaching to the modern age and shows how Roman Catholicism is fully engaged with the realities of life and of the Spirit.
At every turn [McCoy] challenges complacency and makes ancient wisdom fresh, exciting.
—Commonwealth
Product Details
Title: An Intelligent Person's Guide to Catholicism and Christian Ethics
Author: Alban McCoy
Series: Continuum Icons
Publisher: Continuum
Volumes: 2
Pages: 336
About the Author
Alban McCoy is a Franciscan monk, Catholic chaplain at the University of Cambridge, a lecturer in theology at Allen Hall, and literary editor for The Tablet.