Oxford Theological Monographs on the Reformation (6 vols.)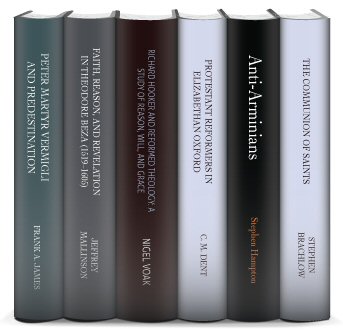 Oxford Theological Monographs on the Reformation (6 vols.)
•
Runs on Windows, Mac and mobile.
Your Custom Discount
Reg. Price $149.95
Sale Price $109.95
Your Price $109.95
You Save $40.00 26%
Your Price
What's Pre-Pub?
$109.95
Reg.: $149.95
Print: $980.00
Overview
These volumes from the Oxford Theological Monographs series offer new and penetrating insights into the history and development of the Reformed faith, focusing on some of the tradition's most significant architects and movements. From Beza and Vermigli to Robert Hooker, these academic monographs distill countless volumes of primary and secondary sources into thoroughly researched, illuminating presentations of these significant figures and their importance for understanding the Reformed tradition. This collection presents key periods and controversies with scholarly precision and insight, such as Puritanism in Elizabethan Oxford, the anti-Arminian Anglican theologians from Charles II to George I, and radical Puritan and Separationist ecclesiologies.
With the Logos editions, these valuable volumes are enhanced with amazing functionality. Scripture and ancient-text citations link directly to English translations and original-language texts, and important terms link to dictionaries, encyclopedias, and a wealth of other resources in your digital library. Perform powerful searches with the Topic Guide to gather relevant biblical texts and resources together with a click, enabling you to jump into the conversation with the foremost scholars in Reformed theology and Reformation history. Tablet and mobile apps let you take the discussion with you. With Logos Bible Software, the most efficient and comprehensive research tools are in one place, so you get the most out of your study.
For more volumes from the Oxford Theological Monographs series, be sure to check out these other titles.
Key Features
Fills widely acknowledged gaps in the history of Reformed theology
Considers manuscript sources and translation of Latin primary documents
Closely analyzes and clearly presents complex debates in the Reformed tradition
Individual Titles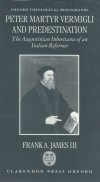 This book is an inquiry into the intellectual origins of the Reformed branch of Protestantism from the perspective that it is inaccurately designated Calvinism. Author Frank A. James III offers a historical theological analysis of one of the early theologians who gave formative shape to Reformed theology, Peter Martyr Vermigli (1499-1562), and focuses on his adoption of the soteriological doctrine of gemina praedestinatio, double predestination: divine election and divine reprobation.
Frank A. James III is the president of Biblical Theological Seminary in Hatfield, PA. He formerly served as provost and professor of historical theology at Gordon-Conwell Theological Seminary. His expertise is Reformation history, focusing especially on the life and thought of Peter Martyr Vermigli. He has authored and edited several books.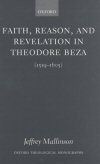 Faith, Reason, and Revelation in the Thought of Theodore Beza investigates the direction of religious epistemology under that significant architect of the Calvinistic tradition. Mallinson contends that Beza defended and consolidated his tradition by balancing the subjective and objective aspects of faith and knowledge. He makes use of newly published primary sources and long-neglected biblical annotations in order to clarify the thought of this often misunderstood individual from intellectual history.
Jeffrey Mallinson is assistant professor of history and religion at Union College in Kentucky.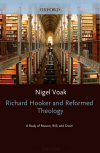 Richard Hooker and Reformed Theology: A Study of Reason, Will, and Grace
Author: Nigel Voak
Series: Oxford Theological Monographs
Publisher: Oxford University Press
Publication Date: 2003
Pages: 368
Richard Hooker (1554–1600) is one of the greatest theologians of the Church of England. In light of fierce recent debate, this book argues vigorously against the view that Hooker was a Reformed or Calvinist theologian. In so doing, it considers such central religious questions as human freedom, original sin, whether people can deserve salvation, and the nature of religious authority.
Voak has made an exciting contribution to the interpretation of Richard Hooker's philosophical insights. Splendid, even brilliant formulations. Voak's work will stimulate further Hooker research.
—Religious Studies Review
Voak's volume analyzes the key issues related to Hooker's understanding of reason, common grace, special grace, justification, and sanctification . . . it is an important addition to the literature both on Hooker and the Elizabethan and Jacobean churches.
—The Southern Baptist Journal of Theology
An important addition to the body of Hooker studies. Voak provides original, detailed analysis and a deeper understanding of many aspects of Hooker's theology, anthropology, and soteriology.
—Renaissance Quarterly
Voak has claimed new ground . . . an excellent and well-crafted book . . . [that] will set the agenda for some lively discussion.
—Anglican Theological Review
Nigel Voak is a researcher based in London.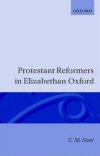 Protestant Reformers in Elizabethan Oxford
Author: C. M. Dent
Series: Oxford Theological Monographs
Publisher: Oxford University Press
Publication Date: 1983
Pages: 272
According to Patrick Collinson's The Elizabethan Puritan Movement, "the puritanism of Elizabethan Oxford has been persistently underestimated, and only rarely has due recognition been accorded to the influence of what was perhaps the most remarkable puritan society in either university, Magdalen under Humphrey's presidency." This volume seeks to remedy this neglect. Beginning with the infusion of Protestantism in the reign of Edward VI, Dent traces the precursors of Puritanism in Elizabethan Oxford and thoroughly analyzes its development in the later sixteenth-century. Key formative points and significant influences are discussed, such as the controversies at Magdalen College and interaction with the Radical Reformation and Rome.
C. M. Dent earned his doctorate from Oxford as a recipient of the Hastings Rashdall Studentship.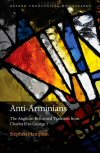 This book is a study of the Anglican Reformed tradition (often inaccurately described as Calvinist) after the Restoration. Stephen Hampton sets out to revise our picture of the theological world of the later Stuart period. Arguing that the importance of the Reformed theological tradition has frequently been underestimated, his study points to a network of conforming Reformed theologians which included many of the most prominent churchmen of the age. Focusing particularly on what these churchmen contributed in three hotly disputed areas of doctrine (justification, the Trinity, and the divine attributes), he argues that the most significant debates in speculative theology after 1662 were the result of the Anglican Reformed resistance to the growing influence of continental Arminianism.
Hampton demonstrates the strength and flexibility of the Reformed response to the developing Arminian school, and shows that the Reformed tradition remained a viable theological option for Anglicans well into the eighteenth century. This study therefore provides a significant bridge linking the Reformed writes of the Elizabethan and early Stuart periods to the Reformed Evangelicals of the eighteenth century. It also shows that, throughout its formative period, Anglicanism was not a monolithic tradition, but rather a contested ground between the competing claims of those adhering to the Church of England's Reformed doctrinal heritage and the insights of those who, to varying degrees, were prepared to explore new theological avenues.
Hampton writes with enviable clarity and precision. It is a study that anyone interested in the theological controversies of the late Stuart church will have to read.
—Church History
Stephen Hampton is dean of Peterhouse at Cambridge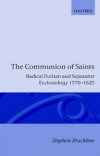 The Communion of Saints: Radical Puritan and Separatist Ecclesiology 1570–1625
Author: Stephen Brachlow
Series: Oxford Theological Monographs
Publisher: Oxford University Press
Publication Date: 1989
Pages: 304
This study of left-wing Puritan and Separatist ecclesiology in Elizabethan and Jacobean England explores such topics as the relationship of soteriology, eschatology, and Puritan covenant thought to ecclesiology; radical Puritan and Separatist ideals about the government of gathered churches; the role of synodical authority; and the relationship between church and state. Brachlow underlines the shared ecclesiastical ideals of both radical Puritans and Separatist "Congregationalists," recognizing that while there were Presbyterian as well as Congregational tendencies in each tradition, they were by no means always clear or denominationally fixed.
A fresh look at the ecclesiology of radical Puritans and Separatists.
—Albion
[Brachlow] is to be congratulated for producing a rich crop from an old field many would have thought incapable of such a yield.
—Church History
[A] unique and refreshing perspective . . . This is a study of practical evangelicism that is illuminated with an understanding of theological complexities and the importance of political and economic issues in the religious arena. Above all, this book shows how significant local history can be in understanding larger national issues of church and state.
—Journal of Church and State
This thesis is presented with great erudition and exhaustive citation from a very large number of contemporary works . . . This book is penetrating, judicious, and exhaustive.
—Archive for Reformation History
Stephen Brachlow received his MDiv from Bethel Theological Seminary, his ThM from Rüschlikon Baptist Theological Seminary, and his DPhil from Oxford University. He is the John F. Loftis Professor of Church History at Baptist Theological Seminary in Richmond, Virginia.
Product Details
Title: Oxford Theological Monographs on the Reformation
Series: Oxford Theological Monographs
Publisher: Oxford University Press
Volumes: 6
Pages: 1,826