T&T Clark Topics in Religious Studies (9 vols.)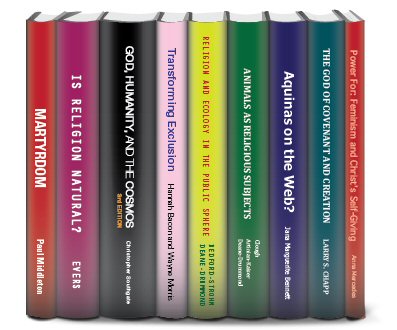 T&T Clark Topics in Religious Studies (9 vols.)
•
Runs on Windows, Mac and mobile.
Your Custom Discount
Reg. Price $179.95
Pre-order Price $139.95
Your Price $139.95
You Save $40.00 22%
Your Price
What's Pre-Pub?
$139.95
Reg.: $179.95
Print: $482.28
Overview
In the T&T Clark Topics in Religious Studies Collection, bold and established scholars address many of the latest trends and theories in academia and culture. Each of the nine texts in the collection tackles a different subject and provides a thorough discussion of how theology has wrestled with it in the past—establishing a basis for new explorations. Topics include martyrs, religion and biology, modern theology and science, social exclusion, ecological theology, the religious roles of animals, the internet, naturalism, and feminism. Together, these nine texts provide an invaluable resource for students, scholars, and anyone intending to keep up with the latest theories in theological scholarship. These texts are accessible explanations from highly academic minds.
With the Logos edition of the T&T Clark Topics in Religious Studies Collection, these powerful reference tools automatically integrate with your Logos library, allowing you to cross-reference and study these topics like never before. Scripture references appear on mouseover in your preferred translation, and all other source texts are tagged. With Logos, this collection syncs across your devices for convenient access to these powerful resources wherever you go.
Key Features
Nine diverse topics in religious studies
Detailed references to previous scholarship
Theological discussions of some of the most pressing issues of our time
The newest edition of God, Humanity, and the Cosmos
Individual Titles
Martyrdom: A Guide for the Perplexed
Author: Paul Middleton
Series: Guides for the Perplexed
Publisher: T&T Clark
Publication Date: 2011
Pages: 224
Whether they are passed on through text, word of mouth, or news reports, martyr narratives do more than simply report a death—they contain the interpretive framework by which that death is understood. When the death of a martyr is recounted, the way in which that story is told places that death within a larger narrative of regional, global, or even cosmic conflict. The martyrs become symbols within the communities they are known and what they symbolize emerges with the stories and their interpretations. This book aims to illuminate the way these stories have been told and how they function within Christian, Jewish, and Islamic communities.
Martyrdom is an educational and informative look at the concept of martyrdom through the understanding of the Abrahamic faiths, and would no doubt be enjoyed by those looking to further their knowledge of this subject.
—Theological Book Review
In Martyrdom: A Guide for the Perplexed, Paul Middleton gives a clear and balanced introduction to a misunderstood and complicated cross-cultural phenomenon. With remarkable sensitivity and great range, Middleton draws together a wealth of material and ably shows that the importance of martyr narratives for Jewish, Christian, and Muslim communities is one of the things that binds, rather than divides us.
—Candida R. Moss, assistant professor of theology, University of Notre Dame
This is a fascinating major contribution to this neglected and increasingly important field of study.
—Dan Cohn-Sherbok, author and professor of Judaism, University of Wales, Lampeter
Written with clarity, sophistication and wit, this short book provides an exceptionally useful introduction to martyrdom, both in the past and the present. Middleton's views are balanced and persuasive, and the work will become a standard treatment of a highly contentious contemporary issue. A fine addition to the Guides for the Perplexed series.
—Helen K. Bond, author and senior lecturer in New Testament, University of Edinburgh
Paul Middleton is a lecturer in New Testament studies at the University of Wales, Lampeter.
This text considers the findings of evolutionary psychology from scientific, philosophical, and theologically perspectives in order to critically examine the relationship between empiricial, epistemological, and theological notions. The authors examine religion and religious experiences through the lenses of genetics, biology, and social psychology to explore the question, is religion natural? Included in the book are views from a historian and a Muslim scholar.
Dirk Evers is an associate professor of systematic theology and the director of studies and research at the Forum Scientiarum at the University of Tübingen, Germany.
Michael Fuller is Pantonian Professor at the Theological Institute of the Scottish Episcopal Church, Edinburgh.
Antje Jackelen is the bishop of Lund in Sweden, and an adjunct professor of systematic theology/religion and science at the Lutheran School of Theology in Chicago.
Taede A. Smedes is a research fellow at the Catholic University of Leuven in Belgium, the scientific program officer of the European Society for the Study of Science and Theology, and the author of Chaos, Complexity, and God: Divine Action and Scientism and God and the Human Dimension.
God, Humanity, and the Cosmos reviews the historical interactions between Christianity and science, exploring theology in relation to several fields. The text also discusses contemporary interactions between theology and science and looks into the future of this relationship.
This new edition [is] the most broadly-based, maturely considered and lucidly written science-religion overview in the English language. . . it is 'an irreplaceable resource.'
—Neil Spurway, editor, European Society for the Study of Science and Theology News
The invitation of the book to explore the two 'maps' together is one that anyone with integrity in either field should not decline.
—Roz Mathews, Themelios
Distilling the expertise of a dozen key scholars in science and religion and containing significant new material, this third edition of Christopher Southgate's now classic textbook continues to offer a comprehensive overview of what might otherwise seem a hopelessly large and shifting subject. In particular, the contributors are theologically literate and put theology back into the science and religion debate. Students I teach have found this textbook to be the most informative in its field.
—Dr. David Grumett, chancellor's fellow, University of Edinburgh
Christopher Southgate is a research fellow in theology at the University of Exeter in England.
Religious beliefs play an important role in shaping the attitudes that can lead to the exploitation or marginalization of both humans and non-humans. At the same time, religious beliefs and practices have much to offer in transforming the world with the potential to create a more equitable place for its occupants. Often, individual voices are suppressed and marginalized by more dominant individuals or communities, both secular and religious. This book addresses these aspects of social exclusion and aims to demonstrate that the study of theology and religion has important contributions to make in creating a more just world.
Substantive reflection informed by the latest scholarship, critical analyses and counter-questions from dialogue partners and those usually on the margins, provocative visions for a more just and redemptive ecclesial praxis—what more could readers of theological books ask for? A veritable theological feast indeed!
—Amos Yong, Regent University School of Divinity, Virginia Beach
[These essays] combine personal and empirical observation with sophisticated tools of philosophical and theological analysis in a highly distinctive way. This is an unusual and very valuable collection.
—Rowan Williams, archbishop of Canterbury, metropolitan of the Province of Canterbury and primate of all England
Many scholarly books begin, as this one does, as 'a conversation between a team of academics.' Few such books are page-turners, as this one is.
—Church Times
Hannah Bacon is a senior lecturer in feminist and contextual theology and a deputy head of theology and religious studies at the University of Chester, UK.
Wayne Morris is a senior lecturer in contextual and practical theology and a deputy head of theology and religious studies at the University of Chester, UK.
This text was written with the intent of providing concrete theological and religious changes to our cultural and ecological framework. It shows the contexts of political debate and religiously inspired models for reorientation towards a new ecological culture alongside the political, economic, and legal structures that support it. The text presents a public theology to address one of the greatest concerns of the global public.
[Religion and Ecology in the Public Sphere] puts the topic as well as the plurality of approaches into the framework of public theology and proves the productivity of this theological concept.
—Wolfgang Huber, presiding bishop of the Protestant Church in Germany
This is a landmark volume of essays. I cannot overstate its significance . . . After this publication, any public theology of the common good must now include the welfare of the planet as well as its people. And any public call to save the planet must now take seriously the contribution of religious traditions in that global endeavor.
—William Storrar, director, Center of Theological Inquiry, Princeton
Religion and Ecology in the Public Sphere is undoubtedly the strongest book in the sociology of religion I have read during the last decade.
—Theological Book Review
Animals as Religious Subjects: Transdisciplinary Subjects
Editors: Celia Deane-Drummond, Rebecca Artinian-Kaiser, and David L. Clough
Publisher: T&T Clark
Publication Date: 2013
Pages: 336
This book examines the cultural concern regarding the place and significance of animals. This collection of essays presents the outcome of various multidisciplinary conversations regarding animal studies including philosophy, anthropology, religious studies, theology, history of religions, archaeology and cultural studies to provide specific ethical theories and practices.
Celia Deane-Drummond is a professor of theology at the University of Notre Dame, the author of Creation Through Wisdom: Theology and the New Biology, the editor of Brave New World? Theology, Ethics, and the Human Genome, and co-editor of Religion and Ecology in the Public Sphere and Reordering Nature: Theology, Society, and the New Genetics.
Rebecca Artinian-Kaiser is a doctoral student at the University of Chester, UK.
David L. Clough is a professor of theological ethics and head of theology and religious studies at the University of Chester, UK. He is the author of Ethics in Crisis: Interpreting Barth's Ethics and Faith and Force: A Christian Debate about War and the co-editor of Creaturely Theology: On God, Humans, and Animals.
This book critically reviews how social networking sites, blogs, etc. function theologically and how these websites may change the way traditional theology is done. Bennett carefully weighs the strengths and weaknesses to provide an objective theological examination of the internet.
Jana Marguerite Bennett is an assistant professor of religious studies at the University of Dayton.
The God of Covenant and Creation: Scientific Naturalism and Its Challenge to the Christian Faith
Author: Larry S. Chapp
Publisher: T&T Clark
Publication Date: 2013
Pages: 304
"Beginning with the rise of mechanistic forms of science in the seventeenth century and continuing today with the Quantum revolution in physics, the success of natural science as an explanatory framework for the data of human experience is both stunning and unprecedented. What this explanatory success has created is an epistemic condition in modern society wherein naturalistic explanations are given pride of place in any debate over the nature of reality. In short, our world-view is now dominated through and through by the epistemic value of naturalism as an explanation of reality."
This text looks beyond the means by which theology has historically defended itself in the face of scientific discovery, and provides a historical account of the rise of naturalism to lay the groundwork for a fresh theological approach to naturalism.
[Larry Chapp] restores theology to its proper cosmological scope. Not only does 'creation' become intellectually compelling in Chapp's deft hands, it elicits wonder and praise for its creator and restores what is human in us. This is a hopeful development indeed and a sign of an indispensable book.
—Michael Hanby, John Paul II Institute, Washington D. C.
Chapp is right that theology matters. The world is at an intellectual crossroad shaped in large measure by a liberal ideology masquerading as a set of neutral technical procedures. Nothing short of a sustained mutual engagement between the metaphysics implicit in modern science and a 'full-bodied confessional Christianity' will succeed in exposing and transforming this ideology.
—David L. Schindler, Provost and Gagnon Professor of Fundamental Theology, John Paul II Institute, Washington D. C.
Larry S. Chapp is a professor of theology at DeSales University in Central Valley, Pennsylvania and an expert in the theology of the late Swiss Catholic theologian Hans Urs von Balthasar. His most recent publication, "Deus Caristas Est and the Retrieval of a Christian Cosmology" appeared in the Fall 2006 issue of Communio: International Catholic Review.
This text critically analyzes the kenosis of Jesus through a feminist lens. Mercedes explores its interpretations and discusses sacrifice in relation to Christianity and feminism.
In Power For: feminism and Christ's Self-Giving, Anna Mercedes has offered nothing less than a new Christian feminist theology of power. This is a book driven by the prophetic vigor of the late-twentieth-century second wave feminist theology but offering a contemporary theology that is fully situated in its more nuanced, risky third wave. Mercedes' celebratory negotiation with Christian notions of 'self-emptying' suggests that service and care—even the masochistic courting of pain—should not be dismissed as instances of a merely 'feminine' domestic self-abnegation but can be embraced as forms of public resistance to oppression. Exceptionally readable, but abundantly informed, Power For is a book that no student of erotic, relational theology should be without.
—Melissa Raphael, professor of Jewish theology, University of Gloucestershire, UK
Anna Mercedes is an assistant professor of theology at the College of Saint Benedict at Saint John's University in Collegeville, Minnesota.
Product Details
Title: T&T Clark Topics in Religious Studies Collection
Publisher: T&T Clark
Volumes: 9
Pages: 2,496