T&T Clark Studies in the Pauline Epistles (10 vols.)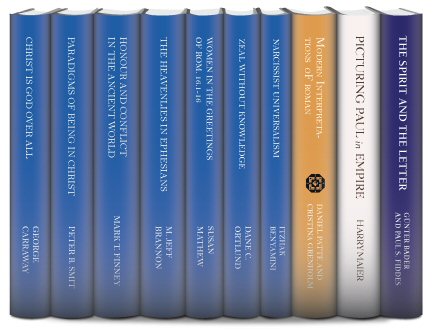 T&T Clark Studies in the Pauline Epistles (10 vols.)
•
Runs on Windows, Mac and mobile.
Your Custom Discount
Reg. Price $199.95
Pre-order Price $119.99
Your Price $119.99
You Save $79.96 39%
Your Price
What's Pre-Pub?
$119.99
Reg.: $199.95
Print: $919.85
Overview
The letters of Paul remain some of the most actively discussed letters ever written. Generations of Christians have explored their depths of meaning, and as earthly wisdom continues to develop, the spiritual insight offered in Paul's texts continues to reveal the preeminence of God's wisdom. The T&T Clark Studies in the Pauline Epistles collection brings together the latest discussions on Paul's writing in modern scholarship. From thorough analysis of the Scriptures to inspiring interpretations, T&T Clark Studies in the Pauline Epistles provides one of the most complete dissections of some of the most significant writings in human history.
With the Logos edition of T&T Clark Studies in the Pauline Epistles, these powerful reference tools automatically integrate with your Logos library, providing you with cross-reference capabilities like never before. Read T&T Clark Studies in the Pauline Epistles on your mobile device to bring these fascinating texts with you wherever you go.
About the Series
The Library of New Testament Studies is a premier book series that offers modern research for scholars, NT teachers, postgraduate students, and advanced undergraduates. The series was launched by Sheffield Academic Press in 1981 to complement its associated journal, the Journal for the Study of the New Testament. The series pursues all aspects of New Testament study, including innovative work from historical perspectives, studies using social-scientific and literary theory, and theological, cultural, and contextual approaches.
Key Features
A variety of scholars and perspectives on Paul's writings
Innovative ideas built upon well-known interpretations of Scripture
Detailed references to Scripture passages
Individual Titles
This book was written against the Christological school of thought in the wake of Kyrios Christos by Wilhelm Bousset. Carraway argues that the syntax of Romans 9:5 suggests that Paul meant to refer to Jesus as God, and that his statement is not out of place at the beginning of Romans 9–11. He addresses objections to this conclusion, responding to those who claim that a monotheist such as Paul would not refer to Jesus as God, and to those who point out that Paul does not elsewhere identify Jesus as God. After demonstrating that there is a connection between Romans 9:5 and the remainder of Romans 9–11, the argument continues to tie Paul's monotheistic statements regarding the one God of both Jews and gentiles in Romans 3 to the concept of the one Lord of all in Romans 10:5-13. Carraway concludes that the redeemer from Zion in 11:25-27 is Christ, and is the same as the Christ from Israel in 9:5.
George Carraway is an assistant professor at Liberty University Online.
Paradigms of Being in Christ: A Study of the Epistle to the Philippians
Author: Peter B. Smit
Series: The Library of New Testament Studies
Publisher: T&T Clark
Publication Date: 2013
Pages: 224
In this book, Smit combines observations on classical rhetoric, exegetical analyses of Philippians, and views from the perspective of gender and masculinity studies into a fresh take on the material. He shows that ancient ideals of deliberative rhetoric have influenced Philippians in much the same way in which they appear in Aristotle, Plutarch, and 2 Maccabees. This study both positions Paul in the cultural context of his day and indicates the newness of his enterprise.
Peter-Ben Smit is Extraordinary Professor of Old Catholic Theology at Utrecht University and lecturer for New Testament studies at VU University Amsterdam.
Honour and Conflict in the Ancient World
Author: Mark T. Finney
Series: The Library of New Testament Studies
Publisher: T&T Clark
Publication Date: 2011
Pages: 312
This text examines the letter of 1 Corinthians, which presents an exposé of social life in the first-century Greco-Roman world—where honor was of central importance. He also examines the extent to which the social constraints of the love and lust for honor, or filotimia, and its potential for conflict laid behind the many problems evident within the nascent Christ-movement in Corinth. Finney presents a fresh reading of the letter, proposing that the honor-conflict model, hitherto overlooked in studies on 1 Corinthians, provides an appropriate and compelling framework within which to view the many disparate aspects of the letter in their social context.
Dr. Mark T. Finney teaches in the department of biblical studies at the University of Sheffield in the United Kingdom.
The expression "in the heavenlies" appears five times in Ephesians and is not found at any other point in the New Testament. The two appearances that have provoked the most debate are the session of earthly believers in Ephesians 2:6 and the presence of the spiritual forces of evil in 6:12.
This book conducts a lexical, exegetical, and conceptual analysis of the expression, arguing against the prevailing interpretation of the phrase and provides in-depth examinations of three significant concepts associated with it—the redeemed on earth having a heavenly status, evil powers in heaven, and the cosmology of Ephesians. Brannon uses a wide range of sources, including Greek and Jewish texts, the Apostolic Fathers, and the Septuagint, to conclude that there is no basis for a distinction between the terms "heavens" and "in the heavenlies" in Ephesians. He also asserts that Qumran and apocalyptic texts can shed light upon and assist in a proper understanding of the difficult passages in which the expression appears.
M. Jeff Brannon earned his PhD from New College at the University of Edinburgh in the United Kingdom.
Women in the Greetings of Rom 16:1–16: A Study of Mutuality and Women's Ministry in the Letter to the Romans
Author: Susan Mathew
Series: The Library of New Testament Studies
Publisher: T&T Clark
Publication Date: 2013
Pages: 224
This text examines the structures of mutuality in Romans to shed light on the issue of women's leadership in Pauline theology. Mathew begins by analyzing the general form of greetings in the Pauline letters to lay the foundation for an in-depth examination of the greetings in Romans 16:1–16. Mathew couples this with analysis of the leadership of women in the Greco-Roman world to show that women's leadership roles in the Pauline churches were part of this wider culture. Through careful examination of other parts of Romans, Mathew builds a case for women's leadership supported by Scripture.
Susan Mathew is a lecturer in biblical studies at Faith Theological Seminary in the village of Manakala in India. She also works voluntarily as the director of Deepti Special School and Centre for Children with Cerebral Palsy in Manakala.
This book supports and challenges claims made by James D. G. Dunn regarding zeal. Ortlund discusses the nature of Paul's zeal in the context of general obedience to the Torah in Jewish tradition. While Dunn argues that the zeal in Paul's writings came from his lifetime of ascribing to Jewish zeal in the form of maintaining cultural distinction, Ortlund builds a case for a broader definition.
Dane C. Ortlund is the senior editor of the Bible Division of Crossway Books. He is the author of A New Inner Relish: Christian Motivation in the Thought of Jonathan Edwards and numerous scholarly articles.
Paul's epistles have often been the focus of academic and philosophical debate regarding questions of Jewish law—love in relation to the law, the linkage between Judaism and Christianity, and more. Paul's writings also provide a powerful lens for examining Western culture. In light of Jacques Lacan's work in critical theory, Itzhak Benyamini reads Paul's epistles using a psychoanalytical approach to find which unconscious core this text provides.
Itzhak Benyamini lectures at Ben Gurion University in Israel.
Modern Interpretations of Romans: Tracking Their Hermeneutical/Theological Trajectory
Editors: Daniel Patte and Cristina Grenholm
Series: Romans Through History and Culture
Publisher: T&T Clark
Publication Date: 2013
Pages: 272
This collection of essays explores well-known interpretations of Romans by Immanuel Kant, Friedrich Schleiermacher, Albert Schweitzer, Karl Barth, Erik Peterson, and Ernst Kasemann in relation to the perspective introduced by Krister Stendahl. Rather than tracking changes in exegetical approaches and conclusions among the modern interpretations of Romans, this volume deliberately follows changes in hermeneutical and theological choices. Focusing exclusively in modern exegetical studies of Romans, the distinguished contributors consider interpretations of Romans by philosophers, theologians, and biblical scholars.
Daniel Patte teaches at Vanderbilt University and is author of The Challenge of Discipleship and Discipleship According to the Sermon on the Mount, and an editor of Engaging Augustine on Romans, Gender, Tradition, and Romans: Shared Ground, Uncertain Borders, Reading Israel in Romans: Legitimacy and Plausibility of Divergent Interpretations and the experimental journal Semeia.
Cristina Grenholm teaches at University of Karlstad in Sweden. She is the author of The Old Testament, Christianity and Pluralism and an editor of Reading Israel in Romans: Legitimacy and Plausibility of Divergent Interpretations and Gender, Tradition, and Romans: Shared Ground, Uncertain Borders.
Picturing Paul in Empire: Imperial Image, Text and Persuasion in Colossians, Ephesians and the Pastoral Epistles
Author: Harry Maier
Publisher: T&T Clark
Publication Date: 2013
Pages: 288
Harry Maier places the letters and theology associated with Paul in the social and political context of the Roman Empire's visual culture of politics and persuasion to show how followers of the apostle visualized the reign of Christ in ways consistent with central themes of imperial iconography. They drew on the Empire's picture language to celebrate the dominion and victory of Jesus and persuade their audiences to honor his dominion with praise and thanksgiving.
Key to this imperial embrace were Colossians, Ephesians, and the pastoral epistles. Yet these letters remain neglected territory in consideration of engagement with, and reflection of, imperial political ideals and goals amongst Paul and his followers. Maier fills a gap in scholarly work on Paul and the Empire by taking up each letter and investigating how several main themes reflect motifs found in imperial images.
Harry O. Maier is a professor of New Testament studies at the Vancouver School of Theology in Canada. His books include Apocalypse Recalled: The Book of Revelation after Christendom and The Social Setting of the Ministry as Reflected in the Writings of Hermas, Clement, and Ignatius.
The Spirit and the Letter: A Tradition and a Reversal
Author: Günter Bader and Paul S. Fiddes
Publisher: T&T Clark
Publication Date: 2013
Pages: 320
Paul's statement that "the letter kills but the spirit gives life" (2 Corinthians 3:6) is an ambiguous phrase followed by a tangled story. It has been read both as an affirmation of the saving power of the new covenant, and as a key to hidden spiritual meanings in Scripture. This book explores the Pauline distinction in its original context, in its aftermath in the early church, the Reformation, modern biblical studies, and gives consideration of a postmodern reversal.
Paul S. Fiddes is a professor of systematic theology at Oxford and the director of research at Regent's Park College at Oxford.
Günter Bader was a professor of systematic theology in the Protestant theology faculty of the University of Bonn in Germany.
Product Details
Title: T&T Clark Studies in the Pauline Epistles
Publisher: T&T Clark
Volumes: 10
Pages: 2,520