Gorgias Press Syriac Collection (9 vols.)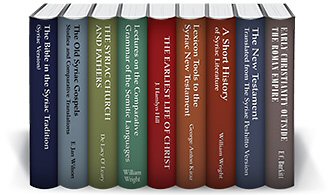 Overview
The nine-volume Gorgias Press Syriac Collection contains English translations of the New Testament from the Syriac language as well as a host of other books about the Syrian church and early church. From scholars to students, the collection offers something for anyone wishing to deepen their understanding of early church history and Syriac literature as it pertains to the Bible—including English translations of Bible texts, suitable for comparative studies! New Testament scholars will be aided in their study of the first disciples since Aramaic was their native language. Textual critics will appreciate how the Syriac versions of the texts bear witness to their Greek counterparts. Church historians will discover an array of studies on the early church. Since many of the titles are introductory and written in English, even those untrained in Syriac can use the collection for comparative studies and more!
The collection features source texts (including comparative translations into English of the earliest versions of the Syriac Gospels, an English translation of the Diatessaron, a literal translation of the Peshitto), commentaries and surveys (including a survey of the Syriac Church and its Fathers; a short history of Syriac Literature, and a look at early Christianity outside the Roman Empire); and lexical and grammatical aids (including a Syriac-English word dictionary and a comparative grammar of the Semitic languages).
Product Details
Title: Gorgias Press Syriac Collection (9 vols.)
Volumes: 9
Pages: 2,691
About Gorgias Press
Gorgias Press is an academic publisher of new titles and reprints of rare books in the areas of Arabic and Islamic studies, archaeology, the Near East, classics, history, religion, languages and linguistics, Jewish studies, Syriac studies, the Middle East and more. They have a backlist that includes three hundred books. Gorgias Press champions academic ideas and their academically trained staff constantly push technology to its limits without sacrificing the academic integrity of their titles.