Sharing the Word Series (5 vols.)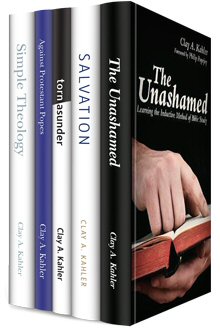 Sharing the Word Series (5 vols.)
•
Runs on Windows, Mac and mobile.
Your Custom Discount
Reg. Price $69.95
Pre-order Price $54.95
Your Price $54.95
You Save $15.00 21%
Your Price
What's Pre-Pub?
$54.95
Reg.: $69.95
Print: $88.00
Overview
Clay A. Kahler teaches the Bible with clarity and relevance in the Sharing the Word Series (5 vols.). Full of biblical insights into a variety of topics, the series makes these books easily accessible to the average reader. Learn what God's plan of salvation is, determine what the Bible says about divorce and remarriage among Christians, and acquire essential skills and methods that will enable you to accurately study Scripture on your own.
With the Logos edition of Sharing the Word Series (5 vols.), you get an abundance of applicable, insightful resources. You can easily research divorce, remarriage, or salvation and access an assortment of useful resources and perspectives from pastors and theologians.
Key Features
Offers commentary on 1 Peter 5:1–4
Discusses divorce and remarriage among Christians
Presents the biblical teaching of salvation
Gives practical advice for personal Bible study
Product Details
Title: Sharing the Word Series
Author: Clay A. Kahler
Series: Sharing the Word
Publisher: Wipf & Stock
Volumes: 5
Pages: 750
About Clay A. Kahler
Clay A. Kahler is the founder of Sharing the Word Ministries, which includes the radio program Sharing the Word, heard in Ray County Missouri. He is the senior pastor of the First Baptist Church in Orrick, MO. Clay has written for Preaching Magazine, Christianity Today, and To His Glory. Clay served on the faculty of the Southwest College of Biblical Studies in Pine Valley California, and as an adjunct faculty member at the Southern California Bible College and Seminary. He now teaches Bible and theology at Carver Baptist Bible College in Kansas City Missouri.