Encyclicals of Pope Leo XIII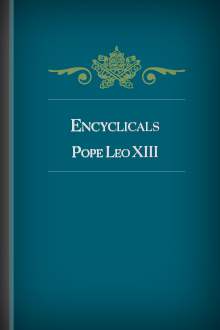 Encyclicals of Pope Leo XIII
•
Runs on Windows, Mac and mobile.
Your Custom Discount
Reg. Price $49.95
Pre-order Price $34.95
Your Price $34.95
You Save $15.00 30%
Your Price
What's Pre-Pub?
$34.95
Overview
Pope Leo XIII was known for his intellectualism and his philosophical thinking, leading the Church during a time when modern intellectual trends led people away from religious belief. He left a lasting impact on Mariololgical studies in the Church, issuing 11 encyclicals on Mary and the rosary. He lived as the oldest pope the Catholic Church has on record.
These 85 encyclicals display his wide knowledge and array of teachings during his 25-year pontificate. Rerum Novarum was the first encyclical to ever address social inequality and discuss the rights of the working class. This encyclical opened the door for future popes to continue to exhort temporal authorities in matters of social justice and economics. Providentissimus Deus exhorted the Church to keep theological studies grounded in Scripture, and Leo XIII single-handedly revived Thomism (the theology of Thomas Aquinas) through his encyclical Aeterni Patris.
The Logos edition of these encyclicals ties everything in your library together. References to these classic encyclicals will bring them up on mouseover, allowing you to see the full context to the reference. Bible references within these encyclicals appear on mouseover, too, bringing you back to the ancient text that brings this all together.
Key Features
A massive archive of 85 encyclicals
Classic Church teachings from the last pope of the nineteenth century
Official translations by the Vatican in English
Product Details
Title: Encyclicals of Pope Leo XIII
Author: Leo XIII
Publisher: Libreria Editrice Vaticana
Publication Date: 1903
About Pope Leo XIII
Leo XIII (Vincenzo Gioacchino Raffaele Luigi Pecci) (1810–1903) reigned as pope from 1878 to 1903. He held the third-longest pontificate, and set the record for oldest pope when he died at 93.
Born in Carineto Romano in 1810, Vicenzo Pecci studied Latin from a young age and studied under Jesuit instruction for much of his early life. Pecci eventually went to the Academia dei Nobili, where he learned diplomacy and law. He quickly distinguished himself above his peers and earned the attention of the cardinals and even Pope Gregory XVI, who appointed Pecci as a personal prelate even before he received his ordination. He received his doctorate in theology and, later, doctorates in civil and canon law.
Soon after, Pope Gregory XVI appointed Pecci as a provincial administrator to Benevento. Immediately, Pecci restored order to the broken economy and destroyed organized crime. He rose in responsibilities quickly thereafter, being assigned to larger and larger provinces throughout the years.
In 1843, at only 33 years of age, Pecci was appointed nuncio to Belgium, and was promoted to Archbishop of Damiette. He was named papal assistant the same year. Two years later, he was made Archbishop of Perugia. He was elevated to cardinal in 1853, after creating many Catholic charities, soup kitchens, and relief resources for victims of earthquakes and floods. And although Pecci didn't attend the First Vatican Council, he was likely to have been well informed, as his older brother was in the council.
He was elected to the papacy upon the death of Pope Pius IX after receiving 44 out of 61 votes. In his papacy, he opened up the Vatican Secret Archives to qualified researchers, most notably to papal historian Ludwig von Pastor, who compiled massive histories of the medieval popes. His intellectualism and diplomatic skills helped him regain respect for the Vatican after the fall of the Papal States during the Unification of Italy. At the time of his death, his reign as pope was the second-longest in papal history—exceeded only by his immediate predecessor, Pius IX.
Sample Pages