Encyclicals and Constitutions of Pope Pius XII in English & Latin (3 vols.)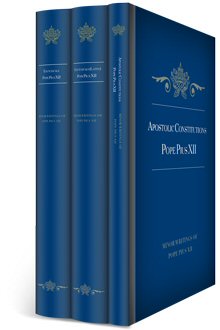 Encyclicals and Constitutions of Pope Pius XII in English & Latin (3 vols.)
•
Runs on Windows, Mac and mobile.
Your Custom Discount
Reg. Price $44.95
Pre-order Price $34.95
Your Price $34.95
You Save $10.00 22%
Your Price
What's Pre-Pub?
$34.95
Overview
Pope Pius XII's 19-year papacy was most prominently a diplomatic papacy. He led the Catholic Church through World War II and its aftermath, having written notably little concerning the war itself or the humanitarian affairs therein. During World War II, he opened up the Vatican to secret diplomatic meetings between leading German generals and British respresentatives who all wanted Adolf Hitler removed. He received the first representatives to the Vatican from the Japanese Empire in 1942. Pope Pius XII's focus was often occupied with the condemnation of both nationalism and socialism—the emergent atheistic ideologies that would subsequently scar the spiritual future of Europe.
This collection contains all 41 of Pope Pius XII's encyclicals, available in English and Latin where translations currently exist, as well as two of his most important apostolic constitutions—including the landmark Munificentissimus Deus. The full text of Munificentissimus Deus—the document that formally proclaimed the Assumption of Mary an official dogma of the Roman Catholic Church—is not available in any other Logos Resource. As a standard among papal documents, Munificentissimus Deus comes with ample footnotes, citing biblical references, Apostolic Fathers, ecumenical councils, and the saints (in this case, largely St. Bonaventure, St. Albert the Great, and St. John of Damascus). In the encyclical Mediator Dei, often cited within the documents of Vatican II, Pope Pius XII writes on liturgical reform that was hotly debated and unusually progressive at the time it was released in 1947.
The Logos edition of these encyclicals brings incredible value to your library. Read the Latin and the English side-by-side in Logos to grow your familiarity with Latin. When other resources cite these encyclicals and constitutions, you have access to the entire reference with just a click. Or you can search through these documents to learn more on the topic of your study, whether it be the dogma of the Assumption or the faith of the Catholic Church.
Contents
Apostolic Constitutions

Munificentissimus Deus
Provida Mater Ecclesia

Encyclicals

Ad Apostolorum Principis
Ad Caeli Reginam
Ad Sinarum Gentem
Anni Sacri
Auspicia Quaedam
Communium Interpretes Dolorum
Datis Nuperrime
Deiparae Virginis Mariae
Divino Afflante Spiritu
Doctor Mellifluus
Ecclesiae Fastos
Evangelii Praecones
Fidei Donum
Fulgens Corona
Fulgens Radiatur
Haurietis Aquas
Humani Generis
Ingruentium Malorum
In Multiplicibus Curis
Invicti Athletae
Laetamur Admodum
Le Pelerinage de Lourdes
Luctuosissimi Eventus
Mediator Dei
Meminisse Iuvat
Mirabile Illud
Miranda Prorsus
Musicae Sacrae
Mystici Corporis Christi
Optatissima Pax
Orientales Omnes Ecclesias
Orientalis Ecclesiae
Orientales Ecclesias (Latin only)
Quemadmodum
Redemptoris Nostri Cruciatus
Sacra Virginitas
Saeculo Exeunte Octavo
Sempiternus Rex Christus
Sertum Laetitiae
Summi Maeroris
Summi Pontificatus
Product Details
Title: Encyclicals and Constitutions of Pope Pius XII in English & Latin
Author: Pope Pius XII
Publisher: Libreria Editrice Vaticana
Publication Date: 1958
About Pope Pius XII
Pius XII (Eugenio Maria Miuseppe Giovanni Pacelli) (1876–1958) was born in Rome into a family entrenched in Vatican state affairs and papal service. In 1894, at age 18, Pacelli began theology studies at Rome's oldest seminary, Tridentine Collegio Capranica. He also studied at the Gregorian University and Rome's La Sapienza University, receiving his education on a variety of topics and graduating with a doctorate in sacred theology (STD) in 1899. He received his ordination in the same year, and immediately sought postgraduate studies in canon law.
Pacelli went on to receive a doctorate in canon law, and spent a majority of his 20s and 30s as a diplomat, envoy, and representative of the Vatican to the emperors, kings, and archdukes of Europe and the Americas. In 1917, he was appointed by Pope Benedict XV as the bishop of Sardis (western Turkey) and the nuncio (representative) to the German Empire. From there, on behalf of Pope Benedict XV, Pacelli attempted to negotiate peace and end the First World War. He personally met with King Ludwig III, Kaiser Wilhelm II, and Chancellor Bethmann-Hollweg, and despite receiving favorable responses from the latter, the war was prolonged and the Vatican ignored as Bethmann-Hollweg was removed from the German High Command.
Pacelli was elevated to Cardinal in 1929 by Pope Pius XI, and only a few months later elevated to Secretary of State for the Vatican. He signed numerous concordats with world countries and states, made many diplomatic visits to the United States and South America, and, most notably, with the German States in the late 1920s/early 1930s.
After the appointment of Adolf Hitler to the chancellery of Germany, Vatican-German agreements began to fail. From 1933 to 1939, Pacelli issued numerous protests to German violations of the concordats Germany had signed with the Vatican. This resulted in the writing of a secret encyclical that was promulgated throughout Germany. Mit brennendeer Sorge was attributed to Pacelli by Pope Pius XI himself. This encyclical was written in German (rather than the usual Latin) and distributed to German Catholic churches nation-wide and read during Mass on Palm Sunday of 1937. Representing the very first official denunciation of Nazism made by any major organization, this encyclical infuriated Nazis, who immediately began persecuting German Catholic clergy nationwide.
Upon the death of Pope Pius XI in 1939, Pacelli was elected to the papacy, taking the name Pope Pius XII. His papacy was marked with reforms to the liturgy, canon law, and the training of priests. He took a public stance of neutrality during World War II—following the example of his predecessor Benedict XV during World War I—and openly facilitated discussion between opposing parties. After the war, he focused on material aid and reconstruction of Europe. In the mid- and late-1950s, as he grew ill and weak, he continued to encourage young priests and laypeople, having elevated younger priests as bishops, including Julius Dopfner and Karol Wojtyla. He passed away in 1958 of acute heart failure.
Sample Pages