Catholic Church and Modern Science, vol. 1: Sixteenth Century Documents (4 vols.)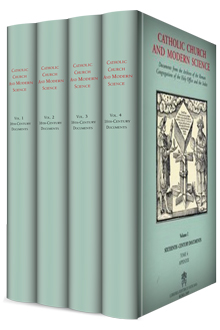 Catholic Church and Modern Science, vol. 1: Sixteenth Century Documents (4 vols.)
•
Runs on Windows, Mac and mobile.
Your Custom Discount
Reg. Price $139.95
Pre-order Price $99.95
Your Price $99.95
You Save $40.00 28%
Your Price
What's Pre-Pub?
$99.95
Reg.: $139.95
Print: $212.95
Overview
Collecting hundreds of pages straight out of the secret archives of the Roman Catholic Church, these four impressive volumes date back to the sixteenth century on the position of the Catholic Church toward the scientific and philosophical culture of the time. Many of the cases treated in these volumes are reminiscent of the well-known philosopher and Dominican friar Giordano Bruno and the Polish scientist Nicholas Copernicus. These volumes include the infamous Index of Forbidden Books and dozens of cases of the Roman Inquisition's investigation into perceived threats to the religious mindset of sixteenth-century laypeople. Specifically revealing all of the documents from the inception of the Roman Inquisition in 1542 to the year 1600, this initial publication of the secret archives is just the first publication—with many more to come.
This work offers copious historical introductions and thoroughly explains each type of document published. They were compiled and edited with ample annotations, footnotes, biographies, and introductions by Leen Spruit and Ugo Baldini—scholars in censorship and sixteenth-century Catholicism. This editorial work aims not to make judgments or add to the ongoing debate between scientific and Catholic thought, but simply to provide, through the commentary and the original documents, a scenario that is complete and as detailed as possible.
Each sixteenth-century document is presented in its original Latin and prefaced with an introduction and supplemented with footnotes and commentary in English. These volumes were made available to the public in 1998 by the organizational and financial support of the Congregation for the Doctrine of Faith, headed by then-Cardinal Joseph Ratzinger, and numerous other professors and archivists.
Explore these sixteenth-century documents in new and engaging ways in Logos. All of these documents are fully searchable, allowing you to find cases on individuals censored by the Roman Inquisition, or find specific topics that were made taboo by the same Inquisition. Find complete copies of books and documents banned by the Catholic Church within these pages in their original Latin—and then use Logos' smart tools to look up unfamiliar or difficult Latin words with the Latin dictionaries and grammars in your library.
Key Features
Complete documentation on the Index of Forbidden Books—including copies of books that were banned
Rich and full commentary on the history and theology surrounding sixteenth-century censorship
Fully-searchable, navigable, and accessible through your favorite Logos features
Contents
The Catholic Church and Modern Science, vol. 1: Sixteenth Century Documents, Tome 1
The Catholic Church and Modern Science, vol. 1: Sixteenth Century Documents, Tome 2
The Catholic Church and Modern Science, vol. 1: Sixteenth Century Documents, Tome 3
The Catholic Church and Modern Science, vol. 1: Sixteenth Century Documents, Tome 4
Product Details
Title: The Catholic Church and Modern Science, vol. 1
Editors: Ugo Baldini and Leen Spruit
Publisher: Libreria Editrice Vaticana
Publication Date: 2010
Volumes: 4
Pages: 3,782
About the Editors
Ugo Baldini is distinguised professor of the history of science at Padua University, Italy, and a specialist on Galileo Galilei and Jesuit science. He formerly taught history of science at the University of Chieti, Italy.
Leen Spruit (PhD, University of Amsterdam) is now associate researcher at the center for the history of philosophy and science, and lecturer of Dutch language and literature at the Sapienza University, Rome. He has taught at the University of Amsterdam and the University of Utrecht, and written numerous books and publications, including Species Intelligibilis: From Perception to Knowledge and Il Problema Della Conoscenza in Giordano Bruno. In 2010, he discovered—deep in the Vatican Library—the only surviving manuscript of Spinoza's Ethics, and published it.