A Popular Commentary on the New Testament (4 vols.)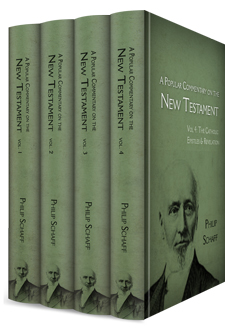 A Popular Commentary on the New Testament (4 vols.)
•
Runs on Windows, Mac and mobile.
Overview
Aiming to produce both an international and interdenominational commentary that unifies Christians, Philip Schaff worked closely with publishers T&T Clark in Edinburgh and Charles Scribner's Sons in New York and with almost a dozen biblical professors and scholars from around the globe to produce a New Testament commentary that could be read and enjoyed by Christians of any denominational calling. His project was a great success, resulting in solid exegesis and practical applications for nearly every verse in the New Testament. With familiar classic authors like Marcus Dods, William Burt Pope, and Philip Schaff, this commentary is essential to any Logos library looking for interdenominational depth.
Over a hundred years later, this commentary is still referenced in modern commentaries and textbooks. Filled with maps, charts, pictures, graphs, and images, this commentary appeals to the aesthetic mind as much as to the academic. Discover the timeless, interdenominational teachings of this popular, hard-to-find English commentary.
The Logos edition of this classic commentary brings incredible value to your library. When accessed in Logos, these volumes tie in to your network of resources and connections, allowing you to jump from citation to source with a click—or simply preview the citation with a mouseover. Instantly view any reference—be it a Bible verse reference or a cross-reference to another resource—simply by mousing over the link, and when you copy and paste into your document, your sources are automatically cited in your word processor's footnotes in your preferred citation style.
Key Features
Teachings from leading American and English professors of divinity
Hundreds of useful illustrations, photos, and maps
Commentary on the entire New Testament
Praise for the Print Edition
Howson has been eminently fitted for this work by his labors in connection with Conybeare on the Life of St. Paul. Dr. Schaff merits high praise for his enterprise in superintending the present series of biblical expositions, as well as in conducting numerous other works. We have been much pleased with [the first] two volumes of this series. Both are well adapted to the wants of working pastors and educated laymen. They exhibit the results of much learning, but do not obtrude the processes of it.
—Bibliotheca Sacra, vol. 38
The English reader, who is not acquainted with the Greek language, will find the results of recent scholarship brought before him in large measure and in a brief and concise form of statement. The numerous pictorial illustrations and the maps will add to the value of the book to many who make use of it. Sabbath school teachers and others who desire to read the New Testament intelligently, as well as ministers, for whom all the best helps to the understanding of the sacred writings are of such popular service, will find much in the present volume to repay them for examining it.
—New Englander and Yale Review, vol. 40
Although not strictly critical . . . still all the illumination necessary is thrown upon the text, and, in most cases when authorities disagree, the different views are given with great fairness. . . . Practical suggestions which are fair, judicious, and justified by the text, are added. Altogether, for the purpose for which it is designed, we know no commentary equally good, safe, and satisfactory, the suggestions and information in the Introduction being especially interesting and valuable.
—The Century Magazine
Product Details
Title: A Popular Commentary on the New Testament
Editor: Philip Schaff
Publisher: T&T Clark, Charles Scribner's Sons
Volumes: 4
Pages: 2,270
About Philip Schaff
Philip Schaff was born on January 1, 1819 in Chur, Switzerland. He was educated in Germany at Tübingen, Halle, and Berlin, where he studied under August Neander. In 1843, moved to America and became professor of church history and biblical literature at the German Reformed Theological Seminary in Mercersburg, Pennsylvania.
During this time, he edited a hymnal, worked on the liturgy in the German Reformed Church, and edited a translation of the Heidelberg Catechism. The English translation of his History of the Apostolic Church appeared in 1853. Schaff remained at Mercersburg until 1863, when the Civil War forced the seminary to close.
In 1870, Schaff became a professor at Union Theological Seminary. During his tenure there, he held the chair of theological encyclopedia and Christian symbolism, the chair of Hebrew and cognate languages, the chair of sacred literature, and the chair of church history. He also served on the committee that translated the American Standard Version.
In addition to the four volumes in this collection, throughout his lifetime Schaff also authored or edited the History of the Christian Church, Early Church Fathers, and the New Schaff-Herzog Encyclopedia of Religious Knowledge. He is remembered as one of America's foremost church historians of the nineteenth century.
Schaff died October 20, 1893.
More details about these resources