The Encyclicals, Speeches, and Apostolic Writings of Pope Paul VI (11 vols.)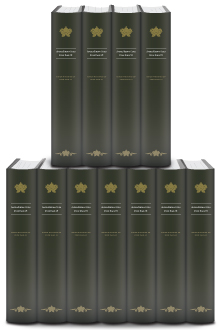 The Encyclicals, Speeches, and Apostolic Writings of Pope Paul VI (11 vols.)
•
Runs on Windows, Mac and mobile.
Your Custom Discount
Reg. Price $74.95
Pre-order Price $59.95
Your Price $59.95
You Save $15.00 20%
Your Price
What's Pre-Pub?
$59.95
Overview
The Encyclicals, Speeches, and Apostolic Writings of Pope Paul VI collection (11 vols.) contains the most important writings of the Venerable Pope Paul VI. These huge volumes, compiled and built by Logos Bible Software, contain the Holy Father's encyclicals, correspondence, constitutions, and speeches from 1963 to 1978. They aren't available in this digitized chronological format anywhere else—nor in this quantity. Over 15 years of writings are contained here, spanning thousands of pages.
His seven encyclicals include the essential Humanae Vitae, the encyclical letter establishing doctrinal answers to the mounting questions of birth control, abortion, and the definition of human life. His apostolic constitutions and exhortations include Missale Romanum (clarifying the use of the New Roman Missal according to the definitions of Vatican II) and Sacram Unctione Infirmorum (a clarification on Vatican II's statements on the sacrament of the anointing of the sick). Over 100 such apostolic constitutions and exhortations are gathered into this collection.
These massive volumes also include 15 years of Pope Paul VI's letters and correspondences to bishops, archbishops, cardinals, and world leaders, his public speeches, and his documents issued motu proprio—apostolic letters regarded as official documents, which carry administrative or instructional purposes. Less formal than an apostolic constitution, a motu proprio is an official statement that enacts only minor changes to law, procedure, or persons and institutions.
Having these volumes in Logos' format brings immense value to your sermon or homily writing or small-group study. Search for any of the Holy Father's radio messages during his 15 years of preaching and teaching. Or search his letters and apostolic constitutions for specific topics, such as celibacy or charity.
Key Features
Pope Paul VI's major writings: his encyclicals, apostolic constitutions, exhortations, and documents issued motu proprio
Letters from the pope to his cardinals and bishops and to world leaders
Speeches from his world travels and radio messages
Contents
Apostolic Constitutions
Apostolic Exhortations
Apostolic Letters
Encyclicals
Motu Proprio
Letters
Messages
Speeches, vol. 1
Speeches, vol. 2
Speeches, vol. 3
Writings Associated with the Apostolic Journeys
Product Details
Title: Encyclicals, Speeches, and Apostolic Writings of Pope Paul VI
Author: Pope Paul VI
Publisher: Libreria Editrice Vaticana
Volumes: 11
About the Author
Paul VI (Giovanni Battista Enrico Antonia Maria Montini) (1897–1978) was elected pope after the death of Pope John XXIII, whose untimely death brought the Second Vatican Council to a standstill. Pope Paul VI continued the Second Vatican Council, bringing it to conclusion, and instituting through it the biggest changes to the Catholic Church since the Council of Trent 400 years prior.
Giovanni Montini was born in the village of Concesio, Lombardy. His father was a laywer, a journalist, the director of the Catholic Action, and a member of the Italian Parliament. Montini attended a Jesuit school since his early childhood and was frequently a sickly child. In 1916, he entered the seminary to become a priest. After ordination in 1920, he studied at the Gregorian University, the University of Rome La Sapienza, and at the Accademia dei Nobili Ecclesiastici; despite already having his doctorate in canon law from Milan.
Largely due to his organizational skills and vast knowledge, his religious career was strongly centered on papal service. He directly served Pope Pius XII as the Vatican's Secretariat of State from 1922 to 1954. During World War II, he formed the Pontificia Commissione di Assistenza to provide shelter, food, and aid to the refugees of war. In 1954, Montini was made the Archbishop of Milan, and in 1958, immediately after Pope John XXIII was named pope, Montini was brought to the cardinalate.
When Pope John XXIII died in 1963, Cardinal Montini was elected pope and took the name Paul VI. As pope, he did away with much of the regal display of the papacy, a trend continued by his immediate successors. He reopened the Second Vatican Council, which had closed with the death of Pope John XXIII, and brought out of it a deeper and more thorough understanding of the Church's understanding of itself.
Pope Paul VI passed away in 1978 at the papal summer residence in Castel Gandolfo after suffering a massive heart attack. The cause for his beatification was opened by Pope John Paul II in 1993, and, in December 2012, he was declared "Venerable" by Pope Benedict XVI.
Sample Pages