Michael L. Brown Collection (2 vols.)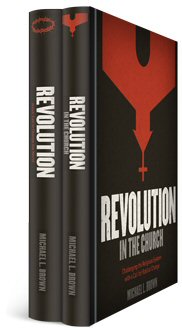 Overview
In this collection, Messianic Jewish apologist Michael L. Brown, author, speaker, and radio host, brings a message of reformation, repentance, revival, and revolution. Recognizing the need for a spiritual revolution within the church, he explores what it means to be Christ's disciples in a secular world. Brown addresses contemporary issues facing the church and illustrates how a radical change within the Body of Christ can positively impact the current generation—locally and globally.
All Scripture passages link to your favorite Bible translation in your library. With Logos' advanced search features, you can perform powerful searches by topic or Scripture reference—finding, for example, every mention of "Great Commission" or "Micah 6:8."
Key Features
Examines numerous revolutions throughout history
Argues for the need for a spiritual revolution
Calls believers to live radical lives as Christ's disciples
Contains volume-by-volume end notes
Individual Titles

This volume is not a call for the violent overthrow of the government, nor is it a call to take up arms, nor is it a call to political activism in and of itself. It is a call to something far more extreme: a call to live out the Gospel, a call for people of God to impact this generation with the prophetic message of repentance, a call to spark the most sweeping counterculture movement in our nation's history, a call to take back the moral ground that has been stolen from under our feet, a call to follow Jesus by life or by death. In that sense, it is a call to start a revolution—now!
Join Michael Brown as he highlights the men and women, past and present, who have laid aside lukewarm spirituality and embraced the Great Commission. Revolution: Jesus' Call to Change the World will challenge you to follow in these figures' footsteps on the journey to holiness.
If every young person in this nation would read this book and take it to heart, I believe it would be the catalyst for igniting a new Jesus Movement.
—Ché Ahn, senior pastor, Harvest Rock Church, Pasadena, CA
Michael Brown's teachings have had a profound impact on the men of Sonicflood. I pray that the Holy Spirit will work through Revolution to stir up the lost passion and power of God's people.
—Jason Halbert, keyboardist, Sonicflood
Revolution has the answers to change the world.
—Jim Burns, president, YouthBuilders
A clarion call from a man who knows the one who calls the signals and shapes our ultimate destiny.
—Winkie Pratney, author of Fire on the Horizon
Michael Brown's Revolution is the prophetic road map for what will be the greatest youth awakening the West has ever seen.
—Bob Weiner, founder, Weiner Ministries International

Revolution in the Church looks at the need for a spiritual revolution, not only in the church, but ultimately in the world.
In a dynamic and lively writing style, Michael Brown exposes erroneous practices and beliefs popular today, challenging you to make some radical transformations. He explores the biblical pattern of leadership, the meaning of true discipleship, the Jewish roots of our faith, and other issues facing the church today.
With its timely and revealing message, Revolution in the Church will be a welcome corroboration of the revolution already taking place in your church—or a penetrating wake-up call to action.
Revolution is not 'rebelution.' It is birthed in the spirit and through a right heart. It is the same radical call to live as Jesus did. . . . This book is not for contented pew-sitters or self-satisfied leaders, but for humble, hungry hearts who want more of Jesus.
—Ché Ahn, senior pastor, Harvest Rock Church, Pasadena, CA
Product Details
Title: Michael L. Brown Collection
Author: Michael L. Brown
Publisher: Kirkdale Press
Volumes: 2
Pages: 573
About Michael L. Brown
Michael L. Brown holds a PhD in Near Eastern languages and literature from New York University. He has taught at Southern Evangelical Seminary, Gordon Conwell Theological Seminary, Trinity Evangelical Divinity School, Fuller Theological Seminary, Denver Theological Seminary, the King's Seminary, and Regent University School of Divinity. Brown is the author of 25 books and a leading Messianic Jewish apologist, the founder and president of the FIRE School of Ministry in Concord, NC, and the director of the Coalition of Conscience. He is also the host of The Line of Fire, a nationally syndicated, daily talk show.
More details about these resources