The Audiences and Apostolic Writings of Pope John Paul II (11 vols.)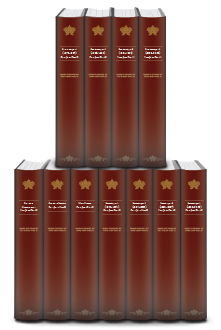 The Audiences and Apostolic Writings of Pope John Paul II (11 vols.)
•
Runs on Windows, Mac and mobile.
Your Custom Discount
Reg. Price $74.95
Pre-order Price $59.95
Your Price $59.95
You Save $15.00 20%
Your Price
What's Pre-Pub?
$59.95
Overview
The Audiences and Apostolic Writings of Pope John Paul II collection (11 vols.) contains the official pontifical writings, audiences, and letters of Pope John Paul II. These huge volumes, compiled and built by Logos Bible Software, contain the Holy Father's correspondence, constitutions, and audiences from 1978 to 2005 and are not available in this chronological digitized format anywhere else—nor in this quantity. Over 26 years of writings are contained here, spanning thousands of pages.
These massive volumes include 26 years of Pope John Paul II's letters and messages to bishops, archbishops, cardinals, and world leaders, his public prayers, public audiences, speeches, and his Motu Proprio—an apostolic letter, regarded as an official document, that carries an administrative or instructional purpose. Less formal than an Apostolic Constitution, the Motu Proprio carries an official statement that enacts only minor changes to law, procedure, or persons and institutions. His audiences, on the other hand, range from invitation-only audiences to diplomats, presidents, and world leaders, to his General Audiences, which are weekly audiences with between 3,000 and 5,000 guests from around the world. Among these General Audiences are his original teachings on the Theology of the Body, which spanned from 1979 to 1984.
Additionally, among these volumes is the complete Apostolic Constitutions of Pope John Paul II, as-of-yet untranslated and only available in Latin. Roughly 100 Apostolic Constitutions are gathered here, completely searchable and organized by date.
Having these volumes in Logos' format brings immense value to your sermon or homily writing or your small-group study. Search for any of the Holy Father's audiences during his 26 years of preaching and teaching. Or search his letters and Apostolic Constitutions for specific topics: his sayings on chastity, say, or on a specific saint or doctor of the Church.
Interested in having Pope John Paul II's homilies, audiences, and messages in Spanish? Click here for a Spanish collection of his writings.
Key Features
Pope John Paul II's major audiences
Letters from the pope to his cardinals, archbishops, and to world leaders
A complete collection of Apostolic Constitutions, not available in any other collection
Contents
Audiences, vol. 1
Audiences, vol. 2
Audiences, vol. 3
Audiences, vol. 4
Apostolic Constitutions (Latin)
Apostolic Letters
Motu Proprio
Letters, vol. 1
Letters, vol. 2
Letters, vol. 3
Letters, vol. 4
Product Details
Title: Audiences and Apostolic Writings of Pope John Paul II
Author: Pope John Paul II
Publisher: Libreria Editrice Vaticana
Volumes: 11
About the Author
John Paul II (Karol Józef Wojtyla) (1920–2005) served as Pope for 26 years (1978–2005). In 1942, he felt called to the priesthood and began courses in the clandestine seminary of Krakow. Wojtyla was ordained to the priesthood on November 1, 1946, and shortly after, was sent to Rome where he worked under Garrigou-Lagrange. In 1958 he was appointed as the titular bishop of Ombi and auxiliary of Krakow and in 1964 was appointed as the archbishop or Krakow. Three years later, he was elevated to cardinal.
In 1978, Karol Wojtyla was elected Pope, where he took on the name John Paul II. As Pope, he was instrumental in ending communism in his native Poland. He significantly improved the Catholic Church's relationship with Judaism, Islam, the Eastern Orthodox Church, and the Anglican Communion. He has been acclaimed as one of the most influential leaders of the twentieth century.
Sample Pages