Logos Cold Beverage Tumbler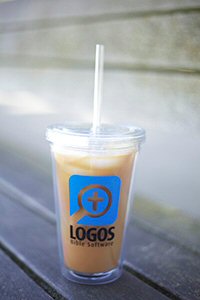 Logos Cold Beverage Tumbler
Overview
This fun, reusable tumbler looks just like a to-go cup, complete with matching lid and straw. Its dual-wall acrylic layers offer extra insulation and prevent condensation caused by ice-cold refreshments. This tumbler is the perfect way to enjoy your favorite cold beverage—and show off your taste in Bible software at the same time.
Product Details
Item: Logos Cold Beverage Tumbler
Material: BPA-free acrylic plastic
Volume: 16 oz.