Theology: Advanced Reformed Theological Studies Certificate Program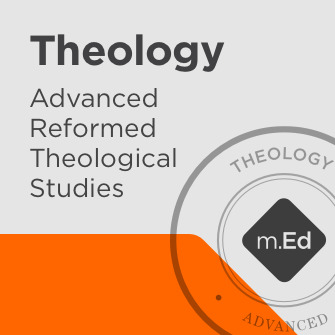 Theology: Advanced Reformed Theological Studies Certificate Program
•
Runs on Windows, Mac and mobile.
Overview
In the Theology: Advanced Reformed Theological Studies Certificate Program you'll study key aspects of Reformed theology. You'll survey systematic theology from a Reformed perspective. You will delve into the complex topic of the doctrine of God and explore the implications of the doctrine of man. You will look closely at Christology and the doctrine of salvation. These courses will help enable you to live faithfully before God as you live out your salvation in Christ.
Individual Titles
TH242 Christology: The Person and Work of Christ and TH261 Doctrine of Salvation are included in this product but are not yet available. They will automatically be added to your library when they ship.
How to Apply for a Mobile Ed Certificate of Completion
Complete all Mobile Ed courses in this certificate program. This involves viewing all videos and taking all quizzes.
Write a 750-word response on any topic covered for each course in the certificate program. Post your response to the appropriate Faithlife group in the comments section. Search course code here to find group.
Email certificate@faithlife.com once you have completed all videos and quizzes and have posted responses in the appropriate Faithlife group for each Mobile Ed course in the certificate program. Please include your full name, title of completed certificate program, and links for each Faithlife group post in your email.
Our certificate program team will review the application and email the Certificate of Completion once you have completed all requirements. Please allow 7–10 business days for review.
Product Details
Title: Theology: Advanced Reformed Theological Studies Certificate Program
Publisher: Lexham Press
Product Type: Logos Mobile Education
Resource Type: Courseware, including transcripts, audio, and video resources
Courses: 8
Video Hours: 62