Confessional Documents Collection (98 resources)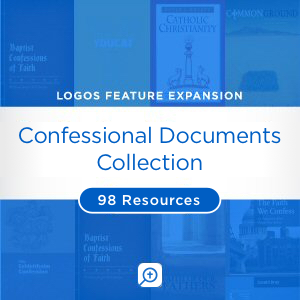 Confessional Documents Collection (98 resources)
•
Runs on Windows, Mac and mobile.
Overview
Creeds, Confessions, Declarations, these are all central documents for the Christian faith. Intended for distilling the essential beliefs of Christianity, for education, and spiritual practice, these historic documents of the Christian Church open up insight into the tradition and Orthodox teachings of Christianity. Imagine studying Romans 6—and then seeing if it came up at the Council of Nicea, Trent, or the Synod of Dort. Imagine seeing how the Augsburg Confession, the Arminian Confession, and the Schleitheim Confession use 1 Peter 5. And then imagine Luther's Catechism, the Heidelberg Catechism, the Westminster Catechism, and the Orthodox Catechism all showing you their use of Genesis 2.
You not only get primary documents from the historic creeds and confessions of faith, but commentaries, sermons, and historical accounts of each significant church document. Incorporate historic Christianity's church documents into your Scripture study—study with the Confessional Documents Collection.
Please note: This product does not contain Logos software—only books to enhance the experience of your study. There are numerous ways to upgrade to Logos—click here to find out which is best for you.
Key Features
Catechisms and commentaries on catechisms from a number of faith traditions
Documents from ecumenical councils from Nicea to Trent to Vatican II
Exposition on the Augsburg Confession, the Arminian Confession, the Schleitheim Confession, the Orthodox Confession, and many more
Product Details