Luther's Works Upgrade 4 (2 vols.)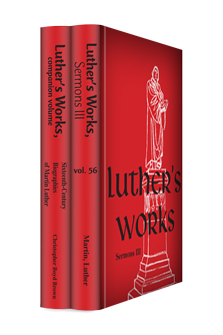 Overview
This upgrade to Luther's Works includes the one volume of Martin Luther's sermons from the 1520 in the Wittenberg pulpit. During this period, Luther preached over one thousand sermons, which were essential for the reformation in Wittenberg. Despite being limited in his ability to travel after the Edict of Worms, Luther's sermons provided a valuable means for his message and voice to carry through the German speaking world. Volume 56, include in this upgrade collection, provides a selection of Luther's sermons from this fruitful period of ministry. In addition is the companion volume that provides some of the earliest efforts at writing the biography of this leader of the Reformation. The biographies included in this volume include those written by colleagues and friends in the earliest period, making most of the accessible in English for the first time ever.
The goal of the English edition is to allow Luther to speak in modern English yet as a man of the sixteenth century. The translators have been asked to resist bowdlerizing Luther's language to conform to modern sensibilities about society and gender—or scatology. Editorial introductions and notes are offered to familiarize the reader with the particular circumstances of each text and its theological and social context.
In the Logos edition, this volume is enhanced by a world-class set of research and study tools. Important terms link to dictionaries, encyclopedias, and a wealth of other resources in your digital library. Perform powerful searches to find exactly what you're looking for. Take the discussion with you using tablet and mobile apps. With Logos Bible Software, the most efficient and comprehensive research tools are in one place, so you get the most out of your study.
The rest of Luther's Works are also for sale for Logos Bible Software.
Key Features
Sermons from one of Martin Luther's most productive periods of preaching in Wittenburg
Makes available a substantial material by and about Martin Luther for the first time in English
Provides early insights from Luther's contemporaries about his life
Individual Titles
Thoroughly researched and faithfully translated, the Luther's Works series consists of Martin Luther's Bible commentaries, sermons, prefaces, postils, disputations, letters, theology, and polemics, translated and published in English for the first time. Luther's Works, Volume 56 (Sermons III) contains 31 sermons, ranging from 1522 to 1531.
Martin Luther (1483–1546) is one of the most significant figures in Western history and a key figure in the Protestant Reformation. Over the course of his life, Luther was a monk, a priest, a professor of biblical literature, a Reformer, a husband, and a father. Luther is most noted for his Ninety-Five Theses (1517), in which he directly challenged the theological basis and ecclesiological use of indulgences. His large body of sermons and writings continue to have great impact and animate the movement that bears his name.
Martin Luther has been the subject of hundreds of efforts at biography in the last 500 years, and the Reformation's 500th anniversary has seen the appearance of the latest wave. The long succession of Luther biographies stretches back to Luther's own autobiographical efforts, which were quickly supplemented by his colleagues, friends, and students as they sought to collect his works, narrate his history, and reflect on the significance of his life and teaching. This volume presents some of these earliest sources for the biography of the Reformer, making most of them accessible in English for the first time. Included is biographical accounts of Luther's life from:
Justus Jonas
Michael Coelius
Johann Bugenhagen
Philip Melanchthon
Johann Walter
Johann Mathesius
Christopher Boyd Brown, along with Benjamin T. G. Mayes is the current general editor of Concordia Publishing House's ongoing translation of the writings of Martin Luther. They have, thus far, edited volumes 56 through 82, continuing the monumental efforts begun by the late Jaroslav Pelikan (vols. 1-30) and Helmut T. Lehmann (vols. 31-55).
More details about these resources