Bible Study Magazine—November–December 2018 Issue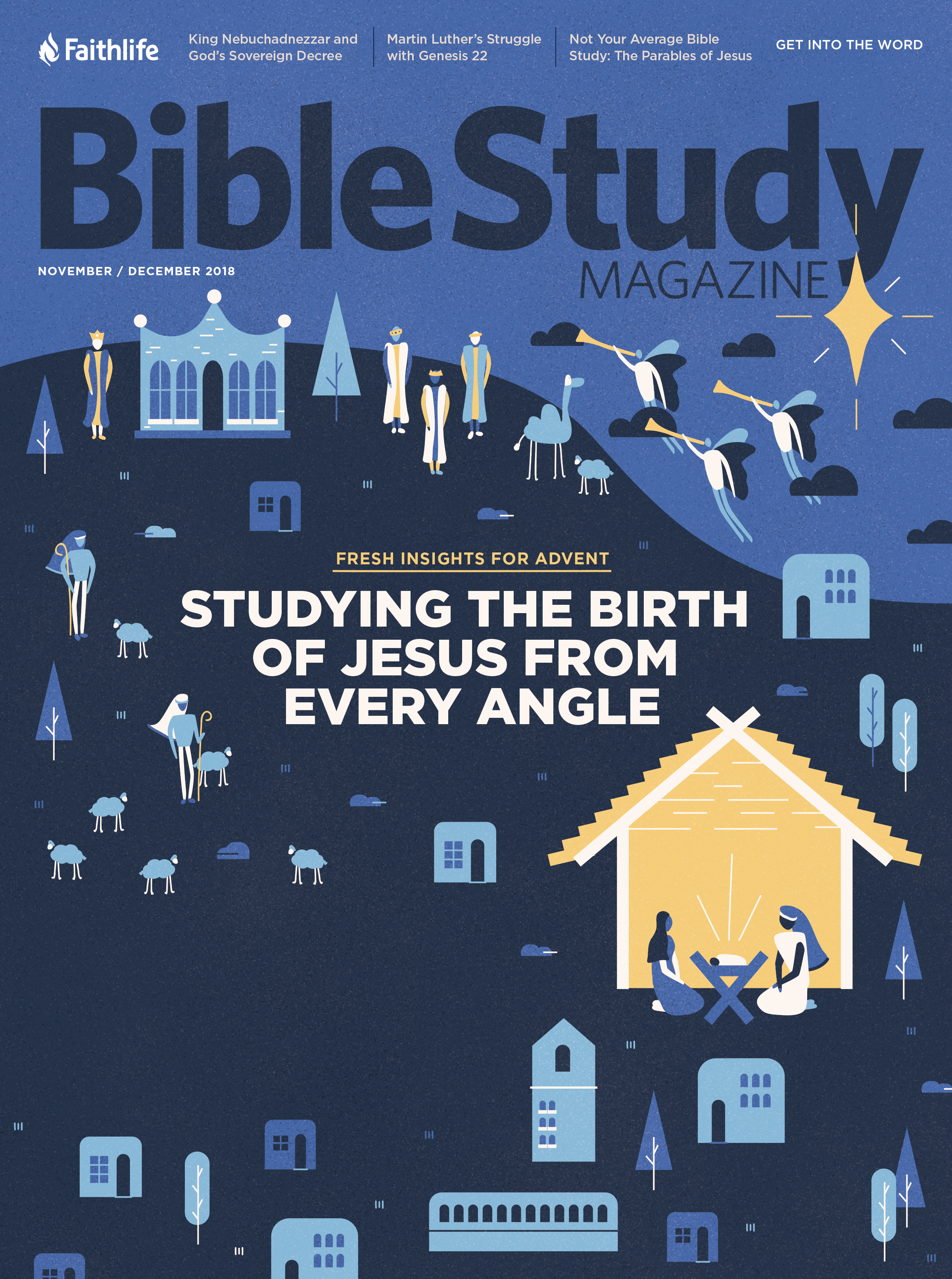 Bible Study Magazine—November–December 2018 Issue
Want more Bible Study Magazine? Subscribe today and get six issues per year for just $19.99—33% off the cover price!
Get Bible Study Magazine now by purchasing the November–December 2018 back issue for $3.95. That's 20% off the newsstand price of $4.95!
Bible Study Magazine is a print magazine (not an emagazine) published by Lexham Press. Six times a year, Bible Study Magazine delivers tools and methods for Bible study as well as insights from respected teachers, professors, historians, and archeologists.
Read pastor profiles, author interviews, and stories of individuals whose thoughtful engagement with Scripture has shaped their thinking and defined their ministries. Bible Study Magazine reveals the impact of God's Word in their lives—and the power of Scripture in yours.
There is a limited supply of back issues of the November–December 2018 Bible Study Magazine.
Feature Stories
Discover new ways to connect the Bible with your ministry and life through in-depth interviews and articles from the biggest names in the church and biblical scholarship.
Bible Study Tips
Explore the Word—thoughtful and engaging authors tackle the tough passages in Scripture, explain difficult concepts, and confront complex interpretations in a way that helps the Gospel make sense in your life.
On the Cutting Edge
Keep up to date on the latest news in biblical research, including archaeological and historical findings.
A New Kind of Bible Study
Encounter God by yourself or with other believers with an ongoing Bible study in each issue.
On Teaching
Get advice on how to preach or teach the Bible in any setting from well-known pastors and teachers who use the Bible every day.
Tool Box
Learn how to effectively use the latest Bible study tools with our how-to guides.
In the News
Keep informed about the latest news in biblically related topics, discoveries, and events.
Thoughts from the Ancients
Read the Bible together with those who have come before you, and learn from the wisdom of the early church—in its own words.
Word Studies
Get a close-up view of the Bible! Each issue contains insights about specific words found in the Bible and tutorials on how to do word studies.
If Only Someone Would Explain It to Me
Enrich your understanding of the Bible with explanations of biblical and theological concepts by top scholars.
Did You Know?
Discover interesting facts about the place of the Bible in the contemporary and the ancient world.
What They Don't Tell You in Church
See things you never noticed in biblical passages you have read dozens of times.
Biblical Humor
The funniest stories and the best comics related to the Bible, useful for any setting.
Book Reviews
Stay on top of the latest books about Bible study. Each issue contains reviews of books and commentaries to equip you in your study of God's Word.
Nativity: The Mother
"He Who Is Mighty Has Done Great Things for Me" -- Luke 1:26–56 Since moving to the Middle East several years ago, I have often marveled at Luke's account of Mary receiving her commission from God to bear the messiah. The culture I now live in is much closer to Mary's than my own American culture, bringing into sharp relief her faith and obedience in the face of scorn and shame.
—Aubry Smith
Nativity: The Adoptive Father
"…Being a Just Man and Unwilling to Put Her to Shame" -- Matthew 1:18–25; 2:13–15 There's a palpable pressure that comes with being a parent. The great responsibility to meet your children's needs and train them up in the way they should go can be paralyzing. I feel this burden enough with my first four children; the pressure is compounded—for various reasons—with my fifth child, whom we adopted. With Caspian, I constantly doubt myself. My fears are increased by the disapproving looks and whispers I get from my small-town neighbors whenever they hear my black son call me "dad." Am I a good dad to Caspian? When he grows up will he appreciate or, heaven forbid, resent me? Who do I need to be in order to be the father he never had?
—Joseph R. Dodson
Nativity: The Announcers
"Therefore the Child to Be Born Will Be Called Holy—the Son of God" -- Luke 1:5–38; Matthew 1:18–25; Luke 2:8–20 As we contemplate the marvelous fact of God becoming man in the birth of Jesus, it's easy to focus on Mary and Joseph, who naturally take center stage. And it's easy to identify with the other human characters in the unfolding drama—the simple shepherds, the curious magi, maybe even the troubled King Herod. But what about the angels who appear in the nativity accounts? We might be tempted to view them as stock characters, but once we understand their history, their role in the story can teach us some important theology.
—Michael S. Heiser
Nativity: The Witnesses
"… Praising God For All They Had Heard and Seen" -- Luke 2:8–20; Matthew 2:1–23 At the bedside of every beloved newborn, an audience awaits. Sometimes, mom and dad bear witness to the miracle of new life. Such was the case with Joseph and Mary—at first. But like most parents, they soon welcomed guests—perhaps the most unexpected and unusual nursery visitors ever. For not only did these strangers elbow their way into a family occasion, but they were the first to acknowledge Jesus for who he really was—more than just a baby, he was Savior, Redeemer, King.
—Kelley Mathews