High Definition Commentary: Ephesians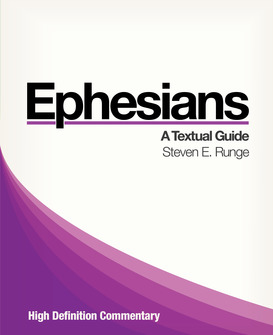 High Definition Commentary: Ephesians
•
Runs on Windows, Mac and mobile.
Your Custom Discount
Reg. Price $24.99
Sale Price $19.99
Your Price $19.99
You Save $5.00 20%
Your Price
What's Pre-Pub?
$19.99
Overview
Lexham Press is excited to offer another title in the popular High Definition Commentary series: the volume on Ephesians! Dr. Steve Runge, author of Discourse Grammar of the Greek New Testament and High Definition Commentary: Philippians, provides exceptional commentary that enables you accurately to communicate the message of Ephesians. This volume emphasizes the main points of Ephesians in clear language, explaining Paul's use of special devices and tracing the flow of his argument to help you communicate more effectively.
Organized into preachable portions of Scripture and featuring numerous word pictures to illustrate and explain Paul's points, this volume on Ephesians is perfect for sermons, Bible studies, and small groups. Using principles of linguistics and biblical exegesis, Dr. Runge illuminates the key principles and overall message of the book of Ephesians. In this commentary Dr. Runge not only helps you identify the big ideas of a passage but also provides applicable and approachable examples throughout, making clear everyday connections between ideas in Ephesians and practical living. The High Definition Commentary: Ephesians is a one-of-a-kind Bible teaching tool and only available from Lexham Press.
NOTE: This volume contains a limited number of graphics compared to earlier volumes. The textual description has been expanded to offset this shift in the volume's design.
About Steven E. Runge
Steven E. Runge has a Master of Theological Studies degree in Biblical Languages from Trinity Western Seminary in Langley, B.C., Canada, a BA in Speech Communication from Western Washington University, and a Doctor of Literature degree in Biblical Languages from the University of Stellenbosch in South Africa, which was supervised by Christo Van der Merwe. In preparation for his doctoral research, Steve completed several years of study in the linguistic fields of pragmatics and discourse grammar. He has served as an adjunct faculty member at Northwest Baptist Theological College, Trinity Western University, and Associated Canadian Theological Schools (ACTS) while completing his education. He is also very active in the church. He and his wife were married in 1990. They have two daughters, and live in Bellingham, Washington. Steve presently serves as a Scholar-in-Residence at Logos Bible Software, and where, along with Discourse Grammar of the Greek New Testament: A Practical Introduction for Teaching and Exegesis, he has developed the Lexham Discourse Greek New Testament and the Lexham High Definition New Testament.
Sample Pages from the Print Edition