Mobile Ed: NT341 Book Study: Paul's Letter to the Galatians (audio)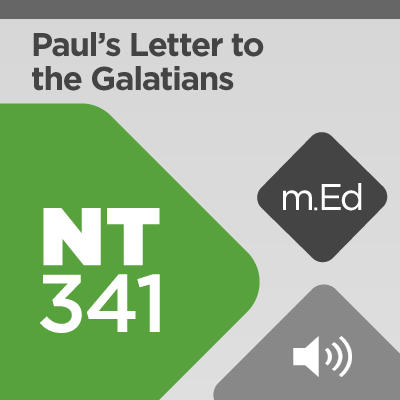 Mobile Ed: NT341 Book Study: Paul's Letter to the Galatians (audio)
•
Runs on Windows, Mac and mobile.
Overview
Dr. Douglas Moo, known for his commentaries on Romans and Galatians, lays out his research on this much-debated text. He explores the theme of justification by faith and explains its importance to the Protestant Reformation and the Protestant church today. He discusses the new perspective on Paul and how it relates to Galatians. You'll also learn important contextual information about who the Galatians were, why Paul wrote to them, and how they might have understood Paul's letter. Dr. Moo guides you through the text, explaining the major themes and theological elements toward the goal of understanding how Paul's letter to the Galatians applies to our lives and to the church.
This is the audio only version of NT341 Book Study: Paul's Letter to the Galatians. To purchase the full course, click here.
Course Outline
Introduction
Introducing the Speaker and the Course
Unit 1: Introduction and Background
Who Were the Galatians? Part 1
Searching for Place Information
Who Were the Galatians? Part 2
Why Did Paul Write the Letter?
The Argument of the Letter
The Tone of the Letter
Opening Multiple Passages in Separate Tabs
Unit 2: The Autobiographical Argument
An Overview of the Argument
The Road to Damascus
Paul's Early Years as a Christian
Paul's Jerusalem Consultation
Conflict in Antioch
Finding a Book in the Pseudepigrapha
Justification by Faith
Works of the Law
Using the NEAR Search Operator
"The Faith of Jesus Christ"
Examining a Grammatical Construction Using the Lexham Syntactic Greek New Testament
The New Perspective and Galatians
"Righteousness" Language
Unit 3: The Theological Argument
The Central Argument
The Initial Appeal
The Heart of Paul's Argument
Abraham and Faith
The Law and the Curse
Habakkuk 2:4 in the New Testament
The Law and Salvation History
The Law and Transgressions
Studying Greek Synonyms with the Bible Sense and Louw-Nida Lexicons
The Law and a Mediator
The Law as Paidagōgos
Union with Christ
The Stoichea of the World
Christ Formed in You
The Story of Hagar and Sarah
Looking Up Greek Words in a Greek-English Lexicon
The Old and New Realms
Justification
Final Justification and Works
A "Janus" Text
Unit 4: The Ethical Argument
Living to Please God
Freedom, Love, and the Law
The Spirit and the Flesh
The Law of Christ
An Eschatological Warning
Unit 5: The Ending of the Epistle
A Fitting Ending
The New Creation
The Israel of God
More details about this resource