Mobile Ed: NT341 Book Study: Paul's Letter to the Galatians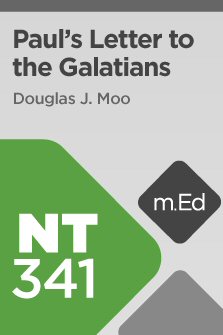 Mobile Ed: NT341 Book Study: Paul's Letter to the Galatians
•
Runs on Windows and Mac.
Overview
Dr. Douglas Moo, known for his commentaries on Romans and Galatians, lays out his research on this much-debated text. He explores the theme of justification by faith and explains its importance to the Protestant Reformation and the Protestant church today. He discusses the new perspective on Paul and how it relates to Galatians. You'll also learn important contextual information about who the Galatians were, why Paul wrote to them, and how they might have understood Paul's letter. Dr. Moo guides you through the text, explaining the major themes and theological elements toward the goal of understanding how Paul's letter to the Galatians applies to our lives and to the church.
Learning Objectives
Upon successful completion you should be able to:
Compare the traditional view on justification to the new perspective
Communicate important themes found within the text of Galatians
Relate the identity of the Galatian church to the lives of modern believers
Course Outline
Introduction and Background Information
Introduction to the Epistle (Gal 1:1–10)
The Truth of the Gospel (Gal 1:11–2:21)
The Defense of the Gospel (Gal 3:1–5:12)
The Life of the Gospel (Gal 5:13–6:10)
The Ending of the Epistle (Gal 6:11–18)
Product Details
Title: NT341 Book Study: Paul's Letter to the Galatians
Instructor: Douglas J. Moo
Publisher: Lexham Press
Publication Date: 2015
Product Type: Logos Mobile Education
Resource Type: Courseware, including transcripts, audio, and video resources
Courses: 1
Video Hours: 4
About the Instructor
Dr. Douglas J. Moo, one of the most respected New Testament scholars today, is professor of New Testament at Wheaton College. He has written commentaries on Romans, Galatians, Colossians, Philemon, James, 2 Peter, and Jude, and coauthored An Introduction to the New Testament with D.A. Carson.
Getting the most out of Mobile Ed
Mobile Ed is a highly effective mobile learning environment that incorporates the powerful study tools found in Logos Bible Software.
With any Logos library base package, you will be able to view the lectures and interact with the transcripts. For the best learning experience, we recommend you use Logos Platinum.
Readings for the courses are often tailored to Platinum because the larger library provides access to a wide range of suggested resources and increases search results for further study.
The Platinum collection best matches the resources used in screencasts. It includes a breadth of commentaries, original-language studies, and over 1,400 resources to deepen your study.
More details about these resources