Mobile Ed: NT216 Introductory Issues in Acts (audio)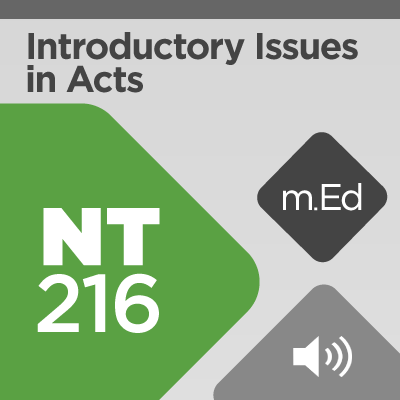 Mobile Ed: NT216 Introductory Issues in Acts (audio)
•
Runs on Windows, Mac and mobile.
Overview
Dr. Craig S. Keener, award-winning scholar and author of one of the largest and most thoroughly documented Acts commentaries available, provides students with an introduction to the book of Acts which focuses on such fundamentals as genre and historical context. He also explores key themes including mission, ethnic reconciliation, and evangelism, and discusses the Spirit's power to bring these about.
This is the audio only version of NT216 Introductory Issues in Acts. To purchase the full course, click here.
Course Outline
Introducing the Course and Speaker
Authorship of Acts
Searching for the "We Narratives" in the Book of Acts
Dating of Acts
Genre of Acts
Historiography in Acts
Novels and History
Luke's Historical Method
Correspondence with External History
History in Acts and in Paul's Letters
Examining Historical Details from Acts Corroborated in Pauline Epistles
Historical Accuracy of the Speeches in Acts
Miracles and Worldview
Miracles and Christianity: Part 1
Miracles and Christianity: Part 2
Relation between Luke and Acts
Investigating Parallels between Luke and Acts
About Craig S. Keener
Dr. Craig S. Keener is professor of New Testament at Asbury Theological Seminary, and is the author of 17 books, four of which have won Christianity Today book awards. One, IVP Bible Background Commentary: New Testament, has sold more than half a million copies. He has authored scholarly commentaries on Matthew, John (two volumes), Acts (four volumes), and more briefly on Romans, 1 and 2 Corinthians, and Revelation.
More details about this resource