Mobile Ed: NT216 Introductory Issues in Acts (2 hour course)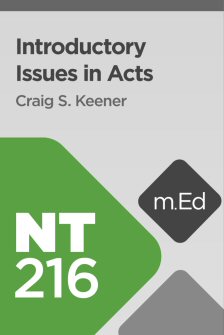 Mobile Ed: NT216 Introductory Issues in Acts (2 hour course)
•
Runs on Windows, Mac and mobile.
Overview
Dr. Craig S. Keener, award-winning scholar and author of one of the largest and most thoroughly documented Acts commentaries available, provides students with an introduction to the book of Acts which focuses on such fundamentals as genre and historical context. He also explores key themes including mission, ethnic reconciliation, and evangelism, and discusses the Spirit's power to bring these about.
Learning Objectives
Upon successful completion you should be able to:
Analyze and critique some of the common suggestions for the genre of Acts
Explain how the preface to the Gospel of Luke is consistent with his writing in Acts
Outline the historical consistency that Acts shows with external history and with parallel events in the Pauline epistles
Explain the role of eyewitness testimony, for Luke and for modern readers of the book of Acts
Course Outline
Introductory Issues in Acts
Introducing the Course and Speaker
Authorship of Acts
Searching for the "We Narratives" in the Book of Acts
Dating of Acts
Genre of Acts
Historiography in Acts
Novels and History
Luke's Historical Method
Correspondence with External History
History in Acts and in Paul's Letters
Examining Historical Details from Acts Corroborated in Pauline Epistles
Historical Accuracy of the Speeches in Acts
Miracles and Worldview
Miracles and Christianity: Part 1
Miracles and Christianity: Part 2
Relation between Luke and Acts
Investigating Parallels between Luke and Acts
Conclusion
Product Details
Title: NT216 Introductory Issues in Acts
Instructor: Craig S. Keener
Publisher: Lexham Press
Publication Date: 2015
Product Type: Logos Mobile Education
Resource Type: Courseware, including transcripts, audio, and video resources
Courses: 1
Video Hours: 2
About Craig S. Keener
Dr. Craig S. Keener is professor of New Testament at Asbury Theological Seminary, and is the author of 17 books, four of which have won Christianity Today book awards. One, IVP Bible Background Commentary: New Testament, has sold more than half a million copies. He has authored scholarly commentaries on Matthew, John (two volumes), Acts (four volumes), and more briefly on Romans, 1 and 2 Corinthians, and Revelation.
Getting the most out of Mobile Ed
Logos Mobile Education is a highly effective cross-platform learning environment that integrates world class teaching with the powerful study tools and theological libraries available in Logos Bible Software. Every course provides links to additional resources and suggested readings that supplement the lecture material at the end of every transcript segment.
This course was produced with screencast videos. These videos provide tutorials showing you how to use Logos Bible Software in ways that are tied directly into the content of the course. We are now producing Activities resources as a replacement for screencast videos. We plan on updating this course to include this additional Activities resource in the future for no extra charge.
More details about these resources