Mobile Ed: Studies in Acts Bundle (3 courses)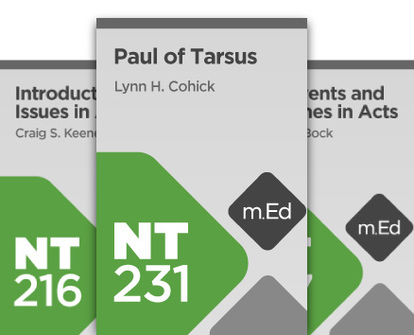 Mobile Ed: Studies in Acts Bundle (3 courses)
•
Runs on Windows, Mac and mobile.
Overview
The Studies in Acts Bundle develops your understanding of Acts with the help of today's foremost scholars of this important book. Dr. Craig Keener begins by laying the groundwork, focusing on the genre and historical elements, and then Dr. Darrell Bock takes you chapter by chapter through the key speeches and events. Dr. Lynn Cohick examines both Acts and Paul's letters to paint a vivid picture of who Paul of Tarsus was, what he did, and what he believed.
If you want to learn more about how first-century Christians defended their faith, functioned as a body, and began to spread the good news to all people, these courses will take you there.
Dr. Craig Keener, award-winning scholar and author of one of the largest and most thoroughly documented Acts commentaries available, provides students with an introduction to the book of Acts which focuses on such fundamentals as genre and historical context. He also explores key themes including mission, ethnic reconciliation, and evangelism, and discusses the Spirit's power to bring these about.
Dr. Craig S. Keener is professor of New Testament at Asbury Theological Seminary, and is the author of 17 books, four of which have won Christianity Today book awards. One, IVP Bible Background Commentary: New Testament, has sold more than half a million copies. He has authored scholarly commentaries on Matthew, John (two volumes), Acts (four volumes), and more briefly on Romans, 1 and 2 Corinthians, and Revelation.
Explore the book of Acts in depth with Dr. Darrell Bock, who is internationally recognized for his scholarship in Luke-Acts. You will hear Dr. Bock's commentary on key speeches and significant events such as Pentecost, the expansion of the gospel to the Gentiles, and the Jerusalem council that decided how Jews and Gentiles would function as one body. You will learn how Luke's writings are the "glue" that coheres the New Testament, and how these works explain the way the Old Testament fits into the New.
"Luke-Acts is fundamentally about legitimization," says Dr. Bock. "Even though Christianity seems to be new, it actually is the realization of promises that go back all the way to Abraham, all the way to Moses. It's been around a long time. It's the completion of Jewish hope. That legitimizes the early church."
Contents:
Introduction
Introducing the Speaker and the Course
Unit 1: Common Themes in Luke-Acts
Setting the Context
Tracing Luke's Involvement in Acts
God, Scripture, and Jesus
The Spirit and the Kingdom
Salvation, Jews, and Gentiles
Christian Ethics and Israel
Speeches in Acts
Unit 2: The Church Begins
Ascension, Promise, and Mission
A Community in Expectation
Pentecost: The Spirit Comes
Peter's Pentecost Speech
Researching the Greek Word for "Filling"
Peter's Miracle
Peter's Temple Speech
Finding Old Testament Quotes and Allusions in Acts
The Old Testament in Peter's Speech
Jesus Is the Only Way
Community Issues
Responding to Injustice
Stephen's Speech
Unit 3: The Church Spreads
Movement beyond Jerusalem
The Ethiopian Eunuch and Isaiah 53
The Calling of Saul
Peter and Cornelius
Finding Old Testament Laws about Food Restrictions
Peter's Speech Analyzed
Peter's Defense and Antioch
Peter and Herod Contrasted
Unit 4: Paul the Missionary
The First Missionary Journey
Using Louw-Nida to Find All the Places Paul Visited in Acts
Paul's Synagogue Speech
Persecution and a New Missions Context
The Jerusalem Council
Peter's Council Speech
The Second Missionary Journey
Paul in Thessalonica, Berea, and Athens
Paul's Speech in Athens
The Mission in Corinth
The Third Missionary Journey
Eutychus and the Ephesian Elders
Paul's Speech to the Ephesian Elders
Researching the Idea of Leaders as Shepherds with Cultural Concepts
Unit 5: Paul the Prisoner
Paul's Arrest in Jerusalem
Paul's Defense and Citizenship
Paul's Defense Speech
A Plot to Kill Paul
Paul's Speech to the Sanhedrin
Paul's Defense before Felix
Paul versus Tertullus
Paul's Appeal to Caesar
Paul before Agrippa
A Personal Testimony
A Threefold Defense
From Israel to Rome
Paul Arrives in Rome
Conclusion
Dr. Darrell L. Bock, research professor of New Testament studies and professor of spiritual development and culture at Dallas Theological Seminary, serves as editor-at-large for Christianity Today, and is on the board of Chosen People Ministries and Wheaton College. From 2000 to 2001, Dr. Bock served as president of the Evangelical Theological Society.
He has earned international recognition as a Humboldt Scholar for his work in Luke-Acts, historical Jesus study, biblical theology, as well as with messianic Jewish ministries. He has published articles in the Los Angeles Times and The Dallas Morning News and is a well-known author of over 30 books. His publications include Studying the Historical Jesus: A Guide to Sources and Methods, Jesus according to Scripture, an NIV Application Commentary on Luke, Breaking the Da Vinci Code, and commentaries on Acts and Luke in the Baker Exegetical Commentary on the New Testament (BECNT) series.
Who was Paul of Tarsus? In this course, Dr. Lynn Cohick draws from the book of Acts as well as Paul's letters to paint a vivid picture of who he was, what he did, and what he believed. "We want to take a look both at Acts and at Paul's letters because we want to make sure that we understand Paul not simply as someone who thinks about theology, sits at a desk and writes letters, but also as someone who is doing, who is living out what they claim."
Dr. Cohick begins with Luke's perspective in Acts, and draws attention to Paul's desires and actions and the major events in his life. Then, using Acts as a narrative framework, she looks at Paul's own writings to reveal more about his personal thoughts and fears. If you want a guided tour through the life and teachings of one of the most influential figures in the Christian church, this is it.
Contents:
Introduction
Introducing the Speaker and the Course
Unit 1: Paul's Background
Introduction to Paul
Paul's Setting
Ancient Rhetoric
Roman Empire
Example from Shakespeare
Jewish World
Using Community Tags to Enhance the Factbook
Unit 2: Paul the Apostle
Paul of Tarsus
Pharisee
Using Cultural Concepts and Clippings to Research the Pharisees
Persecutor of the Church
Paul's Calling in Acts
Calling in Galatians
Called, Not Converted
Followers of Jesus
Discovering Early Names for Christians with the Factbook
Paul's Theology
Center of Paul's Theology
Social Implications of the Gospel
Future Implications of the Gospel
Paul and Empire
Paul and the New Perspective
Researching the "Works of the Law" with Searching and Notes
Paul the Letter Writer
Rhetorical Approaches in Paul's Letters
Unit 3: Paul's Travels
Starting Our Journey
Galatians 2 and Acts 11 or 15?
Paul and Barnabas in Pisidian Antioch
First Corinthians 15
Jerusalem Council and the Law
Galatians, Part 1
Galatians, Part 2
Paul's Visit to Philippi
Visit to Thessalonica
Paul's Message in Athens
Using Media Search to Find Images and Videos of Mars' Hill
Visit to Corinth
The Message of Thessalonians
Paul's Third Missionary Journey
Unit 4: Paul's Epistles
First Corinthians
Paul's Reconciliation
Theological Themes
Romans
Using Bible Book Guides to Research the Purpose of Romans
Themes of Romans
Two Views of Salvation History
Faith and Justification
Romans 5–7
Romans 8–11
Romans 12
Paul Arrested in Jerusalem
Using Ancient Literature to Discover Temple Purity Regulations
Paul Arrives in Rome
Colossians
Ephesians
Using Propositional Outlines to Trace the Structure of a Passage
Authorship Question
Philemon
Philippians
Philippians 2–4
Using Literary Typing to Find All Poetry in the New Testament
Theology of Philippians
Conclusion
Paul, the Apostle to the Gentiles
Dr. Lynn H. Cohick is professor of New Testament at Wheaton College. Dr. Cohick's special interests include women in the ancient world, the ways that Jews and Christians lived out their faith in the Graeco-Roman world, and building understanding between Jews and Christians today. She has written commentaries on Ephesians and Galatians, Women in the World of the Earliest Christians and coauthored The New Testament in Antiquity.
Getting the most out of Mobile Ed
Logos Mobile Education is a highly effective cross-platform learning environment that integrates world class teaching with the powerful study tools and theological libraries available in Logos Bible Software. Every course provides links to additional resources and suggested readings that supplement the lecture material at the end of every transcript segment.
More details about these resources
Show More