Mobile Ed: AP113 Objections to the Gospels (audio)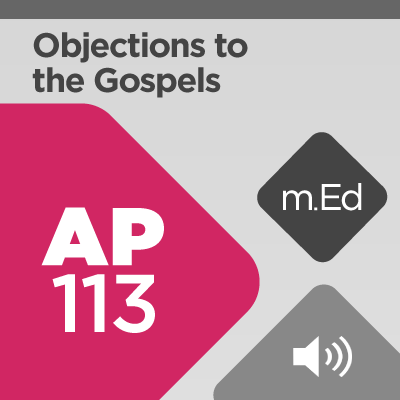 Mobile Ed: AP113 Objections to the Gospels (audio)
•
Runs on Windows, Mac and mobile.
Overview
In Objections to the Gospels, Dr. Michael R. Licona explores the major objections to the reliability of the Gospels posed by modern critics. This audio discussion provides you with strong historical background to the text and authorship of the Gospels and a greater appreciation for these works. He covers a while variety of issues from the existence and importance of eyewitness testimony for the gospels, as well as questions of dating, miracles, and variations among the synoptic gospels and John.
This is the audio only version of AP113 Objections to the Gospels. To purchase the full course, click here.
Course Outline
Introduction
Introducing the Speaker and the Course
Unit 1: Overcoming Objections to the Gospels
Introduction
The Basis of the Biblical Text
Interacting with the Earliest New Testament Manuscripts
The Problem of Variants
Investigating Textual Differences in 1 John 1:4
The Purpose of Translations
Testing the Validity of the Bible: Archaeological and Historical Proof
Testing the Validity of the Bible: External and Internal Sources
Confirming Scripture: Undesigned Coincidences & Canonization
The Criteria and the Debate of Canonicity
Comparing Early Canonical Lists
Unit 2: The Authorship of the Gospels
The Question of Authorship, Beginning with Mark
Common Objections to Mark's Authorship
Examining the Authorship of Luke
Finding the "We" Sections in Acts
Examining the Authorship of John
Further Examination of the Authorship of John
Examining the Authorship of Matthew
The Comparison and Relevance of Authorship in Context
Unit 3: Dating the Gospels
Dating the Gospel of Mark
Dating the Gospel of Matthew and Luke
Dating the Gospel of John
Handling the Gap
Unit 4: Eyewitness Accounts Preserved through Oral Tradition
Eyewitness Testimony
Protective Anonymity
The Formality of the Oral Tradition
The Integrity of the Oral Tradition
Unit 5: Considering Miracles
Miracles through a Scientific Lens
Hume on Miracles
Probability, History, and Miracles: A Look at Bayes' Theorem
Evidence of Miracles
Evidence of a Supernatural Realm
Parallels: Examining Pagan Influence and Causal Connections
Parallels: Examining Desire, Myth, and Evidence
Considering Bias
Unit 6: Redaction with a Purpose
The Truth about Contradictions
Spotting Discrepancies in the Gospels
The Influence of Genre
The Purpose of Redaction: Clarifying the Text
Handling Differences in Communication Styles
The Teaching and Application of Ancient Writing Techniques
Examples of Redaction in the Gospels
Introducing Secular Examples of Redaction in Ancient Biographies
Examples of the Accepted Practice of Transferal
Examples of the Accepted Practice of Literary Spotlighting
Examples of the Accepted Practice of Simplification
Remembering Genre
Conclusion
About Michael R. Licona
Dr. Michael R. Licona is associate professor of theology at Houston Baptist University. He is the author of numerous books including The Resurrection of Jesus: A New Historiographical Approach and Paul Meets Muhammad: A Christian-Muslim Debate on the Resurrection, co-author of the award-winning The Case for the Resurrection of Jesus, and co-editor of Evidence for God: 50 Arguments for Faith from the Bible, History, Philosophy, and Science.
More details about this resource