Mobile Ed: Michael Heiser Bundle (10 courses)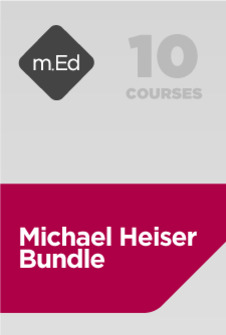 Mobile Ed: Michael Heiser Bundle (10 courses)
•
Runs on Windows, Mac and mobile.
Overview
Discover the rich, challenging teaching of Faithlife scholar-in-residence Michael S. Heiser. In this ten-course bundle, you'll learn the art and science of Bible interpretation and how to grapple with difficult passages. You'll consider various views of the End Times and get the tools to support what you believe. Discuss reasons and arguments for different perspectives on baptism. Learn terminology, tools, and methods for interpreting Scripture—and explore the process of inspiration as it applies to New Testament manuscripts. Dr. Heiser also covers the Hebrew Bible's writing, composition, canonicity, and transmission through the ages. You'll dive into Old Testament theology and discover foundational truths for apologetics and Jewish evangelism. And in TH101 Introducing Bible Doctrine I, Dr. Heiser teams with Ronn Johnson and Carl Sanders to explore what it means to "do theology" and integrate it into Bible study.
Getting the most out of Mobile Ed
Logos Mobile Education is a highly effective cross-platform learning environment that integrates world class teaching with the powerful study tools and theological libraries available in Logos Bible Software. Every course provides links to additional resources and suggested readings that supplement the lecture material at the end of every transcript segment.
All courses in this bundle come with an Activities resource that functions as a type of "workbook" for the courses. This resource includes learning activities such as: places for you to respond to reflection questions, exercises that will challenge and show you how deepen your understanding of this course by using specific Logos tools and resources, tutorial videos on different features of Logos Bible Software, and links to relevant Logos guides and tools. A link to open the Activities resource is conveniently placed at the end of every segment.
About the Instructor
Dr. Michael S. Heiser is a Scholar-in-Residence for Faithlife Corporation, the makers of Logos Bible Software. His varied academic background enables him to operate in the realm of critical scholarship and the wider Christian community. His experience in teaching at the undergraduate level and writing for the layperson both directly contribute to Logos' goal of adapting scholarly tools for nonspecialists.
Dr. Heiser earned his PhD in Hebrew Bible and Semitic languages and holds and MA in ancient history and Hebrew studies. He is the coeditor of Old Testament Greek Pseudepigrapha with Morphology and Semitic Inscriptions: Analyzed Texts and English Translations, and can do translation work in roughly a dozen ancient languages, including Biblical Hebrew, Greek, Aramaic, Egyptian hieroglyphs, and Ugaritic cuneiform. He also specializes in Israelite religion (especially Israel's divine council), contextualizing biblical theology with Israelite and ancient Near Eastern religion, Jewish binitarianism, biblical languages, ancient Semitic languages, textual criticism, comparative philology, and Second Temple period Jewish literature. In addition, he was named the 2007 Pacific Northwest Regional Scholar by the Society of Biblical Literature.