Biblical Languages: Foundational Certificate Program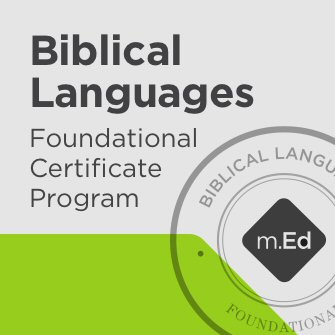 Biblical Languages: Foundational Certificate Program
•
Runs on Windows, Mac and mobile.
Overview
The Biblical Languages: Foundational Certificate Program has everything you need to master the basics of the original languages of the Old and New Testaments. The courses and their corresponding textbooks provide a solid foundation for learning the grammar, syntax, and vocabulary of biblical Greek and Hebrew. After working through GK101 and HB101 you will be reading, translating, and understanding biblical texts in their original languages. You will also be qualified for Logos Mobile Education Certificate of Completion. To earn the certificate submit your own translation of Ruth 1 and the first 18 verses of the Gospel of John to programsofstudy@faithlife.com when you have finished both GK101 and HB101.
Individual Courses
For serious theological study you need to be able to recognize the original words of the New Testament since they regularly appear in commentaries and lexicons. This course will make you feel at ease when you encounter such references by teaching you the Greek alphabet and showing you how to pronounce whole words. To help you master the Greek alphabet, each lesson has an interactive activity section with various experiential exercises, such as game-type drills, an alphabet song, and quizzes. There are also reference sections with additional information and materials such as printable charts. This course has two versions that teach different pronunciation systems: Koine (GK091) and Erasmian (GK092). Both versions are bundled together so you can compare them and decide which you want to learn. Whether you are just curious about the alphabet or are planning to study biblical Greek, this course provides a fantastic foundation for recognizing Greek letters and words so you can work with all of the words the Lord has preserved for us in the New Testament.
Learning Objectives
Upon successful completion you should be able to:
Recite the Greek alphabet
Distinguish Greek vowels and the various types of consonants
Understand how diacritical marks affect pronunciation
Pronounce Greek words
Read Greek passages aloud
Begin learning Greek vocabulary words
Reference various Greek pronunciation systems
Contents:
Greek Alphabet and Pronunciation
Course Orientation
The Greek Alphabet
Greek Alphabet Song
Vowels
Consonant Stops
Double Consonants, Consonant Blends, and Liquids
Diacritical Marks
Pronouncing Words
Reading Greek
This course will introduce you to the vocabulary, grammar, and syntax of the Greek New Testament. First, you will learn the sounds and symbols of the Greek alphabet. Then you will be guided through all the parts of speech, as the course surveys the conjugations and declensions and demonstrates how all the parts work together in phrases, clauses, and sentences. Frequent vocabulary lists, grammar exercises, and practice readings from the Greek New Testament are included to help you develop your knowledge and skills.
Learning Objectives
Upon successful completion you should be able to:
Translate basic Greek vocabulary
Translate verbs appropriately in context, accurately reflecting their tense, voice, and mood
Translate nouns, adjectives, and participles appropriately in context, accurately reflecting their gender, number, and case
Recognize and translate definite, indefinite, demonstrative, interrogative, and reflexive pronouns
Recognize and translate prepositions appropriately in context
Understand how word order influences emphasis
Use Greek lexical and grammatical tools for in-depth study of the Greek New Testament
Contents:
Introduction
Introducing the Speaker and the Course
Unit 1: Alphabet and Pronunciation
Pronunciation
English Square of Stops
Greek Square of Stops
Sibilants
Nasals and Liquids
Vowels, Semivowels, and Digraphs
The Alphabet
Punctuation and Accent Marks
Breathing Marks and IōtaSubscript
Elision and Syllabification
Practice
Unit 2: Present Active and Contract Verbs
Present Active Indicatives
Vocabulary 1
Exercises: Present Active Indicatives
Contract Verbs Ending in Vowels and Verb Accentuation
Vocabulary 2
Exercises: Contract Verbs
Unit 3: Second Declension Nouns, Prepositions, and the Article
Second Declension Nouns
Vocabulary 3
Exercises: Nominatives and Accusatives
Genitives and Datives: Part 1
Genitives and Datives: Part 2
Exercises: Genitives and Datives
Prepositions: Part 1
Prepositions: Part 2
Definite Article: Use and Meaning
Definite Article: Morphology
Exercises: Masculine Articles
Second Declension Neuter Nouns
Vocabulary 4
Exercises: Second Declension Masculine and Neuter Nouns
Unit 4: First and Second Declension Nouns and Adjectives
First Declension Feminine Nouns
Vocabulary 5
Exercises: First and Second Declension Nouns
First Declension Masculine Nouns
First Declension Exceptions
Vocabulary 6
Exercises: First Declension Masculine and Feminine Nouns
Adjectives
Vocabulary 7
Unit 5: Present and Imperfect Tenses of "To Be," Imperfects, Second Declension Adjectives, Demonstrative Pronouns, and Uses of ἀυτός
Present Tense of "To Be"
Exercises: Adjectives
Imperfects: Uses
Imperfects: Morphology
Vocabulary 8
Exercises: Imperfects
Imperfect of "To Be"
Demonstrative Pronouns
Uses of ἀυτός
Exercises: Pronouns
Unit 6: Passives, Deponents, Verbal Voice, Imperatives, and Relative Pronouns
Passives: Morphology
Passives: Meaning and Syntax
Vocabulary 9
Exercises: Verbal Voice
Deponents
Imperatives
Relative Pronouns
Vocabulary 10
Exercises: Relative Pronouns and Translating
Unit 7: Infinitives, Personal and Reflexive Pronouns, Middle Voice, Verb Tense, Future Tense, Changes in Verbal Roots, and Questions
Infinitives: Syntax
Infinitives: Uses
Personal Pronouns
Vocabulary 11
Exercises: Infinitives
Middle Voice
Future Tense
Vocabulary 12
Exercises: Future Tense
Changes to Verbal Roots
Vocabulary 13
Reflexive Pronouns
Kinds of Questions
Exercises: Kinds of Questions
Verb Tense
Unit 8: Aorists, Object Clauses after Verbs of Saying or Thinking, Liquid Verbs, Temporal Clauses, and the Preposition παρά
First Aorist: Sigmatic Forms
Imperatives: Aorist vs. Present
Aorist vis-à-vis Present Infinitives
Exercises: Aorist Forms
Second Aorists: Thematic Forms
Athematic Aorists
Aorists and Unrelated Roots
Object Clauses after Verbs of Saying or Thinking
Vocabulary 14
Exercises: Asigmatic Aorists
Liquid Verbs
Temporal Clauses and the Preposition παρά
Vocabulary 15
Unit 9: Third Declension Nouns, Aorists, Third Declension Irregular Adjectives, and Passives
Regular Third Declension Nouns
Irregular Third Declension Nouns
Vocabulary 16
Exercises: Third Declension Nouns
Semivowel Stem Third Declension Nouns
Neuter Third Declension Nouns
Vocabulary 17
Exercises: Translating Aorists
Third Declension and Irregular Adjectives
Vocabulary 18
Exercises: Translating Sentences
Passives for the Aorist and Future
Unit 10: Participles, Interrogative and Indefinite Pronouns, Aorist Middles, Comparative Adjectives, and Contract Verbs
Participles: Morphology: Part 1
Participles: Morphology: Part 2
Participles: Meaning and Use
Vocabulary 19
Exercises: Translating Participles
Participles as Genitive Absolutes
Interrogative and Indefinite Pronouns
Vocabulary 20
Exercises: Translating Genitive Absolutes
Aorist Middles
Comparative Adjectives
Vocabulary 21
Exercises: Comparative Adjectives
Contract Verbs: Α-Type andΟ-Type
Vocabulary 22
Exercises: Translating Contract Verbs
Unit 11: Principal Parts, Perfects and Pluperfects, Subjunctives, Infinitives, and μι Verbs
Verbs: Six Principal Parts
Perfect and Pluperfect Tenses
Vocabulary 23–24
Subjunctives: Morphology
Subjunctives: Morphology and Syntax
Vocabulary 25
Exercises: Translating Subjunctives
Infinitives: Other Uses
Exercises: Infinitive Uses
The -μι Verbs
Exercises: δίδωμι
Conclusion
Gain insight into Hebrew grammar, and learn all of the sounds and symbols of the alphabet—both the consonants and the vowels. Explore the forms of the noun, the adjective, and the verb in all its conjugations of the basic patterns. Discover how these words work together to form phrases, clauses, and sentences. As you deepen your knowledge of how Hebrew works, you will practice reading Hebrew text from the Hebrew Bible.
Contents:
Introduction
Introducing the Speaker and the Course
Unit 1: Learning to Read Hebrew
The Alphabet
Consonants with Two Forms and Two Sounds
Vowels
Putting Consonants and Vowels Together
Sheva and Strong Dagesh
Unit 1 Vocabulary
Unit 1 Practice
Unit 1 Practice Reading Your Hebrew Bible
Unit 1 Quiz
Unit 2: Nouns: Basic Forms
Gender of Nouns
Number of Nouns
Summary of Basic Noun Forms
Unit 2 Vocabulary
Unit 2 Practice
Unit 2 Reading Your Hebrew Bible
Unit 2 Quiz
Unit 3: Personal Pronouns and the Definite Article
Personal Pronouns
Definitive Article
Unit 3 Vocabulary
Unit 3 Practice
Unit 3 Reading Your Hebrew Bible
Unit 3 Quiz
Unit 4: Verbs: Perfects
Overview of the Hebrew Verb
Qal Perfect
Use of Qal Perfect
Unit 4 Vocabulary
Unit 4 Practice
Unit 4 Reading Your Hebrew Bible
Unit 4 Quiz
Unit 5: Sentences with Verbs
Subject
Direct Object
Word Order
Negative Sentences
Unit 5 Vocabulary
Unit 5 Practice
Unit 5 Practice Reading Your Hebrew Bible
Unit 5 Quiz
Unit 6: Verbs: Seven Patterns
Seven Basic Verb Patterns
Niphal
Piel and Pual
Hiphil and Hophal
Hitpael
Unit 6 Vocabulary
Unit 6 Practice
Unit 6 Reading Your Hebrew Bible
Unit 6 Quiz
Unit 7: Prepositions and Vav Conjunction
Prepositions
Independent Prepositions
Inseparable Prepositions
Vav Conjunction
Unit 7 Vocabulary
Unit 7 Practice
Unit 7 Reading Your Hebrew Bible
Unit 7 Quiz
Unit 8: Adjectives: Forms and Use
Basic Forms of Adjectives
Geminate Roots
Use of Adjectives
Unit 8 Vocabulary
Unit 8 Practice
Unit 8 Reading Your Hebrew Bible
Unit 8 Quiz
Unit 9: Verbs: Imperfect
Form of the Qal Imperfect
Use of Imperfect
Unit 9 Vocabulary
Unit 9 Practice
Unit 9 Practice Reading Your Hebrew Bible
Unit 9 Quiz
Unit 10: Nouns: Construct State
Use of Construct State
Form of Construct State
Unit 10 Vocabulary
Unit 10 Practice
Unit 10 Reading Your Hebrew Bible
Unit 10 Quiz
Unit 11: Pronoun Suffixes
Pronoun Suffixes on Singular Nouns
Pronoun Suffixes on Plural Nouns
Pronoun Suffixes on Prepositions
Unit 11 Vocabulary
Unit 11 Practice
Unit 11 Reading Your Hebrew Bible
Unit 11 Quiz
Unit 12: Verbs: Infinitives
Infinitives
Infinitive Construct
Infinitive Absolute
Unit 12 Vocabulary
Unit 12 Practice
Unit 12 Reading Your Hebrew Bible
Unit 12 Quiz
Unit 13: Verbs: Participles
Introducing Participles
Use of the Participle
Unit 13 Vocabulary
Unit 13 Practice
Unit 13 Reading Your Hebrew Bible
Unit 13 Quiz
Unit 14: Verbs: The Volitives
Volitives
Imperative and Jussive
Negating and Indirect Volitive
Unit 14 Vocabulary
Unit 14 Practice
Unit 14 Reading Your Hebrew Bible
Unit 14 Quiz
Unit 15: Verbs: Vav-Relative
Vav-Relative
Use of the Vav-Relative
Unit 15 Vocabulary
Unit 15 Practice
Unit 15 Reading Your Hebrew Bible
Unit 15 Quiz
Unit 16: Verbs: Piels
Piel
Form of the Piel
Piel Imperative, Infinitive, Participle
Piel Cohortative and WCI
Unit 16 Vocabulary
Unit 16 Practice
Unit 16 Reading Your Hebrew Bible
Unit 16 Quiz
Unit 17: Verbs: Hiphils
Introducing the Hiphil
Form of the Hiphil
Hiphil Imperative, Infinitive, Participle
Hiphil Cohortative, Jussive, and WCI
Unit 17 Vocabulary
Unit 17 Practice
Unit 17 Reading Your Hebrew Bible
Unit 17 Quiz
Unit 18: Verbs: Niphals
Meaning of the Niphal
Form of the Niphal
Niphal Imperative, Infinitive, Participle
Niphal Cohortative, Jussive, and WCI
Unit 18 Vocabulary
Unit 18 Practice
Unit 18 Reading Your Hebrew Bible
Unit 18 Quiz
Unit 19: Syntax: The Perfect
Syntax of the Perfect
Performative, Gnomic, Precative, and Rhetorical Perfect
Unit 19 Vocabulary
Unit 19 Practice
Unit 19 Reading Your Hebrew Bible
Unit 19 Quiz
Unit 20: Syntax: The Imperfect
Syntax of the Imperfect
Imperfect Modalities
Unit 20 Vocabulary
Unit 20 Practice
Unit 20 Reading Your Hebrew Bible
Unit 21: Weak Roots
Introducing Weak Roots
Unit 21 Vocabulary
Unit 21 Practice
Unit 21 Reading Your Hebrew Bible
Unit 21 Quiz
Conclusion
Finishing the Course but Not Your Hebrew Studies
Final Exam

An Introduction to Biblical Greek: A Grammar with Exercises
Author: John D. Schwandt
Publisher: Lexham Press
Publication Date: 2017
Pages: 224
Format: Logos Digital
A complete introductory grammar that builds on a classic approach to learning Greek.
In An Introduction to Biblical Greek, John D. Schwandt integrates the rigor of a classic Greek grammar with the fruit of contemporary language learning. The result is a one-stop introduction to New Testament Greek that is both academically sound and student friendly.
This textbook teaches students the basics of the Greek language through 37 lessons that are supported by translation and writing exercises from the New Testament. These practical lessons and exercises will help readers grasp Greek grammar and vocabulary as they start to translate the text of the New Testament itself. Appendixes on additional grammatical topics offer students the opportunity to dive deeper into their study of the Greek language.

Beginning Biblical Hebrew
Author: Mark D. Futato
Publisher: Eisenbrauns - EIS
Publication Date: 2003
Pages: 351
Achieving the right balance of amount of information, style of presentation, and depth of instruction in first-year grammars is no easy task. But Mark Futato has produced a grammar that, after years of testing in a number of institutions, will please many, with its concise, clear, and well-thought-out presentation of Biblical Hebrew.
Because the teaching of biblical languages is in decline in many seminaries and universities, Futato takes pains to measure the amount of information presented in each chapter in a way that makes the quantity digestible, without sacrificing information that is important to retain. The book includes exercises that are drawn largely from the Hebrew Bible itself.
Contents:
THE ALPHABET
THE VOWELS
SYLLABLES, SHEVA, AND STRONG DAGESH
THE NOUN: BASIC FORMS
PRONOUNS AND THE DEFINITE ARTICLE
THE VERB: QAL PERFECT
SENTENCES WITH VERBS
THE NOUN: VOWEL CHANGES
PREPOSITIONS AND VAV CONJUNCTION
THE ADJECTIVE
THE VERB: QAL IMPERFECT
CONSTRUCT RELATIONSHIP: SINGULAR
CONSTRUCT RELATIONSHIP: PLURAL
QAL PERFECT AND IMPERFECT: WEAK ROOTS
QAL PERFECT AND IMPERFECT: I NUN AND III HEY
POSSESSIVE SUFFIXES ON SINGULAR NOUNS
DEMONSTRATIVE AND RELATIVE PRONOUNS
QAL IMPERFECT: I YOD AND I ALEF
POSSESSIVE SUFFIXES ON PLURAL NOUNS
THE VERB: QAL INFINITIVES
THE VERB: QAL ACTIVE PARTICIPLE
PRONOUN SUFFIXES ON PREPOSITIONS
THERE IS (NOT) AND HAVE (NOT)
THE VERB: QAL VOLITIVES
QAL: HOLLOW VERBS
THE VERB: VAV-RELATIVE
CLAUSES: TEMPORAL AND INTERROGATIVE
THE PIEL: STRONG ROOTS
THE PIEL: STRONG ROOTSTHE PIEL: WEAK ROOTS
NUMBERS AND "SURPRISE"
THE HIPHIL: STRONG ROOTS
THE HIPHIL: I GUTTURAL AND I NUN
THE HIPHIL: I YOD
THE HIPHIL: III HEY AND HOLLOW
MORE ON PRONOUN SUFFIXES
THE NIPHAL: STRONG ROOTS
THE NIPHAL: WEAK ROOTS
MORE PASSIVE VERBS: QAL, PUAL, AND HOPHAL
THE VERB: THE HITHPAEL
THE VERB: GEMINATE ROOTS
PARADIGMS
VOCABULARY
ANSWERS TO PRACTICE DRILLS
I have used Mark Futato's grammar in pre-publication form for the last four years at Reformed Theological Seminary (Jackson). It is an excellent grammar. It is simple, straightforward, and is self-explanatory. As a teacher of Hebrew, I have found it to be the best tool available to introduce students to the language. Many of our students have learned Hebrew well, and quite a few of them have gone on to further study in the language. I believe Futato's grammar has played an important role in that regard—students are not intimidated by Hebrew when they learn from this grammar.
—John D. Currid, Carl W. McMurray Professor of Old Testament Reformed Theological Seminary
Each chapter of the grammar is divided into three sections: grammar, vocabulary and practice. The third section especially is helpful. A separation of new material from previous material learned occurs, prior to a demonstration of the place of the new material in the larger scheme. Constant reference to select portions from the Hebrew Bible maintains a practical focus in this third section of each chapter...The methodological advancement this grammar makes in communicating the content of Biblical Hebrew grammar to the newcomer places it among the best of teaching grammars on the market today.
—Bernon P. Lee, Department of Religious Studies, Grace College, Journal of Hebrew Scriptures, Vol 5
Mark D. Futato's new Hebrew grammar is a simple, thoughtful, and straightforward work that reflects genuine empathy for the beginning Hebrew student. The agenda of the book is to provide the fundamentals of the language unencumbered by information that may fog the road toward basic Hebrew competency. Futato's tenure in the classroom and interface with Hebrew novices prove to be an asset to Beginning Biblical Hebrew. The grammar's strength is Futato's keen pedagogical sensitivity reflected at various points in its appearance and presentation of the language...

...this work does provide in a most exemplary way everything essential for a quality introductory Hebrew grammar. That is why the strengths of Futato's grammar far outweigh any weaknesses. He offers everything a Hebrew student needs to form a substantial foundation for further Hebrew study while being user-friendly, creative, strategic, and judicious. This combination makes Beginning Biblical Hebrew one of the best Hebrew grammars available to the student and instructor today. Futato's work is commendable and deserves the attention of those who are serious about teaching or learning biblical Hebrew.
—Steven D. Mason, University of St. Andrews, Review of Biblical Literature, June 2004
As part of a growing number of grammars focused on assisting the beginning student of Biblical Hebrew, F.'s introduction provides a fine addition. Although the size is rather cumbersome, it allows for lessons to be set out clearly along with eye-catching charts and inserts. Each lesson is accompanied by a series of exercises, which are designed to deepen the knowledge gained from the current chapter and to test the recognition of earlier material. They challenge a variety of skills and notably deepen the recognition of the Hebrew roots. In addition, the incorporation of biblical sentences and passages in the exercises from the first lesson onward provides the student with immediate application. In terms of structure, the grammar benefits from introducing the qal of the strong verb early. It further benefits from user-friendly features such as the ability to cross-reference vocabulary with published cards, an answer key, an appendix of verbal paradigms, and a glossary.
—J. Middlemas, JSOT 28.5
About the Instructors
Dr. John D. Schwandt is the Executive Director of Mobile Education for Faithlife. Before coming to Faithlife, he was one of the original professors at New Saint Andrews College where he taught Greek and New Testament for 17 years. He has over a decade of experience teaching online and developing distance educational curricula.
Schwandt earned his doctorate in Bible translation at Gordon-Conwell Theological Seminary in Massachusetts. He earned his master of arts from Westminster Theological Seminary in California, and he completed his undergraduate studies at the University of Idaho.
Schwandt is the founder of the Institute of Biblical Greek (BiblicalGreek.org) and the creator of the National Biblical Greek Exam, an online examination program. He was the general editor of the English-Greek Reverse Interlinear New Testament: English Standard Version (Crossway Books, 2006), and he recorded an audio version of the Greek New Testament for the German Bible Society. You have heard his voice if you have clicked on any Greek word to hear it pronounced in Logos Bible Software.
Dr. Mark D. Futato is the Robert L. Maclellan Professor of Old Testament at Reformed Theological Seminary. Dr. Futato received his PhD from The Catholic University of America. He served on the translation team for the book of Psalms in The New Living Translation, contributed study notes for the ESV Study Bible and the Spirit of the Reformation Study Bible, and contributed to the New International Dictionary of Old Testament Theology and Exegesis.
More details about these resources
Show More